Chevy Cruze Pic
---
just found this pic, i think its awesome.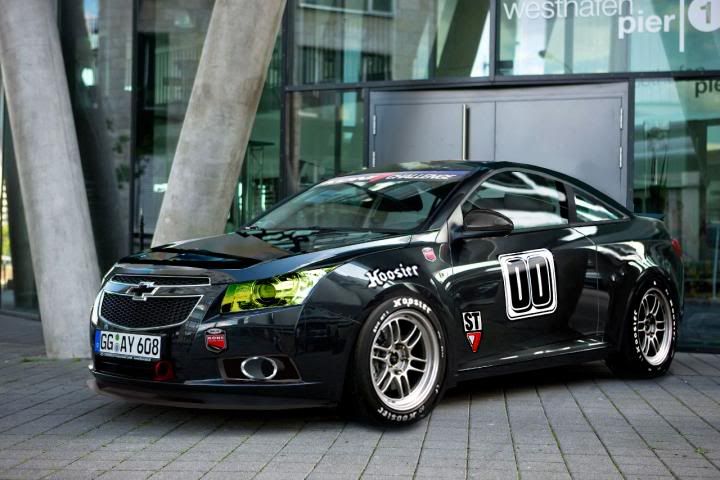 tell me what you think. i think its a chop but im not sure.
---

Just call me Mr.June____________________Flat Broke Mafia Member#2
Forum Regular
Join Date: Apr 2009
Location: Edmond, OK
Posts: 116
This is completely replacing the Cobalt right? I don't like that at all but the car itself is ok, kinda looks like a hot wheels car though IMO. Not a good thing.
Newcomer
Join Date: Jun 2009
Posts: 47
the license plate says gay lol

i think it looks alright,the dash sneak pics look incredible... idk ill probobly like it more when i see it on the road.
I like it... im thinkin it might be photoshopped too b/c that's the first coupe pic of the cruze that ive seen....... that particular one isnt too purdy, but put some nice rims/tires & all that on it-get rid of all that racing stuff-obviously, lol, and i think it would look pretty good....
I think that car looks badass. I dunno i it is a chopped pic tho
Forum Regular
Join Date: Jul 2009
Location: San Marcos, Texas
Posts: 201
It's not chopped, Chevy is going make Cruze Coupes, and they already have in Europe obviously. Only thing is this particular one is a racing car, so not all of them are going to look this nice.
---
I think the Cruze is ugly...but I said the same about the Cobalt when it replaced my beloved Cavalier
---
Mods: debaged, carbon fiber hood, painted interior trim, lowered

2008 Sport Sedan 2.4
Cobalt Specialist
Join Date: Jun 2009
Location: eastern PA
Posts: 1,286
i really don't like the car, but i am curious about the green headlights - they look cool. tho would it then cause your lights on the road to look green on the pavement vs. white when they shine out at night?
I dont really like the cruze but this one looks awesome. I LOVE the rims
That is definitely a photoshopped pic. But it looks pretty bad ass there!
---

"A wise man speaks because he has something to say,
A fool speaks because he has to say something"

OBZ's showoff thread!
Posting Rules

You may not post new threads

You may not post replies

You may not post attachments

You may not edit your posts

---

HTML code is Off

---