Newcomer
Join Date: Dec 2008
Posts: 19
cold air intake problems??
---
i just installed my cold air intake, and there was as hose on top of the old air box. can anyone help me out?
Yes that is from the SAI system that your car has. What year and model is your car ?
Newcomer
Join Date: Dec 2008
Posts: 19
yes its called Secondary Air Injection that your car came with it basically runs for like the first 30 seconds you turn your car on a blows airthrough the system cleaning out any built up gases or other things when you shut your car off. It creats like a loud hiss and whistling sound when it is running. I took that black piece and put it on the lil black knob thing that is right above it ... you can almost see it in that pic its like at the top left of the picture almost near the middle. Some people remove it completly

Secondary Air Injection
In Late model 2006 and up models of the L61 level cobalts, GM implemented a system called SAI or Secondary Air Injection. SAI is basically an emissions conrtol device and is basically a hose after the MAF and before the throttle body connection to the engine on a small port. Basically (from what I understand) air comes into the intake from the filter, up the intake piping and the SAI takes some of that air and pumps that to mix with the exaust fumes to affectively lower the emissions. It's important to note when buying an intake system if you have SAI or not.
---
Mod's So Far: AEM CAI, C.A. Header, 2.50 Magnaflow Catback Exhaust , ZZP Catless Downpipe, DC Carbon Strut Bar, Dropped on Progress Springs. Tinted, Fully Debadged, Custom front SS bumper,2 Audiobahn 10" w/JL amp, Lower Billett Grille, Sengen 18 x 8 rims wrapped in Capitol Sport UHP 225/40/18.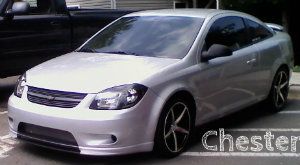 ---
Last edited by Chester; 02-02-2009 at

02:05 PM

.
Newcomer
Join Date: Dec 2008
Posts: 19
is there any way i can get rid of the SAI? cause i also planned on doing header and i heard that any aftermarket header will throw a CEl
well there is a piece of the SAI system that is incorporated into the header so if you were to get an aftermarket header you would need to get that SAI bung welded into that same spot as the location it was on the stock header. Also the SAI is wired into the ECU of the computer so if you were to remove it you would have to get the ECU reflashed with a certain program that most dealerships dont have since it is such an expensive program. I forget the name of that program but im sure someone on here could help me out with that.
Newcomer
Join Date: Dec 2008
Posts: 19
alright. how much do you think it will run me to get it reflashed?
first go to your dealership and ask them if they have the program, cause i know there are very few of the dealerships that do cause it is supposobvly a really expensive program.
Cobalt Specialist
Join Date: Nov 2007
Location: Sunshine State
Posts: 1,250
For now it would be a good idea to put a filter on the end of the tube -- or fabricate a nipple on your CAI to connect it to. When the pump is running it will suck up any dirt and could ruin the pump. No one makes a header for SAI to mount the valve to...just installing a mount won't work as the SAI exhaust manifold is made to run the SAI and has internal openings a header won't have. IF you can find a dealer that will disable the SAI -- they can do it with the same equipment that they use if you were to put on the GM 16" wheels -- then you could just remove all the SAI components and install a stock exhaust manifold or your coice in a header.

Since SAI supports emissions output you may have trouble finding a dealer to disable it.
---
Ex-Cobalt Owner
Newcomer
Join Date: Dec 2008
Posts: 19
alright thanks a lot. you have any recomondations on what hp mod i should do next? all i have so far is a cold air intake and fart can. sad i know lol
Posting Rules

You may not post new threads

You may not post replies

You may not post attachments

You may not edit your posts

---

HTML code is Off

---