I HAVE FIGURED IT OUT! +2.4swap
---
FOR ALL OF YOU, who has been following me and my axle problem! i have finally figured it out! 150$ later,2 weeks of trying to figure it out!, and 2 junkyard runs! it was the cheapest fix money couldnt even buy!



LOSE LR LUGNUTS! i cant believe i overlooked the most obvious thing. but atleast i have 2 new axles!


also, while my car was "immobile" i also did my 2.4 intake manifold swap. oh boy, the power is definately noticeable. thanks to camopaint for the intake. worth the money!just need my 2.4 header on and i might be close to 160 hp. i know thats not a big deal but for an LS its better then 145.
i still cant even believe that tho lol.
---
Lol

Glad you got it figured out.




---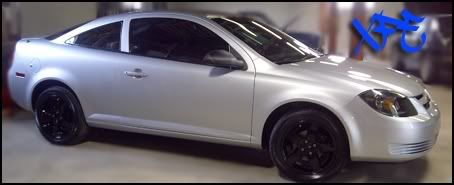 I remember when I had a weird noise coming from my front drivers side, happened the day I was going with my group to the track for some fun. Couldn't figure out what the noise was and said whatever. Drove maybe 20mi's and than I get a call as our convoy was on our way to rockingham(about an hour and a 1/2 drive) and it was one of the guys who could not go saying the place closed do to frozen pipes. One of our guys had been done there and was relaying the info. So pissed we turned around and went to my friends house. Got ready to figure out what the noise was and go to take off the drivers wheel and all the nuts but one was loose! WHEW, I do not want to know what woulda happened if we had kept driving. Talk about someone watching over ya lol
Glad you figured it out before anything happened
---
My Gone But Not Forgotten Cobalt(s) Show off

2015 Fiat 500 Abarth
|
2016 International Durastar
Check out my Youtube page
Get Out The Sawzall

Cobalt Master
Join Date: Apr 2010
Location: Sewickley, Pa
Posts: 1,856
Glad you finally figured it out, so the difference with the 2.4 intake is that noticeable?
Veteran
Join Date: Sep 2009
Location: maryland
Posts: 745
oh yeah, nice power gain from 3g, pulls mostly clear til 5.8g
---
no problem, sorry about the wait, i just got bogged down with crap from my own car and school and all that




Veteran
Join Date: Sep 2009
Location: maryland
Posts: 745
nah i had to fix my car and make some money to fix some stuff so it was def worth the wait, i love doin pulls now that my slobalt actually has some "get-up"
---
Posting Rules

You may not post new threads

You may not post replies

You may not post attachments

You may not edit your posts

---

HTML code is Off

---