Veteran
Join Date: Jan 2007
Posts: 673
A Basic Guide to Nitrous Oxide Systems
---
It seems here on yourcobalt.com there is an interest in running nitrous so upon request I have decided to make a little write up nitrous to help anyone out who might want to spray their car.
Kit Types:
The first thing we need to get out of the way is the different kinds of kits you can run and the options you have. The two main types of nitrous kits are dry and wet.
The first kind of kit I want to talk about is a dry kit feeds nitrous only into the engine.
Here is what a dry kit nozzle will look like.
These kits are not recommended for the average person wanting to mod their car because of their advanced nature. Still with that said I'll try and cover the basics of the kit. As I mentioned this kit will only deliver nitrous to the engine, this means that in order to safely run a dry kit you will have to compensate elsewhere to get extra fuel into the engine. This is done by tuning and often extensive fuel system upgrades need to be done to run a dry kit. Now this can be as simple as using larger fuel injectors or as extensive as converting the system to a return type, upgrading the pump, lines, rail, and injectors. This can all be complicated and it's important to match the right fuel system components and nitrous nozzles to make it all work correctly and safely. This is why a dry kit is not recommended for the average person wanting to spray a car.
The other and more common type of kit is a wet kit. It is called a wet kit because not only is nitrous sprayed into the engine but fuel is also added into the mixture.
Here is a wet kit nozzle. Notice the separate shaft for nitrous and fuel.
This kit is what is most recommended for the average user. This kit will be more complex simply because it will have lines for fuel, nitrous, an extra solenoid and switches, however the extra effort in set up is well worth the pay off in safety.
Nitrous Delivary:
There are three ways to get the nitrous into the engine: a fogger, a plate, and direct port.
A fogger system simply puts the nozzle into intake before the throttle body. The nitrous is then sprayed directly into the intake with the fogger opening facing the throttle body. This is usually the cheapest system because there is no car specific engineering required to build it. It is also the most common.
Fogger system installed
A nitrous plate is bolted to the throttle body and nitrous and/or fuel is delivered through jets in the plate.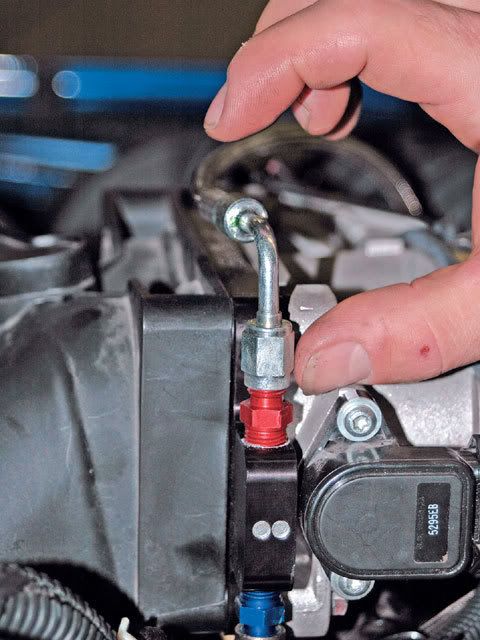 A direct port system sprays nitrous directly into the cylinders through nozzles that are directly installed on the engine or on the intake runners of the intake manifold. This is the most complex system to set up but is also the easiest to control in that flow can be set up for individual cylinders.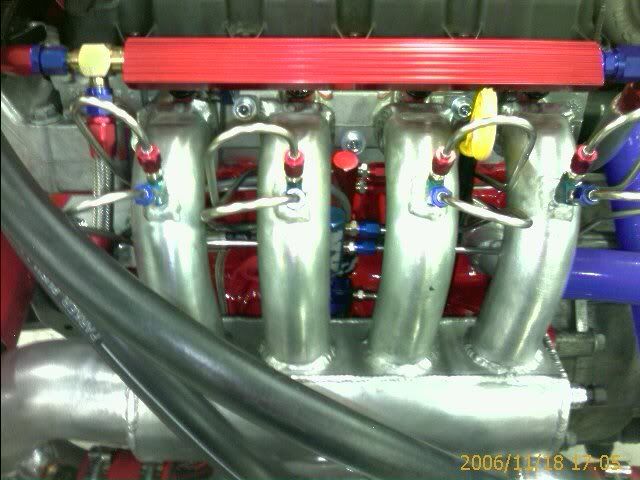 Switches:
MOMENTARY SWITCH:
The most basic nitrous kits come with a momentary switch. This is a switch placed on the steering wheel that is pushed when you want to spray the nitrous. With a switch like this all safeguards are put on the driver. These switches should atleast be teamed with an arming switch to prevent accidental spraying.
WIDE OPEN THROTTLE SWITCH (WOT):
Most of your better quality kits come with a WOT switch these days. This is a switch that is activated once the car has achieved wide open throttle. This atleast ensures maximum air flow through the intake which will help prevent pooling of nitrous in the manifold which is potentially fatal for a motor as it can cause a nitrous backfire which is extremely dangerous. Many a car has been lost due to a nitrous backfire.
WINDOW SWITCH:
A window switch allows the user to program a certain (and sometimes gear) window in which the nitrous is allowed to spray. It is never wise to spray a car under 3000 RPMs because puddling can occur. A window switch also has an upper limit to shut the nitrous off once the rev limited is reached. Advanced window switches allow the user to lock out certain gears to allow for maximum traction in lower gears by not spraying the car. This may or may not be needed depending on the car.
Misc:
There are a few odds and ends to also consider when spraying a car. Most kits will offer a form of tuning, usually in the form of an ignition box or something along those lines. These are fine for your basic nitrous application. Usually these kits will pull timing when your car is spraying. This is important to do and the general rule of thumb is to pull ½ degree of timing for every 25hp shot of nitrous. If you are running a kit that does not come with a tuning source you will have to find a way to do this yourself either through a tuning suite such as horsepower tuners or a piggy back.
Another important consideration is your spark plugs. It's wise to run a one step colder plug in order to prevent detonation when spraying.
It is also important that you keep your nitrous bottle at a consistent temperature. This will insure proper pressure when the nitrous is sprayed. This can be achieved by adding a bottle warmer or a blanket to keep the bottle from having large fluxuations in temperature.
You can also use add on features to a kit like an automatic bottle opener which will allow you to open the bottle from the drivers seat and a purge system. A purge system is used to remove air from the nitrous lines before you are going to spray. The system uses nozzles that can be mounted in various locations outside of the car and will blow the excess unwanted air out of the lines.
Mustang Purging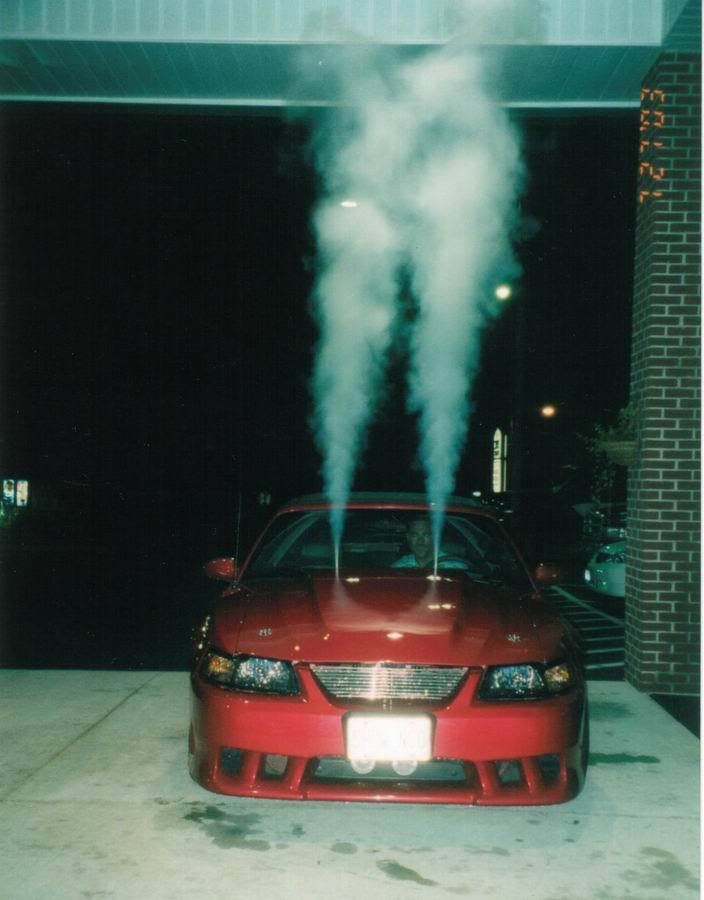 Well guys that's it. That's the nitrous basics. I hope that atleast helps you narrow down your search for a system and helps you choose a safe system for you to run.
---
Last edited by IMADreamer; 03-16-2008 at

10:03 PM

.
Veteran
Join Date: Jan 2007
Posts: 673
The IMADreamer Theory: I wanted to make this post more opinion and commentary rather then the facts I hoped I conveyed in the first post.

My own personal take on Nitrous is simple. I love it. If you do your research and know what you are getting into, and more importantly plan well and do a quality install, Nitrous is as safe as an intake swap for your car. Nitrous is a very major modification though so it should not be taken lightly. The great thing about living in the time we do is that all the research and trials have been done. There should be no secrets when it comes to nitrous at this point so you can easily find a kit for you.

Those of you that have been around a while know I promote safe modding. Iím a stickler for it because I realize that a car is a huge purchase for a lot of people (myself included) and it has to last you a while. So when I give advice I like to be thorough. As I hinted at in the first part of this write up most nitrous kits on the market come with what you need to spray. However they donít come with everything to insure your kit will run flawlessly and more importantly not hurt your car. One of the things I try to preach to people is instrumentation. I honestly donít think you can have too much, but it is somewhat silly to fill your car with gauges just to run a 50 shot of nitrous. Now, itís not 100% needed but Iíd recommend getting a wideband Air Fuel Ratio gauge. This will accurately monitor what is going on inside your engine. The benefit of having one of these is that if something starts to go wrong it should show up on the gauge, if you catch it quick enough you can shut the nitrous off via an arming switch and possibly stop catastrophic damage. Now I realize when you are screaming down the track at full throttle the chances of you shutting it down in time are slim but itís still good to have the AFR gauge because Nitrous is a big modification. I also suggest getting an aeroforce interceptor and an Exhaust Gas Temperature gauge but I will admit that is a bit overkill. Again though it certainly wonít hurt.

Another area not to skimp on is switches. Yes you can get buy with a momentary switch, but you are really risking it. At minimum I would run an arming switch, WOT switch, and window switch. These three together ensure you will never spray when you donít want to. A nitrous guys worst enemy is nitrous backfire. At minimum it will mess up your MAF sensor, it will probably screw up your intake manifold, and it could lead to your engine blowing. It can also start a nitrous fire, which is very hot and very dangerous. I personally have seen several cars at the track burn down to the ground due to nitrous fires. Itís not pretty and itís very scary, not to mention heartbreaking for the poor person whose car just burnt up.

Probably the most important safety precaution however is not spraying on the street. I know I sound like an old man, but itís really dangerous. At the push of a button are adding 25, 50, 100, 150? Hp to the car in an instant. That is no joke to be playing around with.

While we are talking about nitrous shots I also suggest starting small. If you arenít used to nitrous it can surprise you. I would always start with a 25 shot and make a few runs with it to get used to the power. Then once you get the feel for what that feels like step up to the 50 shot and then so on and so forth as far as you plan to go.

So that brings up the question how much should you spray? Iíd say if you are on the stock motor Iíd stick to a 50 shot. You should have no problems with that If you are an LSJ owner you can probably do a 75 shot on the stock internals but you need to monitor whatís going on as successive runs can create extra heat that can ultimately lead to detonation.

Anything above those shots should not be attempted without a built motor.

If you do go above a 75 shot itís time to start thinking about setting it up in stages. Certain kits allow you ďstageĒ the nitrous so you run two levels of shots. For example in our Pro ET Camaro we run a 150 shot in the first two gears and a 300 shot in rest. This is because there is no way to get 300 extra and instant hp to the ground in the lower gears. This problem becomes even more amplified on a FWD car as traction is already at a premium.

Just as an example lets say I was going to run a 150 shot of nitrous in my Cobalt SS. I probably wouldn't spray in first, but set it up for a 75 shot in second and the 100 shot in the rest. This helps traction but still gives me the big kit kick for the meat of the run. However this is all personal preference so itís entirely up to you and if you decide to go big you can play around with different nozzles to see what works best for you.

Well I hope that helps you all and I hope I covered everything I should have. If not I can always edit. Good luck guys and gals and if you have any questions I will help the best I can and if I canít I know people who can so I will get back to you as soon as possible.
---
Last edited by IMADreamer; 01-05-2008 at

08:20 PM

.
Forum Regular
Join Date: Dec 2007
Posts: 162
This is awesome and is helping me out some. Def something ive been interested in and will be looking forward to do this summer. cant wait for the second part for the balts.
Thanks IMA. It looks great and will come in handy. Is that the car you mentioned in the last nitrous thread?
---

Very nice write up. stick.............................stick........... ................................STUCK!!!
---
Veteran
Join Date: Jan 2007
Posts: 673
Quote:
Thanks IMA. It looks great and will come in handy. Is that the car you mentioned in the last nitrous thread?
Your welcome and no that is not our car, that is Scott Winger's Mustang Cobra. We will probably have a website up a little later in the for our car depending on how sponsorship negotiations work out.
We are hoping to do a documentary of our season which is being done by a student film maker so we should have a ton of video and things to watch.
Hell yeah.....that would be awesome....
---
sounds good man! I look forward to seeing the videos.
---

vedy nice write up, as usual
Expert
Join Date: Feb 2008
Location: Edmond
Posts: 869
So if i was planning to run a 50hp fogger shot with a WOT on my 07 SS/NA would i be ok? Id been planning on it for awhile but any input from you would be appreciated.
---
My turbo lag is your courtesy head start.
Posting Rules

You may not post new threads

You may not post replies

You may not post attachments

You may not edit your posts

---

HTML code is Off

---