plugs/tune up
---
just hit 30k and its time to do a tune up...what plugs and wires you guys recommend for a stock 2.2? jsut get the stock replacements? also anything else i should look for when doing the basic tune up?
As far as spark plugs, most will recommend the ACDelco spark plugs that are cars come with (some of us use different plugs), and the boots you can buy from Autolite or BWD (I use the BWD). The only other thing you can replace is the module and the coil pack, but thats hardly ever necessary from what I hear, and they're expensive items to replace as well.
Expert
Join Date: Feb 2008
Location: Edmond
Posts: 869
Spark plugs, oil change if you haven't recently, check/fill all fluids, replace air filter. Al I can think of. No particular brand of plug, just use the stock replacements if that's all you want.
---
My turbo lag is your courtesy head start.
thx guys....i change the oil every 4500 miles or so and the air filter has been changed twice. i figured the most i would need is plugs and wires but wanted to make sure. hopefully this weekend i can swap em
Expert
Join Date: Feb 2008
Location: Edmond
Posts: 869
Oh and tires maybe, do the penny test to determine that
---
My turbo lag is your courtesy head start.
I would go to summit racing and order the E3 spark plugs, i ordered them and put them in and i get better gas mileage than before and it starts up a bit quicker and runs a tad smoother but thats just me. They dont have them listed for a 2.2L cobalt, but i called them and they got ahold of the company and sent me the ones i need. about 36 bucks shipped and you get a free hat and catalog, its not bad
im gonna have to check that out, thx man. i didnt get a chance to do em this weekend :( need to soon
Why are you doing a tune up at 30k? The plugs we have in our 2.2 are iridium plugs that can last up to like 100k. Just saying it's up to you. I would recommend a fuel filter and maybe a tranny filter and fresh fluid if it's an automatic...again our cars tranny service is 50k. I plan on doing my tranny and fuel filter every 30k. But I'm not plannin on touchin the plugs unless I have too. That's just me.
---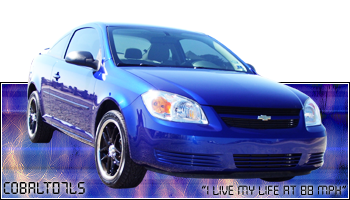 I've been looking for fuel filters myself, but everywhere I go I can't find one, was thinking of going to the dealer, but I know they'll charge a lot for that, can anyone reccomend where I can find one?
Posting Rules

You may not post new threads

You may not post replies

You may not post attachments

You may not edit your posts

---

HTML code is Off

---