How-to-Remove Front License Plate...
---
I'd just like to let you all know that this is my first "How-To", I apologize if it sucks or is useless, I did this tonight at work on night shift…. >.>
What you'll need:
A push in rivet or plug, A drill, a 13/64 drill bit or something close, and….well a license plate on the front of your Cobalt…
The Push-in-Rivet I used….
I found these at Lowes, just go down the aisle will all the drawers and good luck…
Once you have placed your bit into your drill, begin drilling into the center of the silver rivet, you'll know when you made it through, apply pressure as needed to make it through…
Then place your push-in-rivet or plug into the hole and apply pressure…my car is black so I didn't need to paint them, use Krylon Plastic paint if you plan on painting them to match your car…
This is what mine look like, not great, but better than holes…
---
2008 Black Cobalt LT Sedan - SOLD
2009 Rally Yellow Cobalt SS/TC Coupe - SOLD
2002 Alpine White Impreza WRX - CURRENT
---
Last edited by USAMPDUFFY; 01-29-2010 at

04:36 PM

.
Contributor
Join Date: Nov 2008
Location: Clovis, NM.
Posts: 360
Just currious......
Why not a different style of push clip ?
Smooth caped one would look much better, IMO.
---
07 G5 GT
Cherry's Tree
Randy
Now serving Boost
272whp 276wtq @10psi
i agree, i will once i get a chance, like i said, im at work, thats what i got, cant leave til midnight and i dont have a superlowes around here so ill have to wait til tomorrow i guess.
---
2008 Black Cobalt LT Sedan - SOLD
2009 Rally Yellow Cobalt SS/TC Coupe - SOLD
2002 Alpine White Impreza WRX - CURRENT
Forum Regular
Join Date: Sep 2009
Location: Detroit MI
Posts: 70
i used body filler to cover the holes, same with my trunk keyhole i might make a diy later
---
Ricer at Heart <3
Cobalt Specialist
Join Date: Jun 2009
Location: eastern PA
Posts: 1,286
yay for deleting the front plate! always looks so much nicer. i used some diff plugs when i did it last Fall - can see them here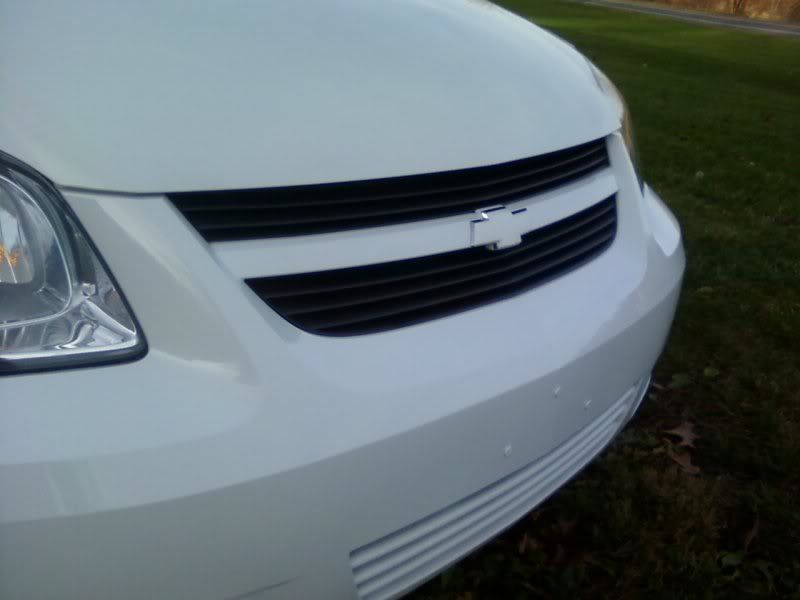 i wrote up a little about where to find the plugs and install them and all that
here too
if you'd want to get smaller plugs in the future
Posting Rules

You may not post new threads

You may not post replies

You may not post attachments

You may not edit your posts

---

HTML code is Off

---