*MINI UPDATE PAGE 3*SNEAK PEAK: Door panel progress
---
hey everyone
ive finally found some time to start doing the rest of my interior! i removed my passenger side door panel and stripped it. everything from the door insert the door handle even the little cubbie on the bottom... and today i started painting. not done yet but i felt like updating the progress since its been forever and a day since my last post! again im not finished yet so be gentle with the critisizims haha
Here I started with a white base
after the base dried i taped off the top layer for the second color (just so everyone knows taping a straight line on a textured plastic makes for a good time heh) then applied my black top color
well folks, there you have it. sorry for the crappy cell pics but ill have better pics when its all done and installed! so be ready for those! hope everyone liked my door panels i look forward to the finished product!!! thanks again for looking!!!
---
Last edited by /-KILLcobalt-/; 08-28-2009 at

09:04 PM

.
looks like it turned out well. personally I would do a color not so close to stock but still looks better than before
heh trust me its way different than stock heh its super bright white lol the pics dont do it justice lol but thanks!
Looks good so far bro! Have fun getting the arm rests back on.. hot glue doesn't cut it..
---

"A wise man speaks because he has something to say,
A fool speaks because he has to say something"

OBZ's showoff thread!
I want to do that! Looks so good.
---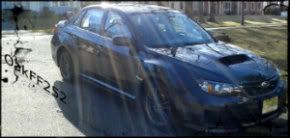 RIP Cobalt Totaled Sept. 2011
Current Car 2011 WRX
Project Victory_Red_SS
Keep the dream alive.
Contributor
Join Date: Aug 2009
Location: Pittsburgh/Plum, PA
Posts: 276
Nice. Can't go wrong with white and black.
---
has basically dropped off the face of the planet... moved and still havent had internet installed at the new place
i wasnt going to use hot glue... i have nice strong plastic adhesives (i work at a body shop) so it will hold nice

thanks everyone who checked this out!
for now my cobalt is black but hopefully sometime next year ill be changing that
Posting Rules

You may not post new threads

You may not post replies

You may not post attachments

You may not edit your posts

---

HTML code is Off

---