Recovered my door insert today
---
hey guys today i bought my fabric for my door panels ive only done one so far cause the other door panel hasnt been started yet...
i started by removing the old fabric and cleaned off the old foam and glue
then i sprayed on the glue and started laying in the fabric
then worked it in to all the edges and curves
then then finished product
took along time to do it but id say im pretty happy with it...monday ill put my door panel back together and reinstall it and take more pics so look out for that next week!!
thanks for checking it out!
Looks good man! Its kinda tricky up at the very front of it huh. GL with the rest of the project!
---

"A wise man speaks because he has something to say,
A fool speaks because he has to say something"

OBZ's showoff thread!
Contributor
Join Date: Feb 2009
Location: Hackettstown,NJ
Posts: 328
yea its pretty tricky in general ... i feel like the how to's for this make it sound like its no big deal and to me i feel some of the how to's arent accurate to me ... maybe im doing something wrong but o well it came out nice and im installing it tomorrow
mmmm rice<3
Join Date: Jul 2009
Location: State College, PA
Posts: 837
i can't wait to see it on your door and with the rest of your interior....... i'm patiently waiting here...... *tick tock tick tock* stupid clock go faster. haha.
---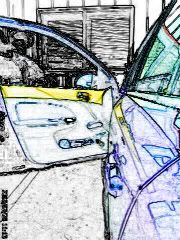 your gonna have one of the nicest interiors when ur done imo. looking forward to seeing it installed
Contributor
Join Date: Feb 2009
Location: Hackettstown,NJ
Posts: 328
thanks alot everyone who commented! im not exaclty 100% sure what kind of fabric it is i THINK its vinyl but maybe its actually leather i dont know.. i just liked how it looked opposed to the other blacks i saw...

Id like to add i was trying to put my door panel back together today ... TOTAL PAIN IN THE A$$ holy crap... all these how to's make it look like a 1,2,3 thing but nooooo heh i dont care that it takes awhile but damn reinstalling the insert is the hardest thing ive done on a car.....heh everytime i put it on i didnt like how it looked so i popped it off and tried again...

HOPEFULLY if everything went well ill put my door back on tomorrow and take pics... till then thanks so much for all the compliments and thanks for looking forward to my progress!!!

thanks to all!!!



tick tock haha...i know the feeling
Posting Rules

You may not post new threads

You may not post replies

You may not post attachments

You may not edit your posts

---

HTML code is Off

---