Newcomer
Join Date: Aug 2009
Posts: 4
Interior overhaul
---
First off I'm the new guy. So hi. Yes I did do some searching but I couldn't find quite what I was looking for. Anyway.

I have a base 05 Cobalt Sedan. I'm officially out of warranty as of a month ago so I started to tinker with my car

To be frank, I hate the grey interior. Hate it. I want the black one. Now for some reason the top of my dash is black but every other piece of trim is grey.

So I want to do the bottom of the dash, the entire center console, A,B,C pillars, headliner, rear deck lid, seats, door sill covers and doors in black. What would you say the best way is to accomplish this?

I looked around and I can do both the bottom dash and center console with oem parts in ebony for $250 give or take. But since I have a sedan I'm lost when it comes to the door panels, headliner, pillars, door sill covers and seats

Any direction would be very helpful. Thanks in advance
well as far as the fabric goes, please dont paint it(ive seriously seen painted seats and headliner) if you really want black seats and whatnot, maybe check a junkyard for some ss parts you could get cheap. otherwise, you would be looking at re wrapping everything
Newcomer
Join Date: Aug 2009
Posts: 4
Thanks, I've been in the shadows reading. This site is alot like CSS.net. Makes me want to spend an ungodly amount of money
dont compare this site to css that place is 90 percent crap in my opinion.
---
TTR Sway bar, De badged, z-spec intake, DVD player.

"I am by no means an expert in my field of work or play"
Newcomer
Join Date: Aug 2009
Posts: 4
hmm... well I have't ventured too far out of the electronics section as far as that goes I had nothing but good experiences. But it's irrelevant. To each his own I guess.
welcome and as far as redoing your interior you have a few options. 1st you can go to the junkyard get most of what you need for a decent price.almost all of the interior pieces just snap out so it is not that hard to do. second you can paint all the plastic pieces with krylon fusion spray paint (made for plastic). As "09cobaltlt" said DO NOT paint any fabric. Just get that stuff from a junkyard. hope that helps steer ya in the right direction




dont paint the fabric looks gay like a merge of black and gray i should know i painted my door panels and i was gonna replace the fabric so i didnt cover them but best thing to do is paint ur panels with krylon fusion spray paint as Cobaltxfe09 said
mmmm rice<3
Join Date: Jul 2009
Location: State College, PA
Posts: 837
Quote:
First off I'm the new guy. So hi. Yes I did do some searching but I couldn't find quite what I was looking for. Anyway.

I have a base 05 Cobalt Sedan. I'm officially out of warranty as of a month ago so I started to tinker with my car

To be frank, I hate the grey interior. Hate it. I want the black one. Now for some reason the top of my dash is black but every other piece of trim is grey.

So I want to do the bottom of the dash, the entire center console, A,B,C pillars, headliner, rear deck lid, seats, door sill covers and doors in black. What would you say the best way is to accomplish this?

I looked around and I can do both the bottom dash and center console with oem parts in ebony for $250 give or take. But since I have a sedan I'm lost when it comes to the door panels, headliner, pillars, door sill covers and seats

Any direction would be very helpful. Thanks in advance
i wanna do this too, i gotta coupe. butt, im wayy too lazy. so lemme kno how it goes for ya
---
needless to say, your gonna have fun redoing your interior. i know i am! :D
---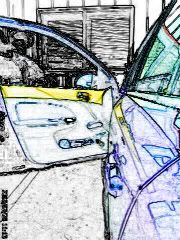 Posting Rules

You may not post new threads

You may not post replies

You may not post attachments

You may not edit your posts

---

HTML code is Off

---