My undercoating project
---
Up here on the iron range(MN), the one problem we have is rust from the road salt in the winter.
Whoever owned the cobalt before me must've liked dirt roads and powersliding because the whole rockerpanel undersides was full, I mean full, of chips and a big dent where someone tried to jack it up from at one point.
I decided to do something about it before winter rolled around. I used:
NAPA self-etching primer
NAPA Auto primer
Rustolium Bed Liner
36G Sanding sponge
Acetone to clean the surface before primer
It came out fantastic!!! I could take more pics, but the sun is in a bad spot(as seen on the photo)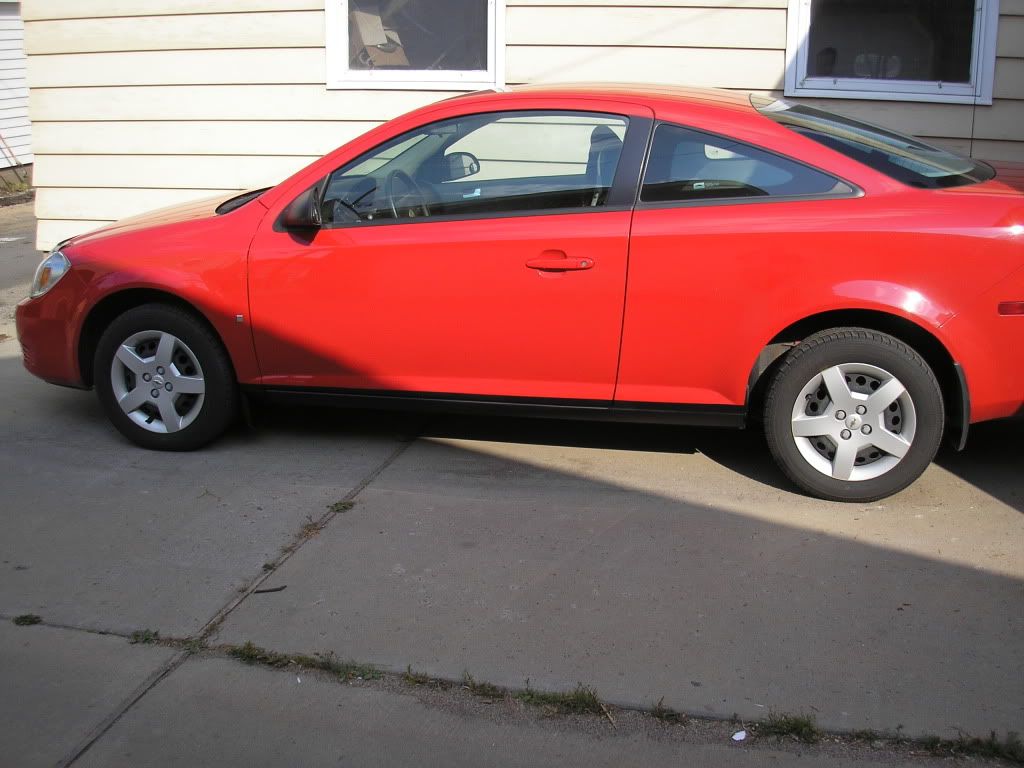 What do ya think? Not bad, huh?
wait the side skirt is like black now?




i think i'm seeing things idk whats different




Just something we have to deal with in MN....oh well. Looks different...if you were doing it for style, I'd say no way, but since I know where you're coming from, nice job.
---
-Mike
|07' LS Sedan|Ultra Silver|Auto|MTX X Thunderlink|Debadged|35% Tint|Sportlines|Injen CAI|ARK Antenna|ARK STB| OTTP "Street" bar|Bridgestone Potenza RE960AS Pole Position 205-60-15|Hawk PC pads|PowerSlot Slotted rotors|

Not installed yet: Pacesetter Header|Exhaust Depot DP|LSJ Cat-Back|Injen Hydroshield|MSR 045 18x8 Black w/ Red Pinstripe
Nice job, IMO it doesn't look bad! If it were me though, I wouldn't have gone up the side skirt. But this should definitely prolong the life of your car!
---

"A wise man speaks because he has something to say,
A fool speaks because he has to say something"

OBZ's showoff thread!
Quote:
Rear mudflaps too?
I know, I got'em from the dealership. I'm going to get front ones soon, the rear ones just keeps dirt off the sides of the bumper.
This isn't a style thing, it's a preservation thing. If you don't take measures to fight potential rust spots, you'll never get ahead of it. Most trucks up here are rhino lined, like, a foot and a half from the bottom. Way too much.
With mine, I just followed the lower body line, nice and clean.
Plus, the factory paint was flaking off for some unknown reason at the bottom of the driver's side door, now it's better than factory(I hope).
Posting Rules

You may not post new threads

You may not post replies

You may not post attachments

You may not edit your posts

---

HTML code is Off

---