Newcomer
Join Date: Sep 2009
Posts: 3
2009 Cobalt Modern Performance LED Tails Question
---
First off realize I'm a girl and don't have much experience in modifying cars
but I recently bought a pair of the modern performance LED taillights and they look really sharp and they are plug and play supposedly. So can anybody explain to me how the hell to take the stock tails out? I have the black cover off of the backing up lights, took the bulb out and the bolts and nuts that hold down the stock look just like plastic molded together so how am I supposed to unscrew that to get the new ones in? any help would be appreciated!
Pull the carpet out of the way and there are some wing nuts. Just loosen them all up and the lights come right out. Its easy and takes less than 2 minutes to take out and instal lthe new lights.
---

Newcomer
Join Date: Sep 2009
Posts: 3
nuts
---
these friggin wing nuts or whatever are driving me crazy, they are made out of plastic and they seem to be painted right to the plastic bolt that holds it in...I don't see how I am having such a hard time with this. I even used vice grips on these plastic nuts and nothing makes them turn and I don't want to break anything. It almost looks as if they are decorative, if they are going to bolt something in why do it with plastic and then paint over it?



By the way guys I figured out the regular tails, this is the back up light assembly on the trunk lid I'm having problems with
---
Last edited by ascamy06; 10-12-2009 at

10:35 AM

.
If I recall the plastic nut used an 11mm (or 10mm like most of the exterior of the car) socket. they were tight and just in a bad location, had to go like an 8th of a turn at a time since I didnt have a deep socket and had to use a box wrench. Then I used a real nut on my replacement, tho they aren't modern performance.

BTW welcome to the site
---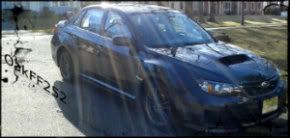 RIP Cobalt Totaled Sept. 2011
Current Car 2011 WRX
Project Victory_Red_SS
Keep the dream alive.
---
Last edited by Snake890217; 10-12-2009 at

10:53 AM

.
Newcomer
Join Date: Sep 2009
Posts: 3
wow I am retarded, Snake I love you!!! I used that size socket and they came right off, now all I need to do is buy the right size bolts to fasten them back on and I'm golden, thanks!! Can't believe I didn't try a socket wrench before...lmao I'm out there with pliers and vice grips.
Posting Rules

You may not post new threads

You may not post replies

You may not post attachments

You may not edit your posts

---

HTML code is Off

---