Prospect
Join Date: Oct 2009
Posts: 21
Center Armrest (manual) Install Woes
---
Hi,
I wanted to share my less than perfect experience installing a center armrest into my manual 09 cobalt so that others won't go through the pain. Yes, it can be installed into a manual cobalt, and a few others have explained how. What is needed is not just the armrest, which is easily available via ebay, gmpartsdirect, the dealer, etc., but also some other items:

1. bracket/support: 15273918
2. new rear cup holder: 25845918
3. bolts (x6): 11561674 (these were backordered so I went to the hardware store and used #12-24 1/2 inch (x4) and 1 inch (x2)).
4. instructions. Supposedly the dealer can order all of these as a kit and it comes with directions. The 2 dealers I went to claimed it did not exist. The first dealer refused to look. The second dealer refused until I showed a picture posted on this web by jbmilman showing the bracket and cupholder. Even then he could not produce the instructions.

I first ordered the armrest only, from gmpartsdirect, only to find out I needed the above listed items. The second dealer ordered the bracket and cupholder.

Install: A royal pain, supposedly easy, taking 1 hour. If it's your first time and doing without directions, you'll need at least 3 hours and will likely break some of the trim. You must remove the center console plastic parts in order to install the bracket. I used a 7mm socket for the screws, and a wooden spatula for the trim tool.

After 3 hours in the rain the install was completed and I'm happy with the results. The armrest just barely gets in the way of the emergency brake, not too bad (just need to move the armrest a little bit each time you apply the brake), and does not interfere with shifting. I had noticed the lack of armrest the first time I got into this car, and it's presence is now much welcomed.

Thx,
Greg
Contributor
Join Date: Nov 2008
Location: Clovis, NM.
Posts: 360
My e-brake holds the car fine
without it hitting the armrest.

Agree with needing an armrest,
its used everyday.
---
07 G5 GT
Cherry's Tree
Randy
Now serving Boost
272whp 276wtq @10psi
Quote:
took me no more than 6 mins or so to put in. Never done it before that either, just alittle force and ta da, in. I love it, never gets in the way cause it flips up, should have come in all balts to begin with.
x2
---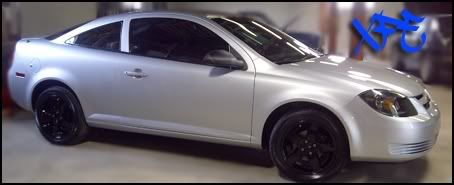 How much does the kit cost cause i have been wanting one forever
Sweet thats not to bad. Dd you order it throught GM?
1. Bracket/support 15273918 $17.95
2. New cup holder 25845918 $26.64
3. Hardware/bolts 11561674 $.50 cents a bolt
4. Armrest itself ????????? $220.95

**as of 13 Nov 2009... In hawaii
Just installed my armrest today!
Installation was easy, but im missing hardware-2 bolts for the armrest that the dealer either forgot to give me or didnt think i needed--no biggie, nothing that a stop at the hardware store cant fix.
Here is everything I recieved from the Dealer. From left to right is the BRACKET/the E-HANDBRAKE "spacer" (*WHICH YOU DONT EVEN NEED TO INSTALL, SAVE YOUR 25 BUCKS!). the ARMREST, the CUPHOLDER (mine isnt ebony and needs to be painted :() 4 BOLTS and a DIAGRAM (NOT INSTALL INSTRUCTIONS)
Dont really need instructions anyway, not toooo difficult---- here is how I did it
*Pop off Rear cup holder
*Pop off E-Handbrake Plastic Trim piece
*Pop off Shifter boot
*Pop off Shifter Plastic Trim piece
After removing plastic trim pieces and moving aside you need to remove the two rear screws on the left and right side as SHOWN BELOW:
You then need to remove another two screws midway up the console, located just behind the shifter.....
After removing those 4 screws: Place the armrest BRACKET where it goes--THIS CANT BE DONE FROM THE TOP--GOTTA GO THRU THE BOTTOM--this is accomplised by lifting the rearmost plastic trim-along the drivetrain "hump" in the back seat and CAREFULLY sliding the BRACKET under the plastic so you dont scratch or ding the plastic.
*Bolt down the newly installed BRACKET with the 4 BOLTS
After placing the armrest on the bracket, and careful not to scratch the plastic, realized that you need to flip the ARMREST over, and using a screwdriver or a leverage tool pull and pop out the side plastic pieces from the ARMREST. You dont need to pull them out all the way, just loosen them up enough to make room to be placed over the stock center console plastic.
Picture of both sides of ARMREST plastics slightly loosened up.
*Install ARMREST on top of BRACKET, use 2 BOLTS and tighten it down
*Press in on both sides of the loosened ARMREST plastics and snap them back into place
*Reinstall the 4 screws you removed earlier
*Reinstall Shifter Trim, shift boot, E-Brake trim and New CUPHOLDER
*fin
Posting Rules

You may not post new threads

You may not post replies

You may not post attachments

You may not edit your posts

---

HTML code is Off

---