Simple New Headlight Look for Me~
---
Interesting how some new headlights with a different color create such a different look from the stock originals. I bought these off of EBAY, their the same as teh stock except for everything being black. i had to get new headlight housing cuz my stocks were going bad but I didnt wanna spend more than necessary since I already have an Xenon HID kit installed, just needed new housing. check it out. my balt' is finally getting to where i've wanted it at, next i'll be FINALLY nightshading the tails, but not to dark, just a light tint for now.
Veteran
Join Date: Oct 2009
Location: Lake Co. Florida
Posts: 674
They look really good. I want new ones, but money is tight, so I'm gonna have to fix mine. I already painted the things black a year ago, but my lense is going bad. Looks like it got sand blasted.
looks great man. I just painted my stockers black. But i have to reseal them and heck yea it looks %100 better....lol




PS: Moved to interior/exterior styling




---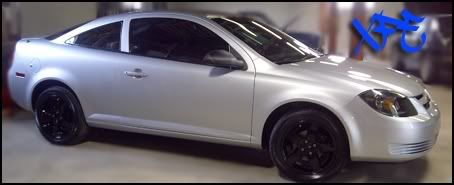 Cobalt Specialist
Join Date: Jun 2009
Posts: 1,324
nice - it makes big deifference in your car appearence.
---

GM STAGE 1 :
I like it!
---
1986 Chevrolet Camaro IROC-Z
- Wrecked/Sold
1998 Chevrolet Cavalier
- Wrecked/Donated
2007 Chevrolet Cobalt LT
- M62 Supercharger, Ported Throttle Body, 42 lb/hr Injectors, Intense 2.9" Pulley, Cobra Heat Exchanger, SS/TC Exhaust, TTR Engine and Trans Mounts, Trifecta Tune, ZZP Header and Downpipe, '08+ FE5 Struts/Shocks, SSC Springs, FE5 Control Arms, SS/SC Front Swaybar, Powell Hardcore Rear Swaybar, 18" MSR 045s, Dunlop ZIIs, Nightshaded Tails/Side Markers, Shorty Antenna, Black Bowties, Black Grilles, Black Headlights, Dual JL 12" w1v2 Subs, A/D/S Front/Rear Speakers, Pioneer 7" Touchscreen, G85 Recaros, Leather Rear Seats, 160 MPH Cluster.
2014 Chevrolet Cruze Diesel
- 17" MSR 013s, Black Bowties, Black Tails, UR Rear Lower Bar, K&N Intake, Trifecta Tune
1981 Chevrolet Camaro Z28
- JVC Ribbon Tweeters, SEAS Mids, Pyle Woofers, Kenwood Tape Deck, Zapco Amp/Equilizer, Ceramic-Coated Longtubes, 2.5" Pypes Stainless Exhaust, Bilstein B6 Shocks, GW U/L Control Arms, Hotchkis Springs Sway Bars, DD HDX Cluster
2017 Chevrolet Volt LT
- Black Bowties
mmmm rice<3
Join Date: Jul 2009
Location: State College, PA
Posts: 837
nice.... i likie
---
mods... tinted taillights, 1000 watt alpine mono amp, 2 10 inch alpine type "r" subs, basspro slot ported box, xm radio, alpine 6x9 rear speekers, alpine 6.5 front speekers (both type "s",09SS front bumper and lip,black factory headlights, 12k foglights, 10k headlights, slp catback,fe5 suspension with sportlines,black carpet, painted plastics (black) huge custom pink monster sticker... and ofcourse.... BLACKED OUT!
Quote:
damn dude. lemme guess, they were 112 buy it now, around 150 shipped? i was looking into them alott. how do you liek them?
yup, thats the same ones, shipped within a week, I was able to pull the stock ones out nd put these in within an hour and half, i didnt know what I was doing so took a bit longer but their the same at the stock's so no modification required. fit the same and all, and they look hella good just for the only difference being the color, and the clear cover on the front looks different, might just be cuz their so new.
Posting Rules

You may not post new threads

You may not post replies

You may not post attachments

You may not edit your posts

---

HTML code is Off

---