View Poll Results

: tint tail lights or leave them

tint tail lights
40
85.11%
leave the tail lights how they are
7
14.89%
Voters: 47. You may not vote on this poll
Cobalt Master
Join Date: Sep 2008
Location: Albany NY
Posts: 1,969
To Get Tail Lights Tinted or Not to
---
i can get my tail lights profesionaly tinted cleared buffed and sanded for about 55 dollars from a local shop

should i do it

pics are in my show off thread

he would do my side markers and third brake light too if i dont get the tail lights done im just going to get the side markers redone because ill get new ones and than get a new third brake light cover and get that tinted.
---
Last edited by cobalt08ls; 04-28-2010 at

09:03 PM

.
Contributor
Join Date: Oct 2008
Location: Missouri
Posts: 289
Tint them but why buy new third break light? Why buy new side markers? They look good just get them darker and tint the tails and rev. lights. Do your rev lights stick out more than stock always wandered, like yours alot. Saw one around here and it had crome and they stuck out. I like yours alot more than theres not a big fan of crome.
---
---
Last edited by Craig; 04-28-2010 at

09:39 PM

.
Cobalt Master
Join Date: Sep 2008
Location: Albany NY
Posts: 1,969
because i used nightshade and i belive he uses a different mixture. so im going to buy new side and third brake lights so he can just tint those.
and yeah they do stick out idont really care though because there sick lights
Get Out The Sawzall

Cobalt Master
Join Date: Apr 2010
Location: Sewickley, Pa
Posts: 1,856
I am thinkin bout doin the same, I like the look.
Cobalt Master
Join Date: Sep 2008
Location: Albany NY
Posts: 1,969
yea i just dont know if ishould do it or not because it may look weird seeing i have a black car. and you really cant leave the reverse un tinted like the normal stock lights because it would look weird
no one that i know of has a black balt with the same lights as i so i guess ill never know what it looks like

unless someone wants to photoshop em???
Veteran
Join Date: Sep 2009
Location: california
Posts: 575
isn't tinting you tail lights illegal in most states???
Cobalt Master
Join Date: Sep 2008
Location: Albany NY
Posts: 1,969
Only is if is there supeeer dark. My friens got pulled over twice in one night for the ebay lights she got for her jetta. They have to be visible up to 500 feet
Cobalt Specialist
Join Date: Mar 2010
Location: Ohio
Posts: 1,056
Mine are prolly illegal.... haha, i put it on too thick, but im getting diff ones soon, it was just a quick cheap mod, had them for a month not gotten pulled over
i think black on black would look good, whether theyre really tinted or lightly tinted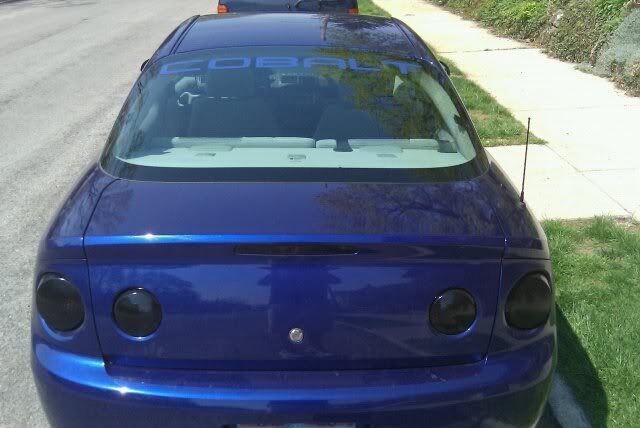 Posting Rules

You may not post new threads

You may not post replies

You may not post attachments

You may not edit your posts

---

HTML code is Off

---