Newcomer
Join Date: May 2010
Location: San Benradino, CA
Posts: 25
Bowties!!
---
i need help!! ok so im using the how to on my headlights. gonna turn them black.
wish me luck. now! i also wanna paint my bowties black since im a be using black paint anyways. can anyone help me on how to do it. i wnana keep the chrome part chrome and the gold part into black. help you guys!!
Just use painters tape and tape off the chrome part. Or...you can pry the goldish part off...but be careful when trying that because it could break.




---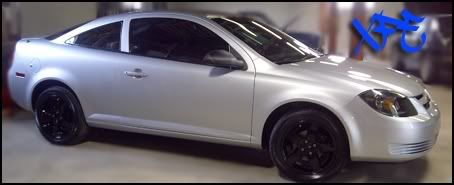 Newcomer
Join Date: May 2010
Location: San Benradino, CA
Posts: 25
wah about the trunk?? how do you paint the back?
Newcomer
Join Date: May 2010
Location: San Benradino, CA
Posts: 25
sorry but how do you remove it??
fishing line, its help on my double sided tape.
you will need bug and tar remover also. IMO i would just tape the chrome off on the front one prying it off seems like a little bit of a pain
---
My sig thanks to Gcobalt
Contributor
Join Date: Nov 2009
Posts: 499
make sure you tape off any surrounding areas from overspray if you decide to leave it on the trunk while you paint
---
Quote:
I think that is the plan....

"Hey let's switch out Megan Fox for Jack Black. No one will notice that." lol
Newcomer
Join Date: May 2010
Location: Acworth, GA(home)/ Charlotte, NC(school)
Posts: 17
I am using Vinyl that my friend has for the registration numbers on his boat to cover my bowties. It's not permnant, and Im not a very good painter lol.
Newcomer
Join Date: May 2010
Posts: 6
well if you want to paint it, use a blow dryer, and heat up the bowties with that. Than take a screw drive and just work the driver under neath each of the bowties. Then paint them. If you wan to remove the fron one, then there are two bolts behind the grill insert. When you pop the hood you have easy acess to them. Un bolt the bowtie fron the car and either pry of the gold part or just tape around the chrome. But be warned, do this in a closed area. I painted my bowtie several times because god chose to make the wind blow right when i painted mine each time. Now there are imperfections in mine but for now it will have to do as ive done it multiple times.
Posting Rules

You may not post new threads

You may not post replies

You may not post attachments

You may not edit your posts

---

HTML code is Off

---