Forum Regular
Join Date: Nov 2009
Posts: 159
Summer Mods [ Need Help&Advice ]
---
Well im still thinking of upgrading to an ss if i can find a good deal on one somewhere around here but theres 4 in my town so i doubt i will. Im just gonna start putting money aside for it in the future.
Alot of my friends have differnt cars and we all tend to cruz/sit in lots and hang out. I already have 7 color under glow + rims.
The mods that i want to do are.
Dual Halos - Friend was gonna get with his mustang but said you have to splice wires due to the led's i would probably have mine pro. installed to reduce risk of messing up. Also are they legal? I know every ss iv seen in town has them and they are stock on bmw >.< Will i have to get new lights aswell and or can i just have the rings lit up in day/night (when parking lights would just be turned on)
Exhaust - I dont want too loud and ricey but i want my car to stand out and be heard but not annoying. Any ideas? :] Links would be nice
Smoked tails - I already have a silver cobalt with chrome/black rims so i think the dark look to it would flow with tinted tails. I realize its illegal but iv never heard of anyone getting pulled over. And my dad is on my ass about all this stuff because it will attract attention/illegal..
Also i posted about my underglow problem. Does anyone have any ideas on how to hide the side ones? Someone made a suggestion of making a thin piece of metal to cover them and mounting it under somehow... ? Which is good idea just no idea how to start/mount
Thanks for reading and thanks for help if you read this all and help
remind me to answer in the morning




Cobalt Specialist
Join Date: Mar 2010
Location: Ohio
Posts: 1,056
For my side neons, i used automotive duct tape and fashioned my own lip to extend the tiny one the LS has, just attached part of it and folded it over, making sure not to leave seams in the tape. then i used my color matching spray paint i used on the interior and painted and clear coated it so it blended with the car, it was a cheap easy functional and looks good.
As for exhaust, a lot of balt owners are fans of the Tsudo N1, which is a great buy for its price, though i cant say how it sounds bc mines getting shipped to me this week, but its an easy two piece bolt on set, and you can go loud or soft by removing or inserting the silencer in the tip.
As for the tails i dont think you should worry about getting smoked ones, they can be smoked/tinted and still let good light through, i believe the law is 500 ft visibility at night. And i have nightshades on mine, a lot of it, like blacked out, and ive never had any trouble for them.
And i know nothing of halos, just that they require additional wiring, but theres a lot of how to's and videos out there that explain it
---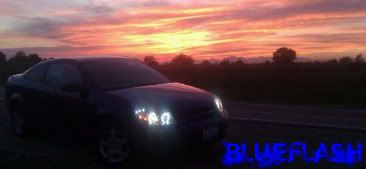 2006 Laser Blue LS -
Wrecked
well you can get dual halo housings...they're like the ones that other membere on here have. there's a few different styles, it's the whole headlight housing with the halo's inside. Check this thread:
https://www.yourcobalt.com/forums/int...rojectors.html
Yes you have to splice the wires into parking lights or however you want them to turn on etc. No it is NOT difficult, I would NEVER pay a pro as it is a big waste of time and money. I believe there's a DIY on how to install them on here. Search! And they will come with necessary bulbs needed. Some come with HID packages (mroe expensive, off ebay etc). or you could order a retrofit projector with angel eye from someone, like mkulrey but I'm thinking this is out of your price range.
and halo's ARE legal, but depending where you live, certain COLORS of halo may be illegal (in some places blue or red halo's are illegal because of police)
For your underglow problem, when I had my civic, I went to Home Depot and bought 2 long pieces of aluminum, relatively thin, around 8 feet long, 1/4 inch or something, by 2 inches wide. I then cut it to the right length, and used metal screws to attach it to the small exhisting lip. This loked pretty good, nobody noticed it was on there, it almost looked stock, and it hid the tubes well. If not then buy side skirts (probably out of your price range lol)
Forum Regular
Join Date: Nov 2009
Posts: 159
I would just go with normal halos. With the white ring around them when parked :P no fancy colors for me ;) And the tails are good haha i really wanna get them and do that.. For the side skirt i might need some help from my dad or someone who knows what theyre doing with metal :p And for the exhaust does any1 have any sound clips of tsudo? I mean like can it be heard from a good distance but not too loud and annoying? I dont want a fart can and everyone hate on me when they see me/hear me :P
---

XBL Gamertag: The Uberklaw
Posting Rules

You may not post new threads

You may not post replies

You may not post attachments

You may not edit your posts

---

HTML code is Off

---