Finally Painted My Strut Bar
---
Im sure someone will say something stupid about how this should be in the "suspension section" but its more visual than suspension....
also I havent been on here in ages so SUP! (new and old members)
So I FINNNAALLY got around to painting my damn strut bar! been waiting forever but been so busy with work to do anything to my car blahhhhhh
anyway enough chit chat here it is... (sorry for the dirrrrty engine bay)
FYI when I bought it, it came with some grey gunmetal metallic powder coating it looked cool but I felt this looks waaaayyy better.. its more...me! ha
id like to clarify before the questions roll in...
THIS IS ALL PAINT
THERE IS NO STICKER
Looks good man!

Good to see you're still around as well!




---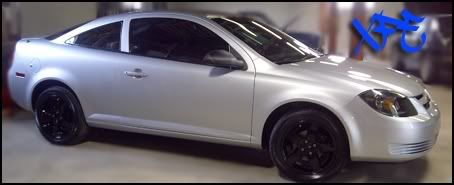 wow that's clean, did you use stencils?

I have the same bar but without the nice paint job. Did you throw away the aluminum badge?
---
MODS:
GMPP "Performance" cat-back, GMPP intake, GMPP extrude honed header, GMPP ground effects kit, lip spoiler, gen 4 headlights, DC sport strut tower brace, splitter, vortex generators, motegi SP10, Iridium spark plugs, ractive aluminum pedals, white carbon shift knob, shorty antenna, 4300K HID low beams (screw
electricals
warranty)

by gCobalt05
Contributor
Join Date: Feb 2009
Location: Hackettstown,NJ
Posts: 328
thanks!

yea im still around just busy... got some stuff in the works. More updates coming soon.

and no, No stencil... my strut bar came with some stickers so what I did was: I painted the middle or the bar green, then let it dry. Put the sticker where I wanted it to go. Then painted over the whole strut bar black. Then peeled the stickers off and then cleared it. Followed by a sand and polish. So thats the way it looks now! Took alot of time and precision lol but it came out nice im very happy with it!

Yes I still have the badge that came with it just got to find it lol
Always love your painting ideas man.
Its been forever, I saw that you made a thread and I was like WOAHHHH who dat?! lol

I need to set up an appointment with you to paint my driver side roof area, fading, baaaad.
---
THIS

TO THIS ->>

https://www.yourcobalt.com/forums/veh...nnesaw-ga.html
Contributor
Join Date: Feb 2009
Location: Hackettstown,NJ
Posts: 328
haha thanks GGGGGGGG lol it has been forever just been soooo damn busy heh

it would have to be the whole quarter to make it right... you only need paint on the top but id have to clear the whole thing...

moreeeee stuff coming soon! YAAAAAA lol
Veteran
Join Date: Dec 2009
Location: Elberton, Georgia
Posts: 680
Very nice and clean!
I like the look
Posting Rules

You may not post new threads

You may not post replies

You may not post attachments

You may not edit your posts

---

HTML code is Off

---