SS Leather Seats in an 09 LS XFE, Install Horror Story =p
---
Bought the front seats off a guy trying to retrofit them into a 68 Camaro O.o, he couldnt fit them apparently so I bought them for 250 cash (not bad considering one was wrapped in plastic). Went to pick them up off him and the ****** angle grinded the mounting brackets off one of the seats! Despite the fact that he neglected to mention that part, and the hour I drove to pick them up I bought them anyways.
Next day went to install and figured I would just swap the old seat for the passenger side seat and use the leather upper and lower, but go figure his seats were from like an 05 with no air bag sensor or seatbelt sensor >_<, so i had to tear the upholstery off the lower part to get to the sensor, then after that i had to take off the seat belt mount off the mounting frame to find it was a MASSIVE torx bit, and i didnt have one
so had to go next door to my grandpas for like 30 mins to get one tool =p
Back home and with the passenger seat installed i went at the drivers seat. Had to replace the mounting frame(s) for my 09 ones cause of the "missing brackets" and find out i put the upper back of the seat on wrong because it wouldnt recline up >_< Put the seat back in then forgot side coverings on both seats, so had to take them both off, then once in i realized the drivers lower part of the seat had like a 2 inch gap from the back, took it out again to discover i messed up the position of some bar underneath the seat? But finally fixed it and assembled the seat back together...
So what should of taken like 30 mins to remove 4 bolts and 3 sensors in the two seats took like 4 hours thanks to some very unsuccessful persistant muscle car enthusiast. But hey it looks amazing =D
Ill have pics up tomorrow =)
hahahahaa


that sucks but glad you got it!




---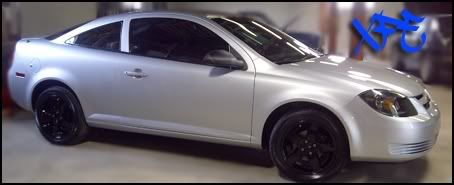 hey at least you got it to work!
---
'08 MiBalt LT Sedan
Mods: 17" Konig Unknowns; Eibach Sportlines; Debadged; Custom Dash Trim (in the process of repainting); Shorty Antenna; Black Stock Headlights; 10k HIDs
SC BUILD COMING SOON!!!
Veteran
Join Date: Jun 2010
Location: Los Angeles, CA
Posts: 713
Im glad this story had a happy ending...scary stories give me night terrors.
Veteran
Join Date: Nov 2008
Location: North Dakota
Posts: 611
I had to swap over the passenger air bag sensor when i got my ss seats as well. All my brackets were there tho... can't wait to see pics
---

07' LS 5 spd, bullseye S256 @ 17 psi wut?!, E85!!!, wiseco 8.9:1 pistons, eagle rods, spec stage 3 clutch, TTR motor and tranny mounts, ARK sts, Magnaflow catback, tinted windows, B&G coilovers w/ adjustable camber plates, front bowtie painted black, and ETX ME-2 rims wrapped in 235/40/18 Nitto invos.
Cobalt Specialist
Join Date: Mar 2010
Location: Wisconsin
Posts: 1,437
Dang, lol. Things never seem work-out on cars as nicely as they should. Can't wait to see pics!!
Yea.. GM sure did remove "compatibility" from changing seats and harnesses in these cars. Looking forward to seeing pics.
---

Flight Of The Phoenix
Asylum Custom Interiors - Axcelerated Motorsports - TBI Fabrication
Posting Rules

You may not post new threads

You may not post replies

You may not post attachments

You may not edit your posts

---

HTML code is Off

---