About to Start Modding!
---
Whats up guys?

Now that I've had by cobalt for a few months, i'm ready to start modding it. Here's my vision: My car is slate metallic, and i want my theme to be dark gray(slate metallic actually) black and small amount of red. I want mostly all black interior, black rims smoked tail lights and headights, and balck and red bowties. Well theres a lot more, but thats a good start lol. Tomorrow i'm getting started with the interior and i have few questions.

What color krylon fusion or whatever paint do you guys use to match the ebony interior vinyl?

I want to paint the small circular grilles red, do they just pop out or do i gotta take the dash off?

What do you guys recomend doing for the door fabric and headliner?

Thanks for your time everyone!
Mike
welcome to yc....as for the door fabric and headliner, get that done professionally, i say go with suede
---
R.I.P. :(
Hello
what small circular grilles??? and i suggest you check out the mods for less than $100 thread




yea the ones on top of the dash, im assuming theyre speakers or vents but not sure.

Thanks everybody
Cobalt Specialist
Join Date: Mar 2010
Location: Wisconsin
Posts: 1,437
I'm pretty sure the vents are molded to the dash... so you have to take out the dash to paint 'em.
---
Last edited by krazedkitty; 10-12-2010 at

06:57 AM

. Reason: spelling
Dont paint the circular vents on the dash...its tacky, trust me. ive done it.
paint the main dash pieces and you will be good to go.
---------- Post added at 10:14 AM ---------- Previous post was at 10:13 AM ----------
example what you SHOULD DO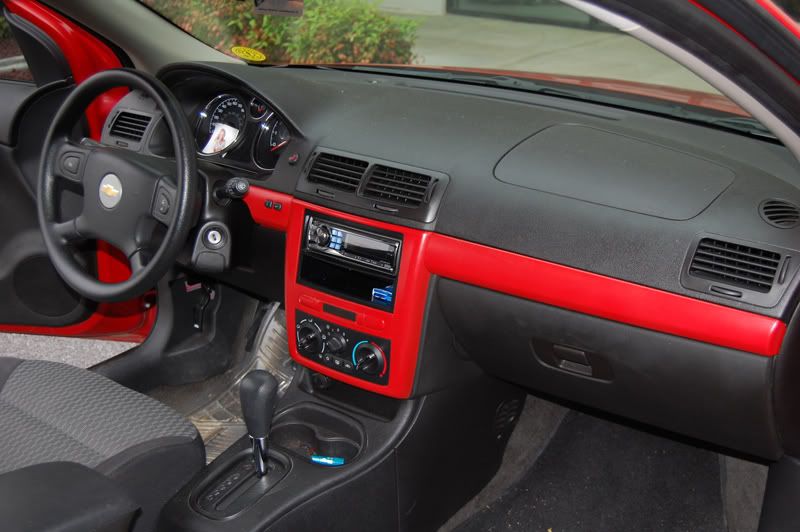 what you SHOULDNT DO
---
THIS

TO THIS ->>

https://www.yourcobalt.com/forums/veh...nnesaw-ga.html
Posting Rules

You may not post new threads

You may not post replies

You may not post attachments

You may not edit your posts

---

HTML code is Off

---