Interior Project *Updated Pics*
---
Hey guys, its been raining nonstop here! the last day it wasnt raining, I had to try and clean my car. lol then it rained again so heres the best pics I got for my updated interior. I know you cant really see EVERYTHING but for now this will do... hope this weekend I can get some outside pics well see!
ENJOY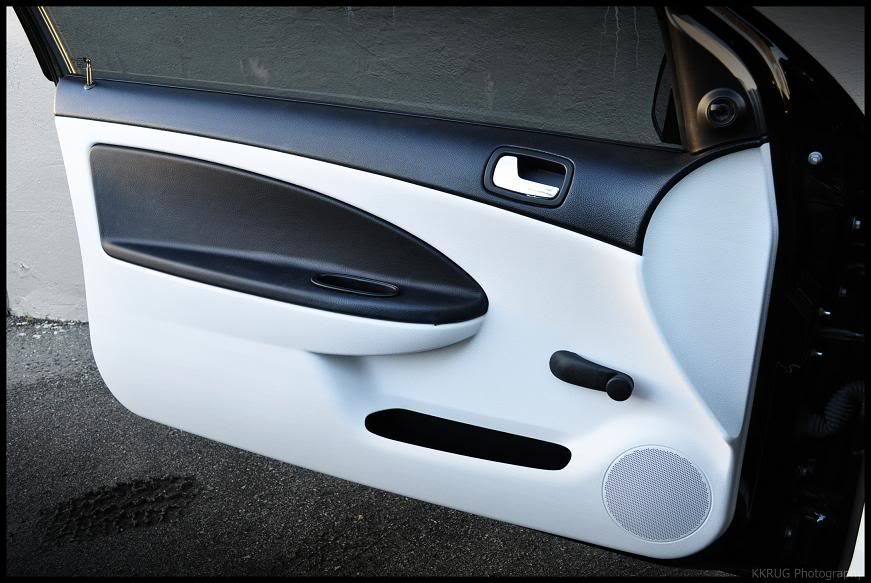 more things coming soon!
---

/-2009 Cobalt LS-/
35% tint / SS Rear Lip / SS side Skirts / VIS CF trunk / Shaved Antenna / Full custom Black-Green-White Interior /
JVC AVX820 / H&R Springs / DC Sports Custom Painted Strut Bar / MOOG Stab Links / ST Painted FR sway bar /
Veteran
Join Date: Sep 2009
Location: maryland
Posts: 745
what kinda of paint is that white? is it regular paint or vinyl paint?
beautiful
---
Nitrous is like a hot girl with an STD, you always want to hit it but are afraid of the consequences.
I purposely down shift when i pass a prius so they can hear me hurting the environment.
Cobalt Specialist
Join Date: Mar 2010
Location: Wisconsin
Posts: 1,437
It must have taken you forever to paint all that! Looks awesome, I really like the green against the white.
Looks great man... I love the color green you chose.
---

wow man this is very unique. Lovin everything about it, good work!
Veteran
Join Date: Dec 2009
Location: Elberton, Georgia
Posts: 680
Very nice! Keep up the great mods lol
Veteran
Join Date: Nov 2008
Location: North Dakota
Posts: 611
is the door panel painted or did you replace the fabric where the arm rest is?
---

07' LS 5 spd, bullseye S256 @ 17 psi wut?!, E85!!!, wiseco 8.9:1 pistons, eagle rods, spec stage 3 clutch, TTR motor and tranny mounts, ARK sts, Magnaflow catback, tinted windows, B&G coilovers w/ adjustable camber plates, front bowtie painted black, and ETX ME-2 rims wrapped in 235/40/18 Nitto invos.
Posting Rules

You may not post new threads

You may not post replies

You may not post attachments

You may not edit your posts

---

HTML code is Off

---