Installed New Pedals
---
I just installed aluminum pedals with the raised rubber inserts.
I got them off ebay for $40 shipped from China. They are listed for a Mazda 3 but also fit other cars.
These are the ones that you drill hole and bolt on. Not the cheep Auto Parts store ones that clamp on.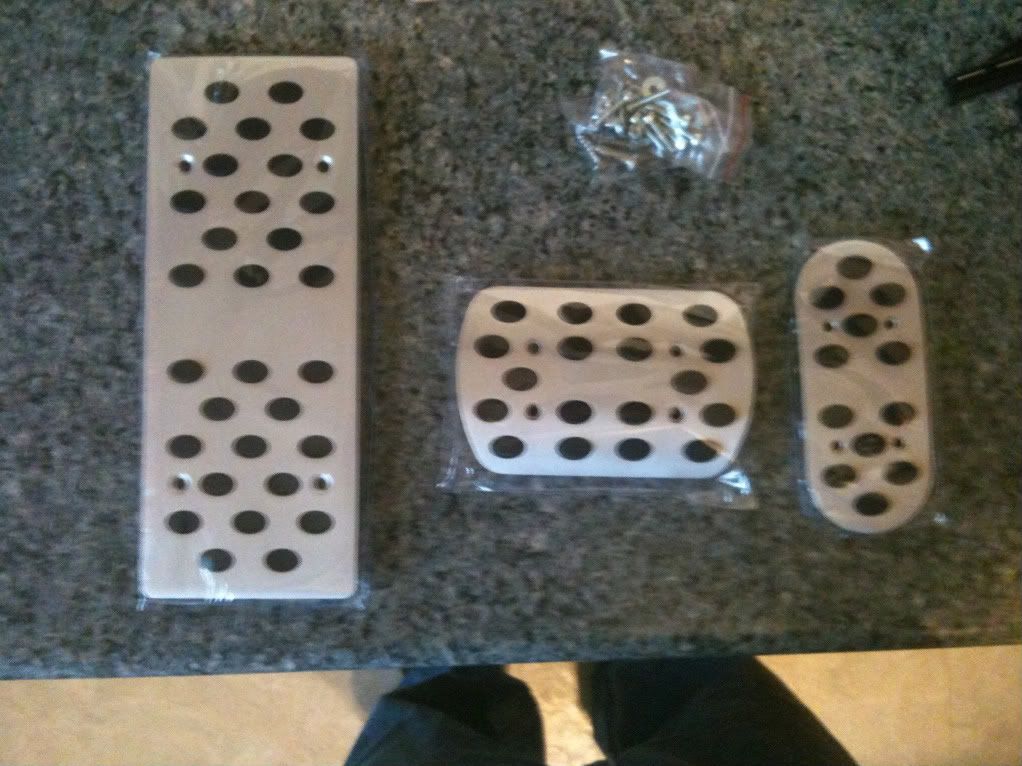 Looks good!
---
Expert
Join Date: Apr 2010
Location: Wisconsin
Posts: 840
u shouldve written a DIY! but they look sweet!
---
Sig by Padlock
Showoff thread

Join Date: Sep 2009
Location: Milford, CT
Posts: 1,036
Looks excellent. Great job.
Thanks.
Bought them on the 26th. Picked them up today. So about a week and half.

Join Date: Feb 2010
Location: Ontario, Canada
Posts: 1,338
The clamp on ones are ok as long as they don't come loose.
I had the Auto Zone ones on my 02 Sunfire when i gave to my sister in 04. What happened since the brake pedal was wider then the car's pedal it enden up bending and causing it to loosen up. Then ended up roating with out her noticing it. And ended up over the gas pedal.
The result was 3k in damage to the rear end. She was backing down our driveway went to hit the brake. The clamp on the back of pedal hit the gas cauisng her back up over the sidewalk and in to a tree.
Also this happened the day after she got her license.
I'm just glad it didn't happen when she was driving.
So any pedals we get now even if they are clamp on ones i'll drill holes and bolt them on.
only thing I don't like are the floor mats, they are too pep boys cheapness to me, the pedals are clean though




That's funny most people like the mats.
I did buy that at Pep Boys back in 02 for the sunfire. There good for the winter though with the salt and crap.
Posting Rules

You may not post new threads

You may not post replies

You may not post attachments

You may not edit your posts

---

HTML code is Off

---