A Real Grill Guard Mockup
---
Here is a photo of a mockup of a REAL grill guard for my car. I had some spare wood laying around and thought how it would look with a grill guard to help deflect small critters like pheasants and rabbits.
I know its kinda ridiculous to put a grill guard on a car, but if you like me and drive a lot of low traffic in the middle on nowhere midnight driving. It might pay off to have one instead of replacing front bumpers and radiators.
The idea was to to have only like six bolts holding it on so that if you went out you could take it off very easily and stash it somewhere safe.
Just kinda curious what you guys think! Keep it nice!
[IMG]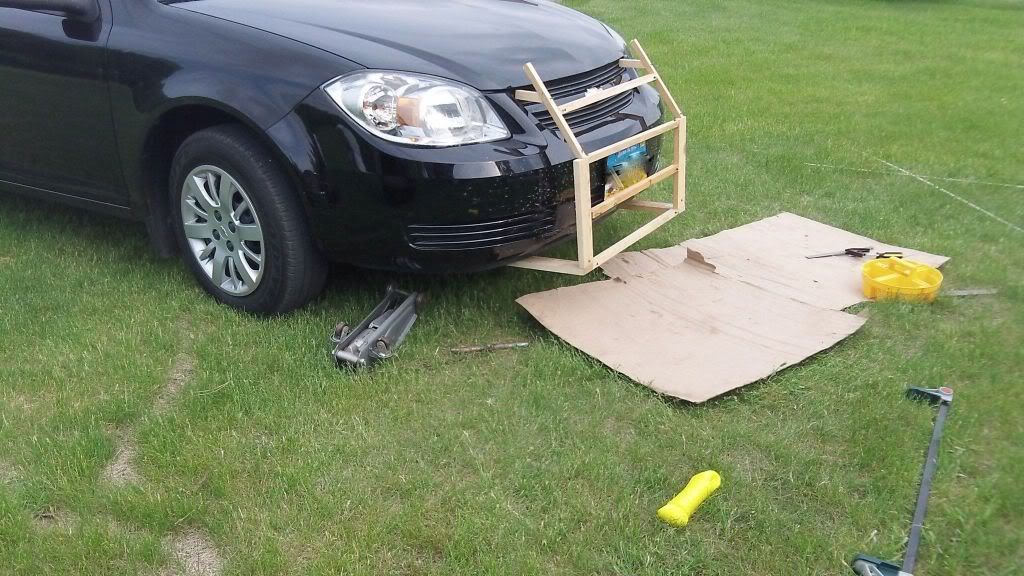 [/IMG]
---
Last edited by Black; 01-16-2012 at

10:01 PM

.
Expert
Join Date: Apr 2011
Posts: 985
I can't tell if youre serious or not....
Veteran
Join Date: Mar 2010
Location: Dallas, Texas
Posts: 547
Any kangaroos in your area?
---
Every minute spent angry is a happy minute lost for ever and ever!!!
Drives 2016 Cocoa Buick Encore 1.4L Turbo auto KL4CJDSB2GB652675
Drives 2016 Sunset Orange Trax LT1 1.4L Turbo auto 3GNCJPSB8GL142716
Never drive faster than your guardian angel can fly
Can I buy some pot from you?! Interesting idea though, if it makes you more comfortable then go for it.
Forum Regular
Join Date: Mar 2011
Location: Bowman, ND
Posts: 193
Probably not gonna do it but, if I were it have to rap around to sides to protect the headlights. I've been told to just do one of those cop like bumpers but, its to much work and weight for me.
Posting Rules

You may not post new threads

You may not post replies

You may not post attachments

You may not edit your posts

---

HTML code is Off

---