My Future Plans
---
Hey everyone
I haven't been on this site in ages..nor have I done anything to my car in quite some time. Work, school and other hobbies have just been getting in the way...
But anyway i've got the itch again and i have a few things i want to do in the very near future but i need to clear some stuff up first. First of all..my plans:
1. Replace Headunit -
This one
2. Replace 120mph speedo with 140mph one and mod with blue led lighting.
3.Continue unfinished interior painting
4.Buy rims/tires
1. Replace Headunit
has anyone installed this or a simliar model into their cobalt? The only thing thats holding me back from getting it is i want to see what it'll look like...i don't want it to look too small. Also, does anyone know exactly what harnesses i'm going to need? I've installed one headunit before but i just cut and spliced wires because it was in an old beater..i want to do it right in my cobalt.
2. Speedometer
My biggest question here is regarding compatability. I have an 08 manual ls. To my knowledge you can interchange any cluster from an 08 09 or 10. Could be wrong..i just thought i've read that before. My problem is..i have a manual trans so do i need to get a cluster off of a manual cobalt to get the shift light? Or does that auto cobalt cluster habe a shift light that just isnt used? This is probably a dumb question but i've never seen the inside of any other cobalt...in person that is.
3, and 4 are pretty straight forward, just wanted to put them on the list of things i want to do to my car.
Thanks in advance for any help
Mike
The only one you can swap that's 140mph that will fully function is the 08 g5...
Forum Regular
Join Date: Jun 2011
Location: Tucson, AZ
Posts: 151
The one thing is though, if you swap out your 120mph speedo for the 140mph, it wont be accurate. Your car is calibrated to use the 120mph
---
09 Chev Cobalt
Injen CAI. Carbon Fiber Stripes/Interior Trim. Shorty Antenna.
Option Racing Catback. Smoke LED Tail Lights. Pwr Locks/Keyless Entry. Rostra Cruise
85 Chev Camaro IROC-Z28
K&N Air Filter. Flowmaster Exhaust. Chrome IROC Rims. Pioneer Deck. Sony Xplod Sub/Amp.
BFG G-Force SuperSport Tires. Viper Alarm/Keyless. Grant Steering Wheel
..Carbon Cobalt Showoff..

That head unit is discontinued the link says and the alternative is over 1k. Are you seriously planning on spending that much for a deck?
Decided against the speedometer swap...i'm never gonna go 140 anyways lol

As far as the headunit goes...sure its discontinued from crutchfield but its still sold at best buy, i just went there tonight to check it out. Other than that theres also amazon and ebay. But now I'm also looking into pioneer's appradio. Its only 400 dollars for a double din, in dash receiver. One of the few downsides is that it doesnt have a cd/dvd unit so it pretty much plays ipod, radio and pandora....not a huge deal though i couldn't tell you the last time i listened to a cd in my car. The other problem i have is that i wanted to also get a back up camera and this unit lacks any input for it. What do you guys think?
Quote:
The one thing is though, if you swap out your 120mph speedo for the 140mph, it wont be accurate. Your car is calibrated to use the 120mph
you're retarded. he said a whole unit, not an overlay
also, the white 140mph g5 speedo looks sooo much better than stock 120
Hey guys, I have a few more questions
Like I said, i'm not gonna swap the speedometer, but i do want to replace the gauge face with one from Black cat customs. What I'm curious about is how are the indicators (Shift light, seatbelt light, oil light etc) lit on the stock face and the custom face? Are they back lit with neutral color and the face is printed with the color to be illuminated, or are they printed translucent white and lit with colored light? Sorry if that doesnt make sense...i'm just trying to figure out how to order...Ideally for me, the faces would have white lettering, a blue accent line and all of the indicators light up blue. Sorta like this one only blue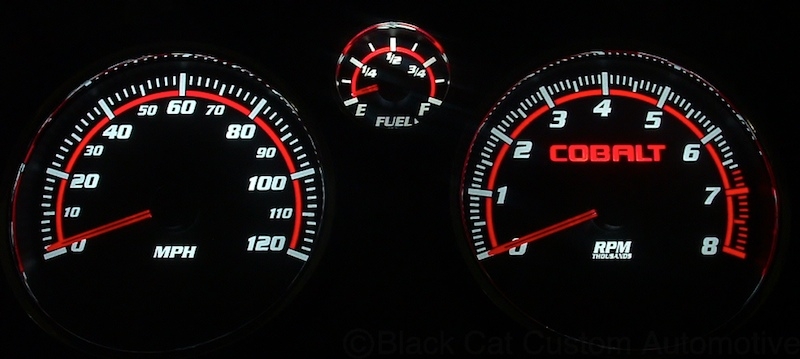 Obviously this doesnt show any of the indicator lights so thats still a mystery. Maybe i should be contacting them about this but if anyone has ordered from them and has any input i'd really appreciate it.
Next, has anyone recently gotten a steering wheel overlay decal printed? I searched around and found a lot of people reccomening motor city viynal but its not on their website and i emailed them a few days ago and haven't gotten a response.
Is it possible to change the DIC color by using some kind of colored plastic or anything? This one here shows red but i'm looking for blue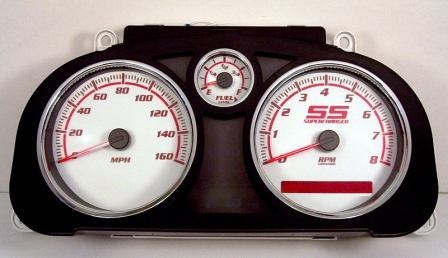 I know I've read about like expensive seat covers that fit really well and are good quality...that's what i'm looking for. Can anyone reccomend a good place to buy something like that from?
I probably have more questions, but i can't think of them right now...anyway i did buy some stuff to start painting. Last time i tried i used rustoleum and it didnt turn out too bad but this time I'm going to try duplicolor. I ordered the stuff offline so it'll be a little but but i'll get some pics up when i do that.
Mike
to be honest, if you like the TC gauge, just buy that. it would be a lot easier on the swap because you have to remove the needles. and as far as i know, they break easily... i believe you COULD change the lights... but don't quote me, it might be a board with LED's since it's a newer model. i've never taken one apart.

those overlay's just go over the mph,rpm,and gas gauge, not on the "idiot lights"

if you change to blue... remember that the DIC's are blue...so blue wouldn't really work...
Contributor
Join Date: Dec 2011
Location: S.W. Pennsylvania
Posts: 455
I have a pioneer double din DVD nav system in my cobalt, I'll take a photo tomorrow and show u,

I think it looks good, the radio was just heads and tails above the factory in function


Sent from my Autoguide iPhone app
---
John
2008 Cobalt LT
SS springs and Stagg struts
Pioneer AVIC-X930BT GPS
Memphis 16-MCH600 "Baby Belle" hybrid amplifier
MB quart Premium 6.5" componant/premium tweeters front
MB quart Premium 5.25 componant/premium tweeters rear
Memphis PR-10" sub in factory sub box
miles and miles of dynamat extreme...
Posting Rules

You may not post new threads

You may not post replies

You may not post attachments

You may not edit your posts

---

HTML code is Off

---