CCFL Halo Rings Vs. Hot Glue
---
Okay well as some oh you know I'm replacing my stock halos for CCFL's halos and i had a question about glue..
Well in picture one this is the back of the 2nd layer to the light with the stock halo clip holes and wire hole at the bottom..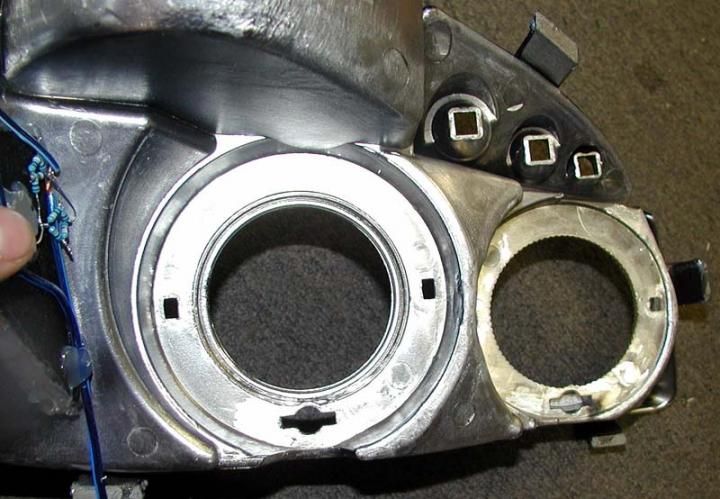 But there's only 2 stock halo clip holes to hot glue to but for some reason that feels it wont be enough support to hold em in with theses bump and holes in the road..
Here's a front picture of the halo area, its a smooth surface so like i said there's nothing to bond halo rings to other then the clip holes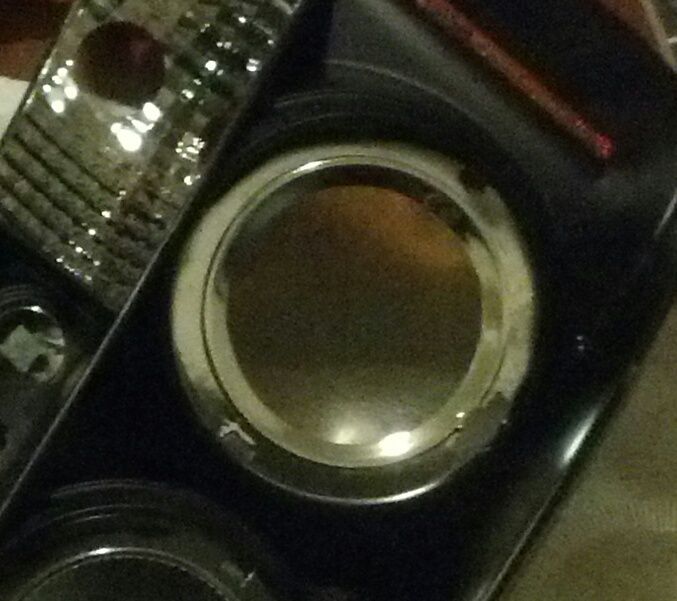 ....
So what i was thinking of doing was taking a rotary tool with a small bit and shaving it in alil to make it a rough surface to bond the ring to the area
Or like in this picture taking a small drill bit and drilling small holes and the halo area just like the clip holes for extra support holding it..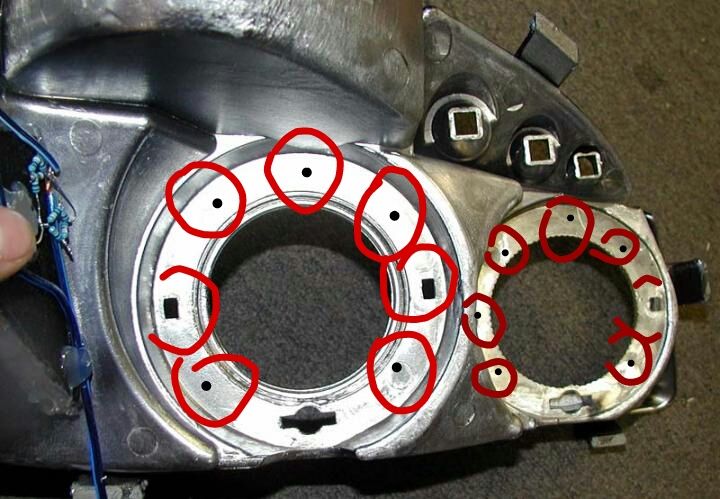 Now the question is will the CCFL's or projector melt the hot glue that's holding them in place?
Here's a link to the glue gun i bought and glue sticks that it comes with that I'm going to use from eBay...
20W Hot Mini Glue Gun 25 Free Glue Sticks Works for Both 110 or 220V | eBay
---
Last edited by SCR3AMz; 01-09-2013 at

02:16 AM

.
Cobalt Master
Join Date: Feb 2010
Location: Middletown, PA
Posts: 1,928
I used silcone when i put the CCFL rings in my lights.
Silicone will stay pliable in the cold, too. The hot glue in my 3rd brake light lost cohesion after like one day of winter lol. No idea how much heat CCFL's kick off...
---
"You all know I take great pride in my title as Mr. Positive."
My Showoff
So i should use silicone but doesnt that expand to heat
Veteran
Join Date: Dec 2011
Posts: 583
My fog lights had de CCFL Halos glued with silicon, and apparently my headlights too ...so i Think thats the way to go
Forum Regular
Join Date: Jan 2011
Location: Findlay Ohio
Posts: 79
do you have covers for the ccfl rings?
Veteran
Join Date: Dec 2011
Posts: 583
Quote:
do you have covers for the ccfl rings?
very good question !
No and il use ether epoxy or silicone sealant

---------- Post added at 07:59 PM ---------- Previous post was at 07:11 PM ----------

Well i just made a hole in the top and put silicone sealant thats 400 degree so should be good dont think 6000k hids projectors can heat that high
Posting Rules

You may not post new threads

You may not post replies

You may not post attachments

You may not edit your posts

---

HTML code is Off

---