Forum Regular
Join Date: Nov 2009
Posts: 159
LS "evo" Mod You Could Say....?
---
Always been a huge fan of the evo mod on the SS. So I tried to figure out how to do something similar on mine :D
The edges are a bit rough and dont look too good because I did a quick tape job due to not being sure how it would actually look! But I liked the turn out
Thoughts?
Oh also did my grill black with a coat of gloss over it instead of the lame grey :P
I can see the ugly duckling bumper is blossoming into a beautiful swan. Good job, keep up the tasteful cosmedics.
That looks good. I might have to steal that idea, if you don't mind of course.
---
2007 Cobalt Ls Manual Coupe
Kenwood Excelon X996, RF T3 Components, RF Power 6x9s, Sundown Audio SA10, RF Power T600.4, Alpine MRP-1000, Kinetic HC-1800, Black headlights, FX-R HID 55W, Custom led tail lights, Led reverse lights, Airbox mod.
Maybe try painting or plasti dipping the silver beam across the front grill and the lower bumper part. Looks good though now.
Love the idea great job! I agree with london try painting those too
---
2005 Stealth grey metallic 2DR Standard Base Model
2006 Burnt Orange 2DR Standard SS
MY SHOWOFF THREAD
---
Last edited by Coby7; 08-19-2013 at

06:16 AM

.
Veteran
Join Date: Dec 2009
Location: Elberton, Georgia
Posts: 680
Great idea. Too bad I have a black car lol.
lol, I did this to my grille pieces and fog light shroud. Looks 100% better than stock gray. I'm not sure it would look great with those two pieces painted though. Maybe plastic dip to see if you like it first. Or maybe someone can photoshop it for you to get an idea.
---
05 Mitsubishi Evolution 8
05 Chevy Cobalt LS (RIP 7/13/2013
)
99 Nissan Altima GXE (Daily)
99 Subaru Legacy (Daily)
07 Jeep Liberty Limited (No longer the tow truck for the balt
)
If you have questions and I'm not on please PM, notifications go straight to my phone 24/7.
My Showoff
Join YC on FB
Syndicate of Tuners.com
Forum Regular
Join Date: Nov 2009
Posts: 159
By all means go for it! I thought about the lower bumper but wasn't too sure where to cut off the "paint" that's the only reason I didn't do it, but I may go out and try it later! Iv also thought about the black silver piece where the bow tie is too... Guess I just found my projects for my day off :p

Thanks for the positive replys guys!
Forum Regular
Join Date: Jul 2013
Location: Colorado
Posts: 55
Quote:
Maybe try painting or plasti dipping the silver beam across the front grill and the lower bumper part. Looks good though now.
i recommend doing the plasti dip idea. i did my beam on mine, and i love it. i would suggest like 10 coats. i did 6, and it could use some more. mine starting to peel off when i was removing the tape, so you might want to peel off the tape as soon as you spray your last coat so it doesn't bond to the tape.
Forum God
Join Date: Feb 2010
Location: KCMO
Posts: 2,204
I love it on my SS bumper.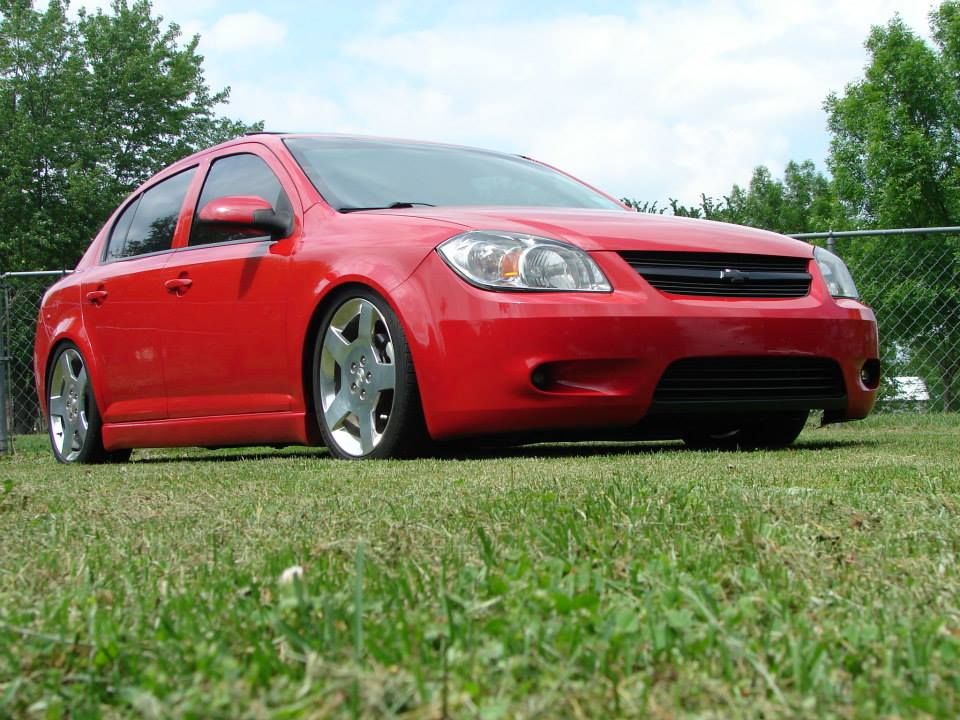 But on your car...just do the top.
Don't bother with the bottom half, IMO.
---
The Racekar - SOLD!
:
http://www.youtube.com/watch?v=fIW9XK_WMR4
2007 Cashmere Metallic Chevy Cobalt LT Sedan
...totaled 04/11/2011
2010 VR Cobalt 2LT Sedan
Debadged, ZZP Intake, Custom 2.5" Exhaust/Borla Pro XS, FE5 Bidnez with KSport Springs.
Previously dumped on BC Xtreme Low's...RIP LOWLYFE :(
Posting Rules

You may not post new threads

You may not post replies

You may not post attachments

You may not edit your posts

---

HTML code is Off

---