Contributor
Join Date: Dec 2012
Posts: 428
Paint Color
---
what colors will go good with my silver lsj? besides black or red. i want somthing to make my car pop. any ideas?? also please post pics if you got them.

Join Date: Apr 2013
Posts: 279
Green, blue. Maybe go crazy
anything pretty much goes with silver IMO. green, blue, yellow, orange, purple. i dont think neon colors would look good but basic colors should make it pop. what are you looking to do?
I'm not sure on what to paint.. Kinda thinking calipers valve cover and I'm not sure what to do next..
Start with something easy to paint ( like the front bowtie that unscrews from the grill ) with a color you like and then you can either cover it up or continue with the theme.
---
Every minute spent angry is a happy minute lost for ever and ever!!!
Drives 2016 Cocoa Buick Encore 1.4L Turbo auto KL4CJDSB2GB652675
Drives 2016 Sunset Orange Trax LT1 1.4L Turbo auto 3GNCJPSB8GL142716
Never drive faster than your guardian angel can fly
Hmmm sounds good. Wish I had normal wheels the previous owner put black wheels with a polished lip. So idk if the colors would go good with that. Also the previous owner did a bad job on the calipers and their red but half red as it's came off some. And the caps on the wing are black which I like. U think like a pearl purple would work?
---------- Post added at 11:43 AM ---------- Previous post was at 11:41 AM ----------
Would this look good? Not the wheels but the color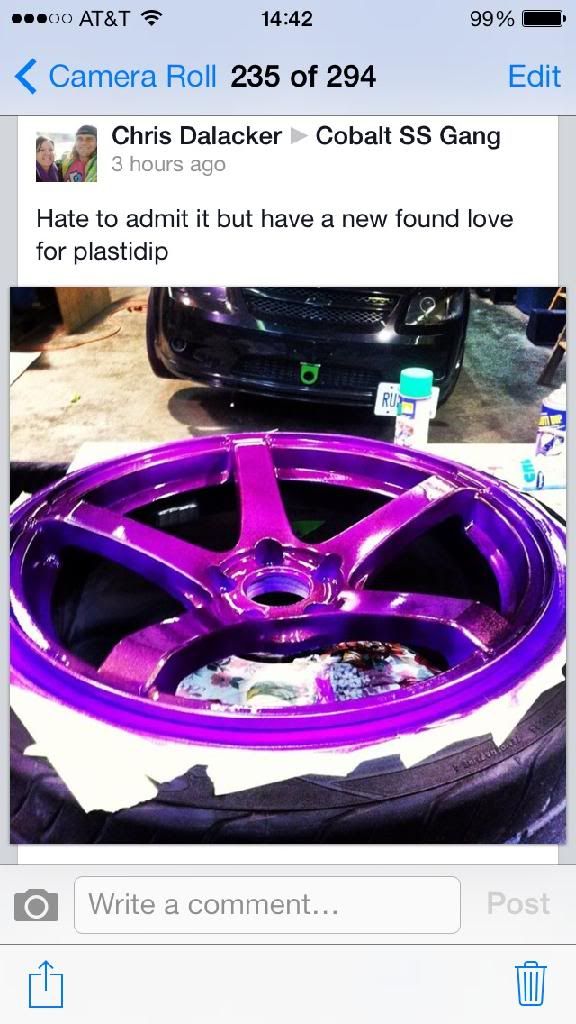 Yeah, I like purple but you might get tired of it too quickly. You can't rush a good paint job. You will need to wire brush the calipers or take them off and sand blast them, then spray them immediately with self etching primer then follow directions for wait period drying time then paint caliper and if you're really fussy clear coat.

Black wheels are also a neutral color so should blend in nicely,
---
Every minute spent angry is a happy minute lost for ever and ever!!!
Drives 2016 Cocoa Buick Encore 1.4L Turbo auto KL4CJDSB2GB652675
Drives 2016 Sunset Orange Trax LT1 1.4L Turbo auto 3GNCJPSB8GL142716
Never drive faster than your guardian angel can fly
Ya that's abt somthing I was looking at like a darker one
Posting Rules

You may not post new threads

You may not post replies

You may not post attachments

You may not edit your posts

---

HTML code is Off

---