What Headlights to Get?
---
CG Headlights
Spyder Headlights
Hey guys, I've been deciding what to do with my headlights, and was thinking of going retro but wanted twin halos. So I'm trying to decide between these two headlights for my Victory Red SS/TC. I'm not to concerned about wither each headlight has ccfl or old school halos cause I'm going to take the rings out and do some custom work to them. Just trying to figure out which headlights to get.
Then there's the matter of tail lights to match...
Retros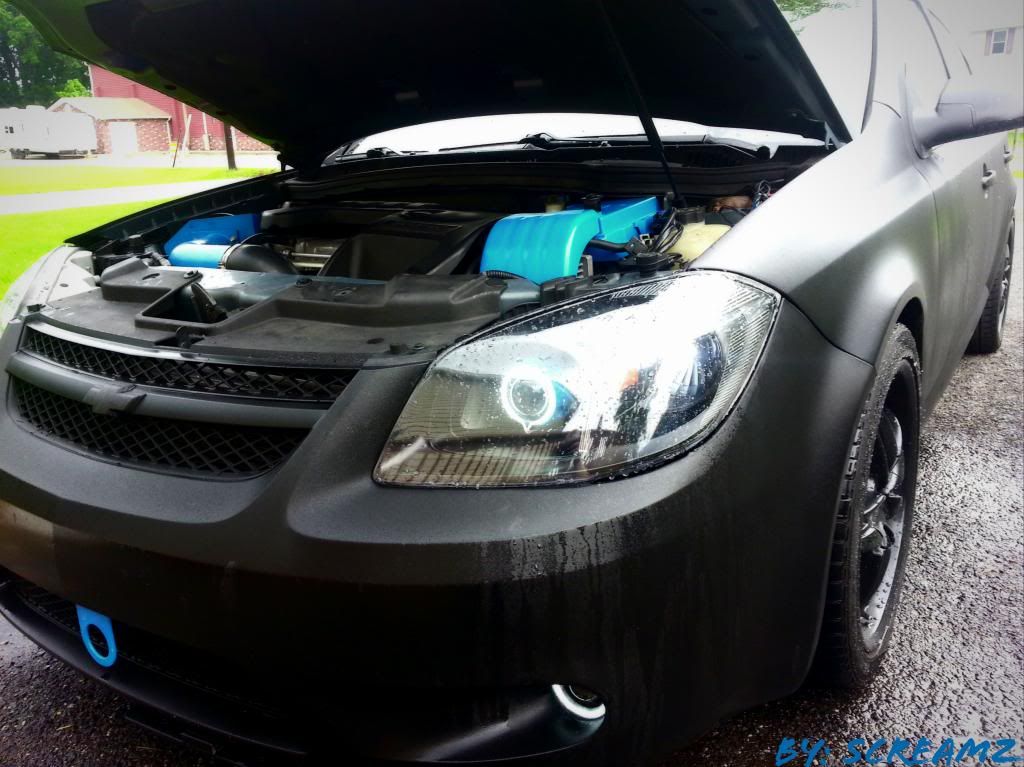 He doesnt want retros tho you guys....
You can twin halo retros...
the call them retros cause they were cool in the "retro" era, haha! I would go with Anzo's or TYC's headlights, Spyder's tend to have a gap in the headlight to bumper area.
---
2009 Cobalt LS XFE U74
Mods: K&N Typhoon Intake, Option Cat-Back Exhaust, Cosmo Short shifter, Maxxim Ahead 17X7's, MPx shorty antenna, FE5 Strut/shocks, Tein S Techs, Moog endlinks, Moog spring seaters, ZZP shorty header, LSJ downpipe, LNF front grille
Lol, I believe they're only called retros because it takes quite a bit of retrofitting to make them work. Not because they're old school cool.

I'm still rocking stock headlights. They work fine for me.
I got some retros under construction. Can't wait till there done
Quote:
Originally Posted by 5t3alth
I would go with Anzo's or TYC's headlights, Spyder's tend to have a gap in the headlight to bumper area.
Do Spyder's really have that issue?
Arn't the
Anzo's
and
CG
headlights the same?
Also, just because I can, I plan on keeping the stock headlights and taillights so I can play with them, AKA retro-ing those.
But for now I want to try to find some dual halo headlights and then im going to customize those. It's mainly the design im looking at, the color (though i want black) could be changed and the rings WILL be takin out and sold or thrown in the trash cause I have some ideas for what I want to do "halo" wise.
Now to try and figure out want headlights to go with... also are there any good tail lights that I can find to mess with? Want to do some led customizing and crap with those too, and the fog lights while im at it.
---
Last edited by ThePie69; 06-03-2014 at

08:48 PM

.
Is it a sedan or a coupe, either way you need to talk to Colodude about the tails he makes.
---
2009 Cobalt LS XFE (F23) Victory Red
YYZ V.3 Springs, Koni shocks/struts, Powell XXX rear swaybar, Brembo brake swap, 5 lug conversion, Ion Redline wheels, SS/SC interior swap including power conversion, K&N intake, Trifecta tune, Ark Performance N-II catback, Ark shorty antenna, SS body kit, Powell F23 rotated mount, LNF rear mount, Powell CABs
Soon to come- EFR 6758 turbo kit and make Retro Headlights.
Posting Rules

You may not post new threads

You may not post replies

You may not post attachments

You may not edit your posts

---

HTML code is Off

---