SS Rear bumper
---
So, my car got rear ended about 2 months ago and since my mom works at a body shop, I get a discount on price of parts. So, i was gonna get the ss rear bumper (non sced). I just wondered if this will fit or not without modification. Thanks.
---
2V Mustang GT - Cammed/Sprayed - The "Mustake" - Sold
2010 Cobalt 2LT - SOLD!
Chrysler 300C Hemi K&N & Tune
2005 Cobalt SS Supercharged - E85 TVS 2.9 - SOLD!
2001 Corvette C5 6MT
---
Last edited by Chester; 01-22-2008 at

11:27 AM

. Reason: typo
It should fit...I was lookin at doing the same thing...but I just want the lip that comes on the rear of the SS...and I want the front bumper with the fog lamps and but with a different front lip.
---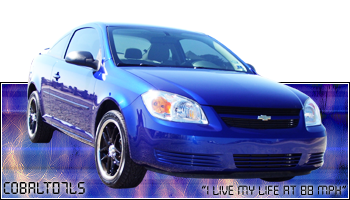 yep its the same
---
2006 red SS SC G85

60# injectors, colder plugs, new fuel wiring harness, zzp belt tentioner, zzp 2.6" pulley, GM Stage 2 belt, HPT Tuned, Ported SC, Ported intake mani, dual bypass valve, meth injection, Hurst!, Eibach sportlines, DC Strut bar.... and more!
It's all the same you should have no problems at all
---
2007 Chevy Cobalt SS 2.4

Mods so far: 17" Konig Hotswaps, 20% tint, GMPP performance cat-back exhaust and air intake, projectors w/ 6000K HIDs, 2 10" MTX subs, Alpine PDX 600.1 amp, flip screen Panasonic headunit, KSport lowering kit, shorty antenna.

Future mods: Full bodykit, big brake kit, C-F hood, strut bar, sway bar, eng. and trans. mounts
Thanks guys In just wondered cause parts for me + labor would cost 650 vs my 990 dollar estimate. The ss bumper is like 200 dollars more so I could do it. I'm gonna get the front ss/sc bumper when I have my turbo installed and an intercooler.
---
2V Mustang GT - Cammed/Sprayed - The "Mustake" - Sold
2010 Cobalt 2LT - SOLD!
Chrysler 300C Hemi K&N & Tune
2005 Cobalt SS Supercharged - E85 TVS 2.9 - SOLD!
2001 Corvette C5 6MT
Good to hear ...now that we have the answer i am going to lock this thread so it doesnt get whored ..if any one has any other questions or comments on this topic feel free to pm
Posting Rules

You may not post new threads

You may not post replies

You may not post attachments

You may not edit your posts

---

HTML code is Off

---