Contributor
Join Date: May 2007
Posts: 485
Instrument Panel Vent Removal
---
Well, I have gotten a lot of compliments and questions about how I painted the plastic trim on my steering wheel, so I decided to do a how to for the removal of them. For those that don't know what I am talking about, here is a pic.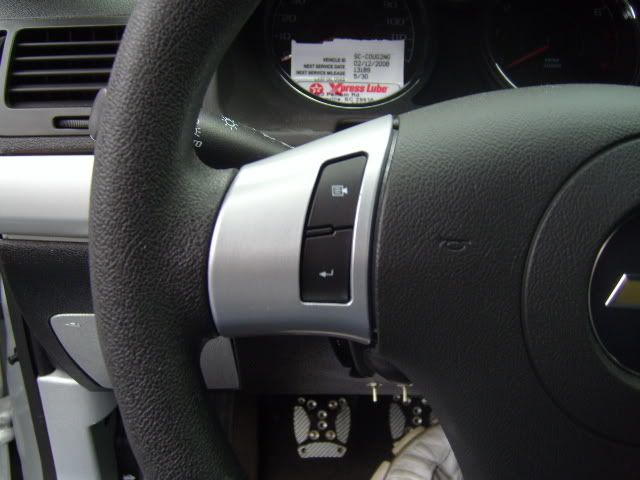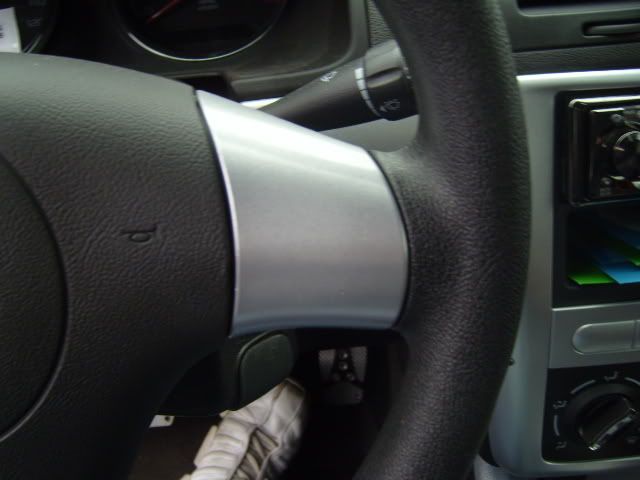 Okay, so in order to do this, all you are going to need to remove the trimis a small flathead screwdriver and a T20 torx driver. If you look on the sides of the steering wheel, you will notice a small hole on each side. Like this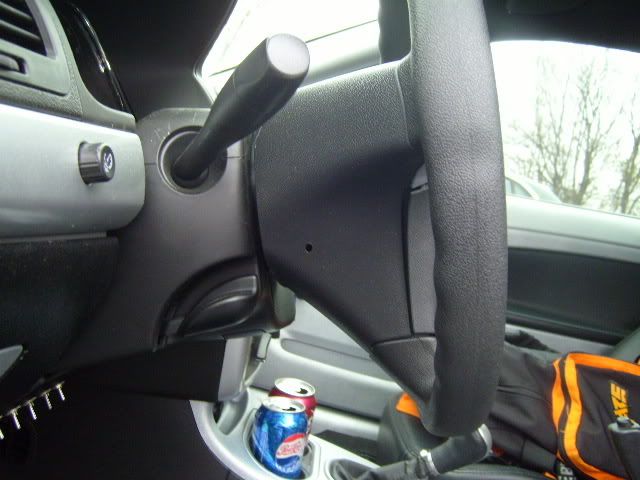 If you look closely inside the hole, you can see a small metal rod that passes directly behind it. I wasn't able to get a pic tho cause it is hard to see with the camera. If you look tho, you will be able to see it. Take the small flathead screwdriver and stick it through the hole and press in on the metal rod. When you do this, the airbag cover will pop loose on that side. Like this
Next, go to the hole on the other side of the steering wheel and do the same thing. The airbag cover will then pop loose completely. Like this
After the airbag cover is loose, just move it up and out of the way. There is no need to disconnect it to take the trim pieces off.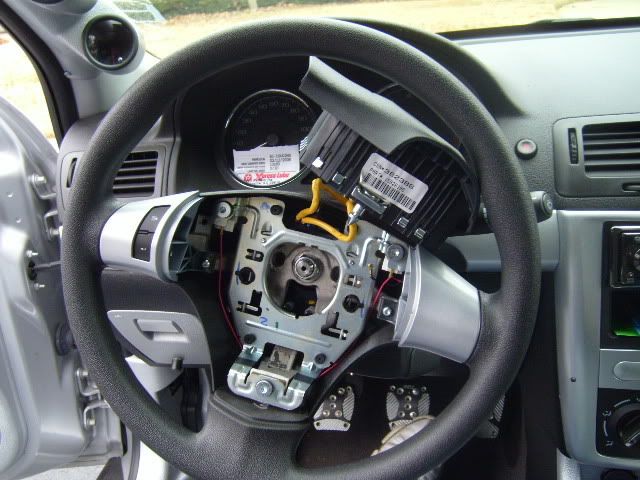 Instrument Panel Vent removal:

Disconnect your negative battery cable.

Using a plastic trim removal tool(kitchen spatula, whatever you have that wont mar the plastic) remove the right side dash trim above the glove box by pulling/prying it out, it may be easier to remove the panel from end of dash and start at one end of trim than prying the whole piece from the middle. It is on the good, and WIL make nasty sounds when you take it off. Its pretty tough, dont worry, its unlikely youll break it.

Remove the left side knee bolster/steering column trim, its the panel below the wheel that has your trunk release in it. Again pry from edges and pull out.

Remove the left center instrument panel trim piece(between radio and wheel. Same procedure as right trim piece, pry out.(disconnect DIC connectors on 05-06 cars to remove panel fully.)

Left instrument panel trim. same removal as right trim, removal of dash end trim where door closes again may make job easier. Disconnect Dimmer and fog lamp harnesses.

Remove the 4 screws from the gauge cluster trim and remove trim.

On L&R windsheild trim pieces remove round trim covers at top of pillar and remove screw behind cover. Pull out at top of pillar cover and pull cover away from dash. Disconnect boost gauge if equipped.

Remove the upper dash defrost vent cover(piece of dash against windshield) by prying up around edges. Disconnect ambient light sensor.

Lower the glove box door all the way by squeezing the two stops towards the center of box and allow door to open fully, remove plastic access panel in top of glove box. Remove passenger airbag retaining bolts(2). Remove the orange connector lock from the yellow airbag connector and remove airbag. place in a safe area away from work zone with trim facing UP.

Squeeze the Hazard switch tabs together and remove switch. Remove the 12 screws around the dash cover and lift up on cover to remove.
Lay dash down on blanket or towl to protect surface and remove screws from the backside of dash that hold vents in.


Paint.
---
ASE Certified master Technician
ASE Certified Advanced Engine Performance Specialist

GM Certified Technician
GM Mark of Excellence Winner(Top Honors, Engine Repair)
Newcomer
Join Date: Dec 2007
Posts: 13
Awesome writeup. This is going to help a lot next week.
Posting Rules

You may not post new threads

You may not post replies

You may not post attachments

You may not edit your posts

---

HTML code is Off

---