how to tint tail lights?
---
i am trying to tint my tail lights and am having problems... the curvature of the lense is giving me problems and i keep getting wrinkles that wont come out... i have tried the soap solution and canot get it to go on right and have tried no soap and using a dryer to warm it up to stretch some but to no avail... i pmed a guy on here and decided to post to get info from anyone else... thnx
---
I've heard of people taking out the lights and using a "tint spray" forgot what it was called but heard it was a lot easier then film.
---
Cooljay's Black 2007 Pontiac G5 Base AkA Black Knight
Injen CAI, DC Sports Catback, Interior Trim painted red, 3 Gauge A pillar, Eibach Pro Springs, SS High Rise Wing with CF Center, Painted Rear Drums and Front Calipers, MSW Type 11's 17x7's On Kumho's.

To come: DC Sports Strut tower bar, Body Kit, CF Hood, Turbo, Halo Headlights, 17inc Foraged Rims, Front drilled and Slotted Rotors, SS Struts, Comp. Kickers.
its called night shade. Its works good but had to find in some locations
---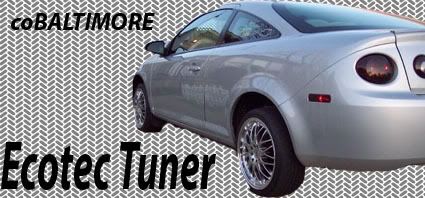 Do you have a coupe or a sedan, and is it regular tint or that vinyl "cling" tint?

what i did on my sedan as use 3M double sided permament tape and taped the edges of the tail lights. you have to stretch the tint a bit to get all the wrinkles out.
---
'07 Cobalt LT Sedan
Mods: Tint, debadged, pioneer aftermarket stereo w/2 10", Tinted tail lights, black halo projector headlights, 8000k HID's, B&M Shift+, LSJ DP, GMPP Exhast.
More to come...
THe how-to section is for tutorials only. THis belongs in interior anr exterior styling.

But like they said, most people use VHT nightshades. Its a transparent paint.
---

"A wise man speaks because he has something to say,
A fool speaks because he has to say something"

OBZ's showoff thread!
i know people use night shade and i have used it before... i find it hard to get even coats and irreversable. i want to use film. the kind i am using has a peel away layer and the back is adhesive... any ideas
---
I have used the VHT nightshade spray tint it is really good but you have to put it on light, because it will turn out darker after it dries. I made a huge mistake and put to many coats on but i fixed it by wet sanding it. Also you will want to put a few coats of clear on them becasue the tint has a flat finsh to it. I'll post a few pictures tomm. of my tails.
i know your pain my friend, tint and i are mortal enemies. i recently tried tinting my tailights and they wound up more "veinie" and you'll know what i mean than an old lady's leg. i used gilla 5% tint with the peel off back and it just wouldn't work.
---
I'm A Cocky MOFO
Me Bench Pressing
...............:o
[][][]=\\=(>_<)=//=[][][]
................|
.............../ \
Hey sry its taken so long to get back to ya....I used the film.
Take the lights out then double side tape around the edges. Start from one corner ans stretch using a creditcard to apply pressure and remove bubbles. Its almost impossible to get all bubbles so take a pin needle and pop out the remaining bubbles.
Posting Rules

You may not post new threads

You may not post replies

You may not post attachments

You may not edit your posts

---

HTML code is Off

---