Newcomer
Join Date: May 2007
Posts: 41
black cat custom gauges
---
hey has anyone put on the black cat custom gauges...i was just owndering how hard it was n if u had any trouble getting the gauges to funciton properly after u took em off
Newcomer
Join Date: May 2008
Posts: 2
Cobalt Master
Join Date: Nov 2006
Posts: 1,538
Forum Regular
Join Date: Oct 2007
Posts: 142
These would be so worth the $35 if i knew how to solder well.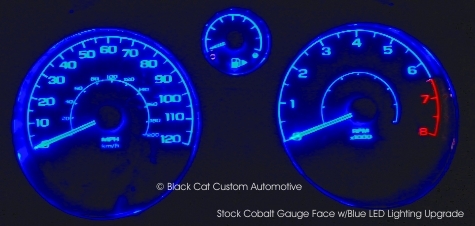 Newcomer
Join Date: May 2007
Posts: 41
yea that what my point what the hell does as is mean lol i was just asking if they had them how hard the install is haha and especially the recalibration
Forum Regular
Join Date: Oct 2007
Posts: 142
well "as is" pretty much means that you can't blame them if you burn a hole through your board and fry your whole gauge lol. the parts that blackcat supplies you are good, its just your lack of skill that can F*** things up. but my uncle got this kit for his F-150 and it only took him 10mins to do it but he does that stuff for a living. plus i think it voids your warrenty.
Forum Regular
Join Date: Feb 2008
Posts: 79
not hard at all...u just unscrew like four screw and the gauge window thing pops right out and theyn just mark where the needles lay ,....pop the needles off and swap...thats its..rele
Newcomer
Join Date: May 2007
Posts: 41
got ya now thats the kinda info i was looking for haha yea my warrant went out the window a long time ago so i aint worried about that hahahaha yea the soldering tho doesnt have to be done may just get silver back with blue numbering n keep stock white lights behind because they will show blue because thast what color the lettering will be
Cobalt Master
Join Date: Nov 2006
Posts: 1,538
2 ways you can go about doing it:

1. you can go full bore and change the LEDs behind the cluster face, hoping it will work, and kicking yourself if it didnt.

2. You could just get the face covers, throw a little coloured window tint(the bigger the number, the better) on the face to begin with, then the face over top. Simple, quick, easy, and done in a heartbeat.

Take your pic
Newcomer
Join Date: May 2007
Posts: 41
yea but it would already be blue if i got the one w/ blue numbering so i wouldnt have to get colored tint
Posting Rules

You may not post new threads

You may not post replies

You may not post attachments

You may not edit your posts

---

HTML code is Off

---