fog light ideas...
---
ok since no one understands let me edit this post... i would appreciate it if you have aftermarket fogsss.... please post a pic of them so i can get some ideas of where to put them. especially if you have meshed your lower grills and put them in the lower sides or even middle lower. thnx
so those with aftermarket fogs on lt trims mainly and even ls. where did you mount them?
---
---
Last edited by Firebalt07; 05-23-2008 at

03:32 PM

.
i remember there was a thread about this earlier.. some guy used the two bolts under the front lip that are pre-existing. Said it held up well and looked alright, cept i didnt like how close together they were. try looking at some older threads..
---
O7 BLACK LS 5-SPD
- debadged (badged inside) - black bowties
- black painted interior - black halo projectors
- Polk DXi650s -
- 20%, 5% tint - air-box mod
Expert
Join Date: Feb 2008
Location: Edmond
Posts: 869
Depends how much you trust yourself cutting into your bumper. Theres alot of ways you could do it.

By the way progress, give up on people using the Search utility, it won't happen lol.
---
My turbo lag is your courtesy head start.
i searched but do you know how many things pop up!? lol its crazy. i was kinda wanting to get ideas from everyone on what they had done. and what it looks like.
---
---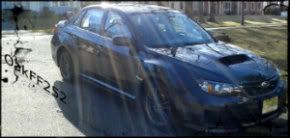 RIP Cobalt Totaled Sept. 2011
Current Car 2011 WRX
Project Victory_Red_SS
Keep the dream alive.
---
Last edited by Snake890217; 05-22-2008 at

08:54 PM

. Reason: Automerged Doublepost
I have mine behind the billet grilles on the bottom i'll post some closer pics tomorrow if you want..they are a 20 dollar set of fogs from walmart and i put hid's in them
One of the grille you can't really tell theres fogs (how i wanted it)
How did you do your lower grills?
---

"A wise man speaks because he has something to say,
A fool speaks because he has to say something"

OBZ's showoff thread!
Zip ties lol...i got them off ebay but you can only get them brushed so i had to have my buddy polish them out for me
Forum Regular
Join Date: Jun 2007
Posts: 165
How much did the HIDs run you?
Newcomer
Join Date: Jan 2008
Posts: 25
what did you mount the fog light bracket to?

gre23a added 5 Minutes and 37 Seconds later...

i actually bought the oem fog lights and the bumper grilles with the fog light hole, then went to install them and discovered that spot that is supposed to hold the oe fog bracket is cut out, so there is just a hole there behind the bumper grille, it is like the mold was there for the fog light but it was cut out at one point during the building process.
---
Last edited by gre23a; 06-01-2008 at

12:06 PM

. Reason: Automerged Doublepost
Posting Rules

You may not post new threads

You may not post replies

You may not post attachments

You may not edit your posts

---

HTML code is Off

---