Full grill in progress
---
still working on it. and it is taking a little while but i want it to turn out perfect. here are a couple videos. still trying to figure out where and how to mount fogs but i will figure something out. ne one with stock fogs and the same front bumper that can show me pics of where and how they are mounted stock would be appreciated. also if there is a seperate on off switch or how they are turned on and off. i am wanting to set up so it looks as stock as possible. thnx
YouTube - bumper
YouTube - grill
---
---
Last edited by Firebalt07; 05-27-2008 at

01:57 PM

.
the fogs have black plastic frames that they sit in and they snap into the bumper from behind if i remember right..
---
Airbox MOD,
GMPP
Intake,
GMPP
Catback Exhaust, SS/SC Springs,
Tint
,
tinted
tails
, Painted headlights, debadged, and wheels.
Car Flicks
Forum Regular
Join Date: Jun 2007
Posts: 165
it looks like your doing the same thing i wanted to do but was unsure about...let me know how it works out and def post pics and a diy of what you did...so far so good man
finished preping... cleaned up and ready to paint
YouTube - grill2
lowergrills done and curing
main grill redo... preped and taped
first coat main grill...
main almost done...
main done... and curing
---
---
Last edited by Firebalt07; 05-31-2008 at

01:23 PM

.
so far so good it looks ...just ost pics of finished product
upper grill finished. lowers painted and put back but not meshed yet. still trying to figure out what i want to do with them... i think i might put the mesh behind in the centers so the "support posts" in the middle stand out. and mesh the front of the lower sides.
---
looks great so far. I kinda like not having those "bars" in the lower middle. I just think it should have been upside down with the shorter side on top
---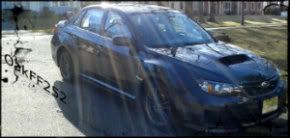 RIP Cobalt Totaled Sept. 2011
Current Car 2011 WRX
Project Victory_Red_SS
Keep the dream alive.
Forum Regular
Join Date: Jun 2007
Posts: 165
looks nice..is there anyway you could take pics of the bottom left or right bumper grill inserts close up? Im doing something similar and I just wanna see what it looks like close up
i will get pics up when my battery charges didnt know it was left on all night.... NOW FOR THE SHITTY PART!!! i put the grill frames back in to see what they look like and forgot to take them out. no biggie cause they snap back in with the clips right. right but since the center part of the grill no longer exists there is no center support so it bows. well since i forgot to take them back out, i was headed home from work not thinking about anything until i hear a noise from something hittin under the car and looked in my review mirrow and guess what it was the center lower grill that i spent so much time modding... there it went down the hightway to get run over by the semi behind me. so now i gotta find another one to redo. POS!!!
---
Posting Rules

You may not post new threads

You may not post replies

You may not post attachments

You may not edit your posts

---

HTML code is Off

---