How To: Gear Indicator Color
---
Ok, this is my 1st how to so go easy on me.
Sorry about the lighting in the pics, this was all done in my garage, which has horrible lighting.
If you mess up, it is neither my fault or yourcobalt.com's. But even if you do, the problem is most likely fixable.
First off, you need to get access to the gear indicators.
1)Pull the E-brake up so you can 2) remove the trim piece under neath it
3)on the shift lever, pull the chrome piece down and, using a hex wrench,4) remove the small bolt thats holding the top piece on and pull the 2 pieces off.
5)now remove the trim around the indicators
6)there are 4 small tabs you need to pry back with a flat screwdriver in order to remove the piece covering the letters.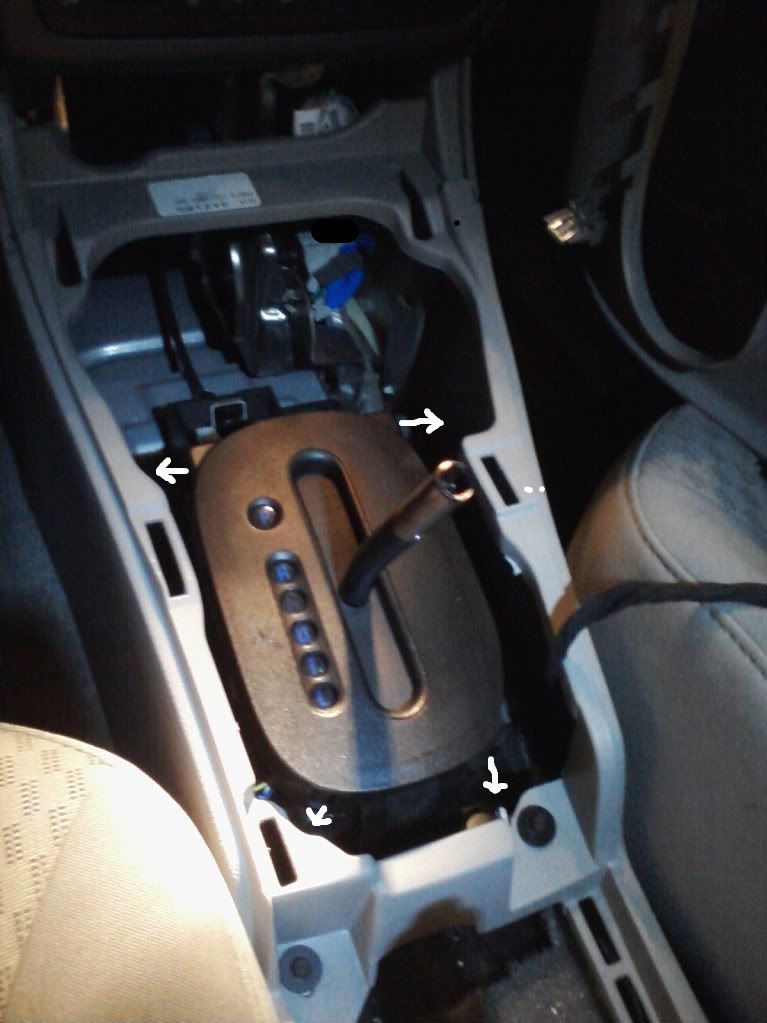 7)Once that's removed you can take out the little plastic piece with the letters on it.
Then you can grab your favorite color sharpie and color the back of the letters. The 1st time I did this i colored it too dark and couldnt really see the blue during the day so I took 600 grit sandpaper and sanded off the sharpie and redid it lighter.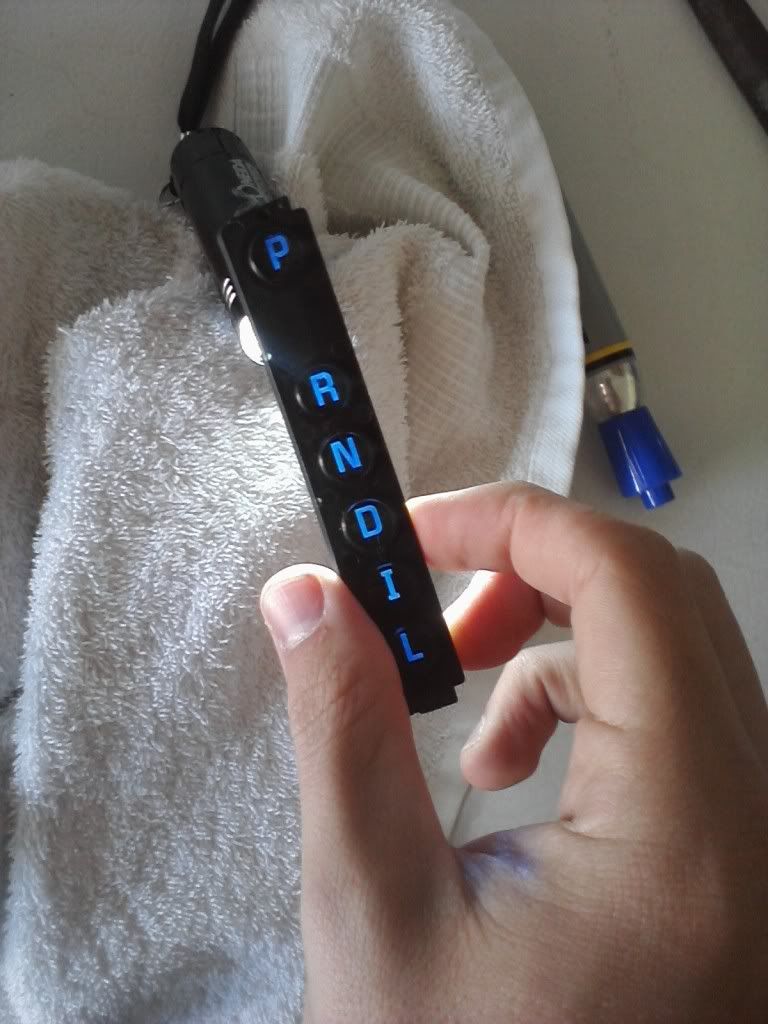 (OPTONAL)
9)Another thing I did to get more of a blue color at night was,
I took apart the white piece that was under the letters and you'll find that it's used to spread out the light from the little bulb thats in the housing. I just colored all the clear parts on that piece blue and it seems to make a lil difference. Sorry, forgot to take a pic of that.
Reverce the order to reasemble everything and you should be good to go!
Let me know if you have any problems, if I missed a step, or if anything is unclear and i will do my best to help!
I will also post a pic or 2 of what mine looks like at night later.
Expert
Join Date: Aug 2010
Location: Yarmouth, Nova Scotia
Posts: 911
nicely done...was gonna do this to mine also when I did my HVAC and radio but bought a shift boot and covered it all
---

Magnaflow Catback, Jet Performance Chip, B&M Shift+, 8000k bi-xenon H.I.Ds, and more

Ya I was gonna do a boot too but I think this looks sweet. Especially at night. But I wanna put some LEDs in by the light to make the letters brighter.
Forum Regular
Join Date: Sep 2010
Posts: 55
Nice writeup, I think I'll do this to mine someday when I get the chance.
---
Thanks GBALT05 for the sig!
It doesn't take long. It took me about 30-45 min.
Forum Regular
Join Date: Sep 2010
Location: Clinton Twp, MI
Posts: 140
so how do you know how dark to color the letters just once over the letters? twice?
---
drive it like you stole it!

Sig thanks to padlock
I did twice the 1st time but i thought that was too dark. so I'd go with once. Oh and a lil sanding with fine grit sandpaper helps I think.
Contributor
Join Date: Jun 2010
Location: Fort Myers, Florida
Posts: 372
Is the little red piece that tells you what ear your in easy to sharpie/paint red again? Or some reason mine has went from red to like a light pink. lol
---

Lol I didn't sharpie that. But my guess would be that it is.
Post pics ppl! :D
Contributor
Join Date: Feb 2009
Location: Hackettstown,NJ
Posts: 328
i painted my red tab green did it long time ago lol no one knows about it though unless i tell them
---

/-2009 Cobalt LS-/
35% tint / SS Rear Lip / SS side Skirts / VIS CF trunk / Shaved Antenna / Full custom Black-Green-White Interior /
JVC AVX820 / H&R Springs / DC Sports Custom Painted Strut Bar / MOOG Stab Links / ST Painted FR sway bar /
Posting Rules

You may not post new threads

You may not post replies

You may not post attachments

You may not edit your posts

---

HTML code is Off

---