Guidelines for reapolstering your rear seats
---
Ok here it is apon request....note this is from personal experience so it may not be exact but it seemed to work for me so don't come looking for me if it doesn't turn out how you imagined it
first I'll tell you the facts of sewing vinyl.... set the sewing machine to the longest stitch setting. use durable thread, I used both vinyl and thread made for weathering the elements (commonly used for boat seats). If you're using a brother (brand of sewing machine) it should have a 1-10 tension setting to tighten up the threads, set it on 4 and it'll work best if you go to tight it'll tear right through the vinyl. Try and only go over an area once the more holes you have the more likely it is to tear when you putting it back on the seat or when you sit on it.
When you get the seats out of the car you'll see the a black plastic piece on the bottom back of the seat. That is where they are held together at. there's two pieces and they loop together. I just took a screwdriver and poped one side out and the other the whole thing came right out. then you can pull the cover off the foam. the velcro is holding the cover in on the front part of the seats you'll notice it when you start pulling the cover off.
The bottom how ever is a lot different in terms of how it's held on to the cushion. It has little metal clips that go through the metal structure inside the foam. just take a pair of needlenose pliers and pull away. Keep them because you'll need them to put the cover back on.
If you're going to do them the same way I did mine then You'll need 1 yard of orange (or color to replace it) and 2 yards of black (or color to replace it. Note: all the places that I went to only sold them by 1 1/2 yard lengths, so you'll have a 1 x 1 1/2 yard piece. as for the front seats IDK I've never even been inerested because I don't want them any more so you're on your own there. lol.
Now the "what I've learned" section. First remove the seat car and remove cover from foam. next carefully cut the stitches with a knife or scissors don't cut the old seat fabric. once you got all the stitches out iron all the edges so that all the fabic is flat. mainly corners and edges will stick up so you may have to hit them a few times with the ol' iron. next trace every thing on to the back of the vinyl (I used a pen so it wouldn't soak through the vinyl) remember when tracing that the front of the old vinyl/clothe will be touching the back of the new vinyl other wise it'll be exactly opposite of what you want. now cut the pieces out. next. Since the vinyl/clothe that is on the old seats is stretched out from sitting on them and just sitting there the foam will actually stretch it. You want to cut ALL the pieces at least an eight inch smaller then the old pieces so after you cut everything out cut it all out you'll need to cut that eight inch off. Remember to take the velcro off the old seats but not the foam that hold them tight to the seat. careful not to rip the other side of the velcro off the cushion when removing the seat cover. now you're ready to start sewing. Make sure you check fitment through out your sews and be sure every thing is tight. Seeing as I did my seats with very little experience I think you shouldn't be to bad off but if you need advice or if you have a questions let me know.
When you go to put the seats on over the foam remember that you want them to be tight. You'll probably have to use some force but be gentle at the same time. Notice how my two top parts are loose but the bottom is pretty tight. that's because I learned from the first two that I have to cut the fabic smaller as mentioned earlier.
I hope this helps. If you run into any problems or have any questions feel free to ask.
Here's a pic for reference of colors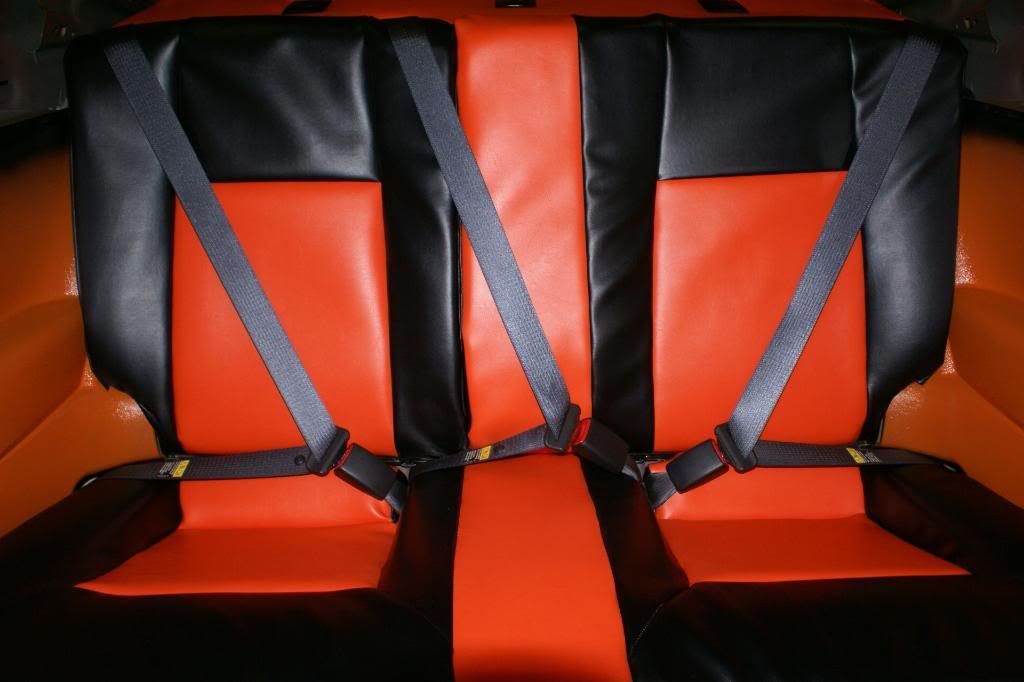 notice how it's tight but still has cushion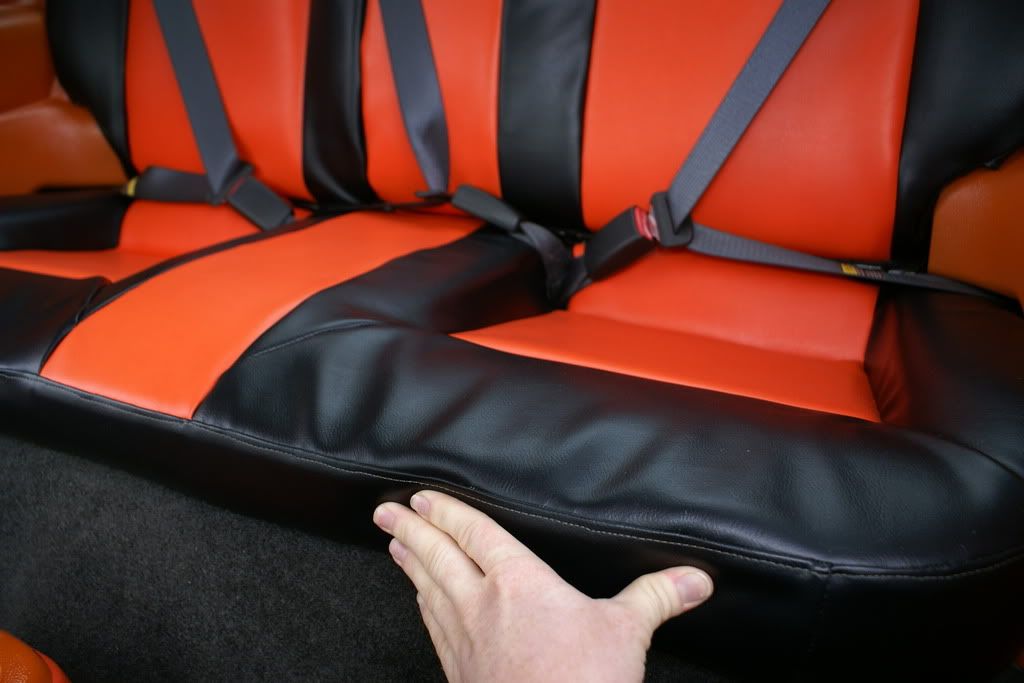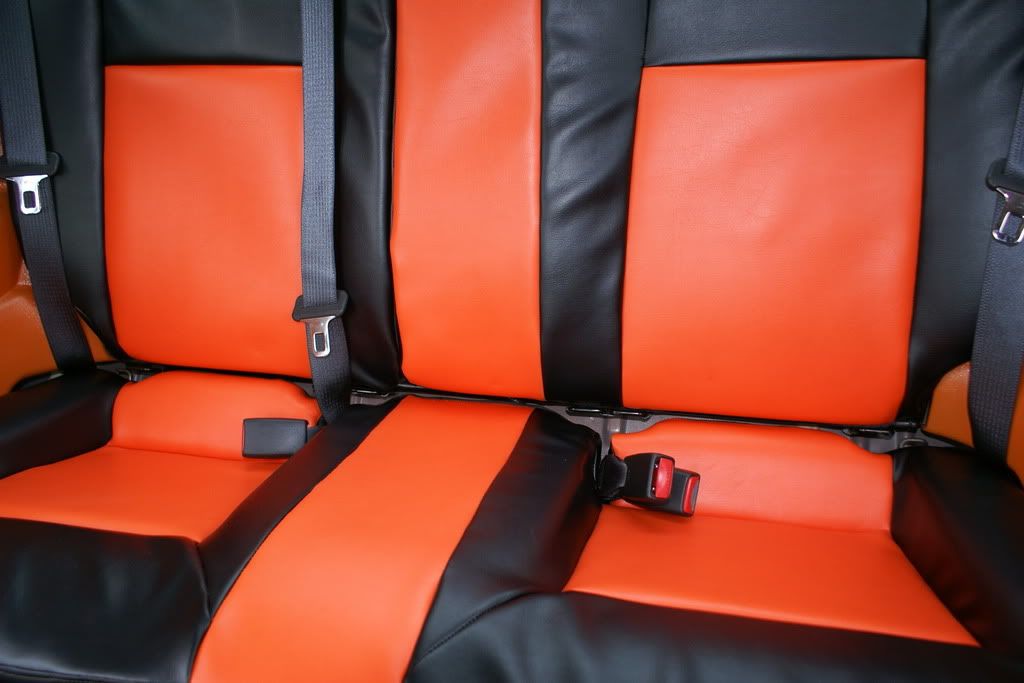 Notice the green parts on the foam. That's the velcro I was talking about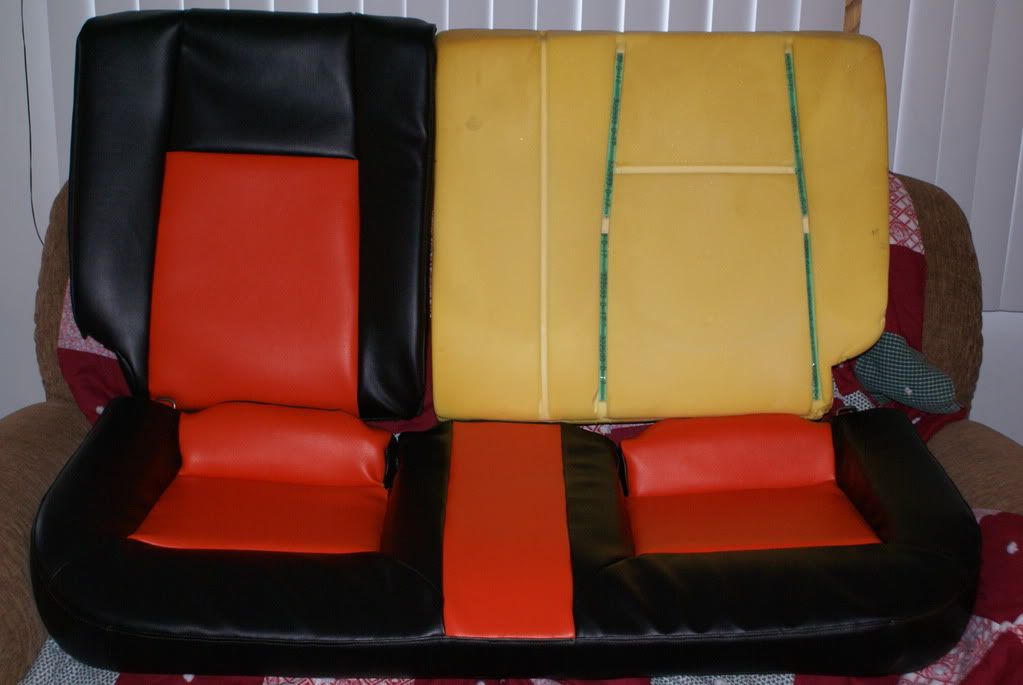 Be sure to check to see if it's tight though out the sewing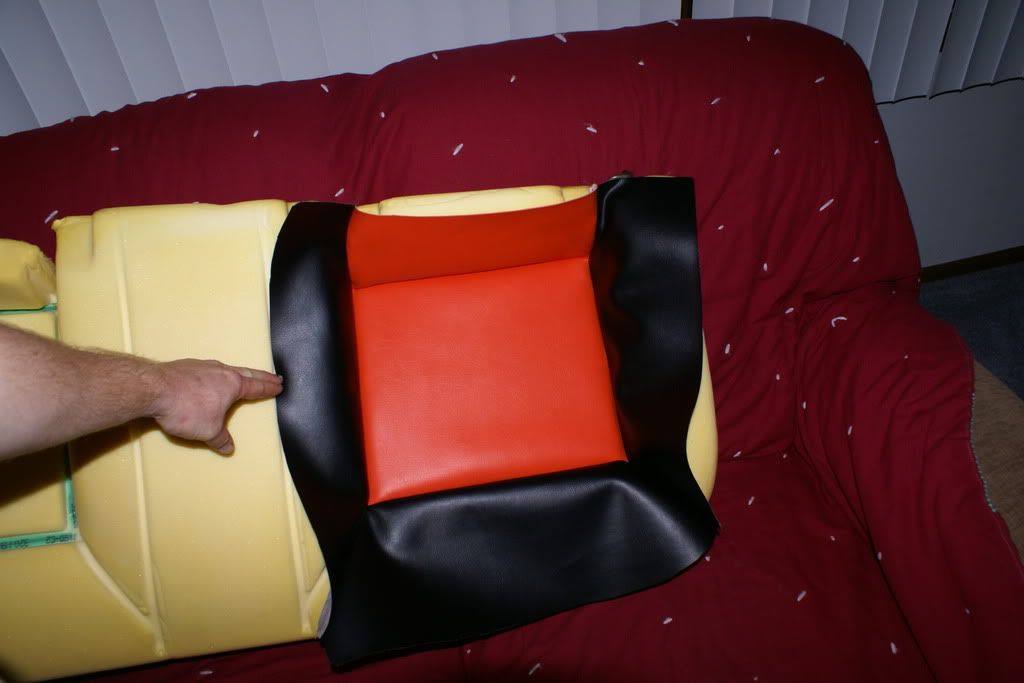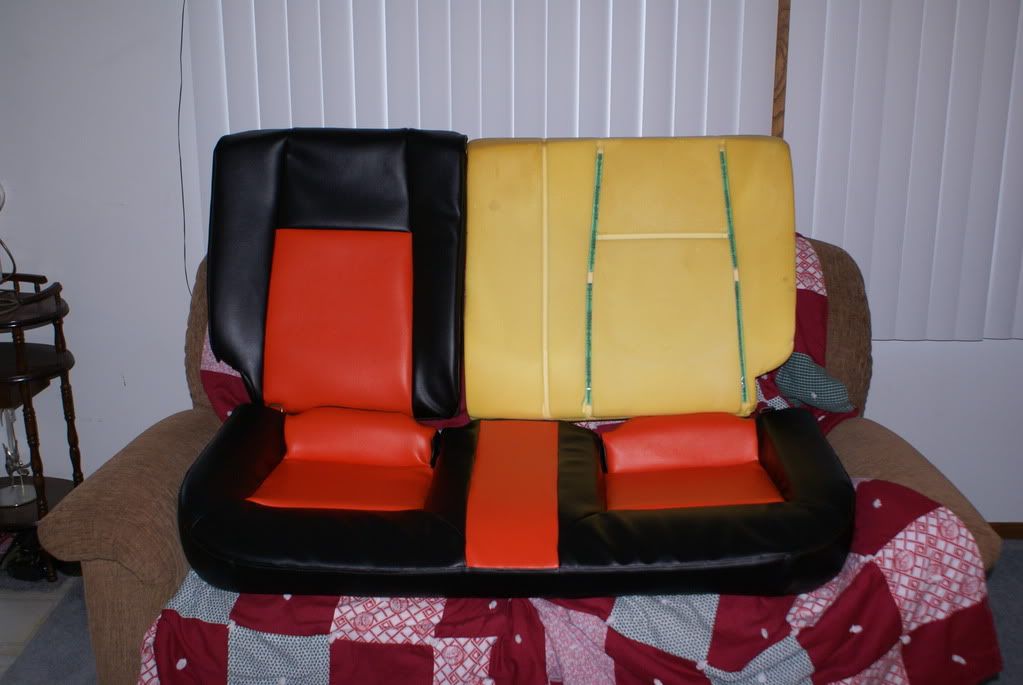 ---

Nice write up!
---
"... but it's ok, we're going to QuakeCon!"

"Black Betty"
2007 Black LS Coupe.
Visual:
Debadged, Painted front bow-tie(gloss black), Yourcobalt.com Sticker applied.
Audio:
Stock head unit and speakers, 2 Rockford Fosgate P210S4's sealed enclosure powered by Rockford Fosgate P2002
Performance:
Injen CAI Pow Coat Black. Front tires P195R15 Fuzions, rear still sport the stock conts.
amazing. How long did it take you?
I think I'm going to have to try this
Is there a way you could sew a set that could slip on with a nice tight fit. Im not big on sewing, and i really want to do this, the gray seats stain too easy and that just looks amazing. So lets say you could make a set, id be willing to pay, but i wouldnt want a set tht would slip off easily or wear out.
It wouldn't be worth it to me or you money and time wise. We'd both lose.

Here's something I was talking to maven about though

Originally Posted by dduffy2005
do you have a website? I'd like to check those out. See If I like them

Originally Posted by Maven
I'll try and get you the part numbers and then you can call around to your dealer or wherever you buy GM parts from and get prices. As far as checking them out, just look in any SS and you'll see what the seats look like. The SS and LT have the SAME SEATS, the seat itself is the AR9 Deluxe bucket, the only difference is that in the LT and 2.4SS they have cloth on them, in the SS/SC they have leather on them(and heaters, which are a separate element, and requires the switches, heating pads, wiring and the heated seat module) You just buy the factory leather, peel off your cloth and put on the leather, VOILA youve got SS seats!

Maven added 28 Minutes and 30 Seconds later...

Okay all these numbers are for the FACTORY AS INSTALLED IN SS/SC ebony leather seats w/red leather inserts. You may be able to find these cheaper with some searching but you should be able to get the prices I am quoting with no problems, it took me(a technician, not a parts guy all of 6 minutes to find all this information, a good dealership parts guy could help you even further)

rear seat bottom: 10377119 $150
front seat backs: 25800028 $200, 15276747 $125
front seat bottoms:10386614 $90, 25282726 $90
rear seat backs: 15211335 $90, 15211367 $90

Okay so thats $835 not $300 like i said earlier(blame the teenage parts guy at my dealer, he only looked up front seat backs....) Thats still cheaper than instaled aftermarket leather and youre getting the stuff actually designed for your car.
__________________
ASE Certified master Technician
ASE Certified Advanced Engine Performance Specialist

GM Certified Technician
GM Mark of Excellence Winner(Top Honors, Engine Repair)
---

thats good thinking :D but, unfortunately im a poor college student so i was looking in the $300 range, but thanks for the help! I do love what you did tho!
Well if you decide to get ambitious then you could do them yourself.... mine only cost me $40 not including the cost of the sewing machine.
---

are you good at sewing, or just tried it for a first time and went somewhere with it?
That was my first time. Everything I learned or know is in there so..... I think you should go for it and maybe It'll catch on.
---

did you make any big mistakes that you had to redo, or did it flow? sorry for annoyance, but i think ill mess it up real quick...just need a confidence booster
Posting Rules

You may not post new threads

You may not post replies

You may not post attachments

You may not edit your posts

---

HTML code is Off

---