Newcomer
Join Date: Aug 2007
Posts: 20
Cabin Air Filter Replacement
---
Over the weekend, I wanted to get some maintenance done: oil, new brake pads, fuel system treatment, cabin air filter...little things like that. I wanted to especially do the cabin air filter because I started to smell a moldy type of smell when I turned on the AC. However, I wasn't able to find the location of the thing anywhere on the internet, so I just went at it on my own and found out it is actually very easy to gain access to.



Step 1: Purchase Cabin Air Filter from your local auto parts store. (~$15)

Step 2: Open your glove compartment. On the sides of the tray that drops down, you will notice there are two pegs that stop the compartment from falling any further. Carefully Push inward on the pegs so that they get pressed out of their grooves, and drop the compartment down another 8 inches or so. I find it is easier to press the left one out first because it is made of rubber and will give a little easier than the plastic one on the right.

Step 3: Once the compartment drops out of the way, you will see a black retainer, with three snap tabs. Pry each of these tabs up with your fingers. This will lift a flap that will expose the old cabin air filter.

Step 4: Pull out old filter, being careful not to let all the dust, leaves and bugs fall out onto the stuff in your glove compartment. (Trust me, this thing will be dirty. I only have 33,000 miles on my car and this was filthy. Just think, some people drive their cars for 10+ years and NEVER change this thing!)

Replace with the new one in the same manner. Remember, the grooves in the filter go from left to right.


Thats it. This process needs no tools and can be done in under 2 minutes. Run the fan for a while while you are driving around with the windows down and you should notice less of a smell coming from your vents.
THANKS lol I wanted to know where it was I'm getting the same smell esp. on damp rainey days.
---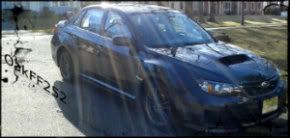 RIP Cobalt Totaled Sept. 2011
Current Car 2011 WRX
Project Victory_Red_SS
Keep the dream alive.
Good to know...Should we possibly make this a sticky ?
Forum Regular
Join Date: Oct 2007
Posts: 142
Add pics and this would be a most def. a sticky!
Cobalt Master
Join Date: Nov 2006
Posts: 1,538
i second DJVC, mirrorrorrim, get some pics, and you will be congradulated with a sticky icky!
Newcomer
Join Date: Aug 2007
Posts: 20
I'll see what I can do this weekend.
Newcomer
Join Date: Oct 2008
Posts: 1
thank you so much for this info. i have been going crazy trying to find the location of the filter

Join Date: Apr 2008
Posts: 1,559
Aren't filters usually behind the glove box anyway in all cars?
Newcomer
Join Date: Feb 2009
Location: aurora, CO
Posts: 12
wow, does any one look in the owner manual any more? thats where i found out.
Cobalt Master
Join Date: Nov 2006
Posts: 1,538
Quote:
Originally Posted by
Chevy Cobalt 08
View Post
Aren't filters usually behind the glove box anyway in all cars?
FTR: 1996-2002 Ford Windstar vans have their cabin air filter located under the hood, it's in the cowling just below the windshield
Not all vehicles have it behind the glove box
Posting Rules

You may not post new threads

You may not post replies

You may not post attachments

You may not edit your posts

---

HTML code is Off

---