Stationed in Mississippi
---
hey i used to live in missouri and i joined the military and now im in mississippi. Anyone down there? If so we should have a meet up sometime
You at Keesler or something. I'm at eglin about 4 hours i guess from keesler
Newcomer
Join Date: Jan 2009
Location: KCMO
Posts: 32
no im not at keesler im at a coast guard base in pascagoula, but i live in biloxi
hey, im from wiggins, but im always on the coast. there are alot of balts down this way. im actually in a ecotec club called gulf coast ecotecs. we have around 16 members from all over the gulf coast. you should meet up with us one night. we usually hang out at sonic on cowan road friday and saturday nights.

Join Date: Oct 2004
Location: Southern California
Posts: 1,651
Hey JDM, have your club members sign up on the forum
Im in the panhandle. Might have to head up one day
Newcomer
Join Date: Jul 2009
Location: Gulfport, MS
Posts: 23
ok so we need to cosolidate everyone that wants to be in GCE or is from the general Coast area or email me at
[email protected]
an we'll see what we can set up i live in Gulfport an am stationed on the Navy Base in gulfport
I'm very north. Like border of Memphis Tn.
---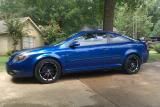 05 Cobalt LS 2.2
93 Turbo Supra
fla panhandle here..
---
ballin outta control in a camo balt
Posting Rules

You may not post new threads

You may not post replies

You may not post attachments

You may not edit your posts

---

HTML code is Off

---