Orange '07 LT
---
Ive made a few posts but acctually haven't introduced myself, I'm in the military stationed at Ft. Detrick, MD. Bought my cobalt last year in Leesburg, VA because everwhere else I looked they want at least 3 grand over blue book. This car has been a roller coaster. First off I noticed a rim was scratched no biggie I had planned on getting a full spare neways. Well I go home on Vacation "nearly 800 miles" Car runs like a dream except some vibration in the steering wheel on the way back I roll over the warranty mileage. One day I take my car in to get checked out and an oil change and the guy tells me my control arm is bent and the tire was balanced and the people forced and alignment on it so I take it to the dealer and they tell me Im out of my warranty and there is nothing I can do. To top this off I start to notice the paint is off and my buddy who works in a shop tells me its been repainted on the hood and both doors and rear pass quarter panel. Mind you the carfax is clean so the dealer says not their problem. Oh and to top it all off Ice fell on my car at work off of a radio antenna and the govt doesnt want to give me money to fix it they also say not their prob and they didnt tell me this till it was too late to file with my insurance. Hope everyone enjoys this story.
welcome and oh man sorry to hear about your bad luck with the car so far...hope all turns around on ya.
---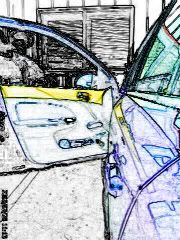 Join Date: Oct 2004
Location: Southern California
Posts: 1,651
Sorry to hear that about your car... but Welcome to the site
---
2006 LS Mods:
Tsudo N1 Catback Exhaust
ICW Racing Nakano's covered in Cooper CS4 Tourings
Dual Kicker Comp 12's enclosed in a sealed Kicker enclosure powered with a 1200 Insignia Amp
35% Window tint all around
Painted headlights
K2Motor Smoke LED Tail lights
MPx Shorty Antenna
Painted calipers/drums
Custom hood scoops




Oh and somebody backed into me in the parking lot today wrinkled my bumper and he didnt have insurance so im gonna eat that one too.
Damn that sucks man. Yea someone backed into my bumper and put a 6 inch crack in it.
I'm glad you're in MD and not MI parking or driving anywhere near me
- oh yeah, and welcome to the group.
---
Shorty Antenna, Painted Calipers, SAI K&N Intake, B&G Lowering Springs, FE5 Shocks and Struts, Moog End Links, Moog Tie Rod Ends, Polk Audio DXi650 Speakers - front and back.
Posting Rules

You may not post new threads

You may not post replies

You may not post attachments

You may not edit your posts

---

HTML code is Off

---