Bad05ss photo update for march
---
havent been on in a long time some updates in OCT. 09
UPDATE 3/5/10
so detailed the coby yesterday check it out
dont know if i want to keep the wheels yet.
---
Last edited by Bad05ss; 03-10-2010 at

06:51 AM

.
why is the whole front grille gone?




Quote:
why is the whole front grille gone?
the bar in the middle is painted black and i had a mishap in a parking lot f'd up my front bumper and smashed the grille to hell! but have no fear i have a ss/tc grille here lol
Contributor
Join Date: Aug 2009
Location: Pittsburgh/Plum, PA
Posts: 276
Ha I have that same bumper sticker! It makes me laugh
Looks good. I love wingless SS's. Not diggin the stickers though
---

"A wise man speaks because he has something to say,
A fool speaks because he has to say something"

OBZ's showoff thread!
Quote:
looking good but damn you can see the age on ur car. is that cataracts on ur headlights?
yeah shes getting old, but can still hold her one for now! when i got back into it cracked the seal on the lights. one light is a 07 and the other is an 05 lol, but anyways your car is the car that finally made up my mine about painting the bumper plus i always have been a fans of you car!
Quote:
lobalt looks pretty good, i love how low it is!

ya like stickers, dont ya? lol
i know, i have a problem but admitting is the first step
aww i can't view the photos :(
---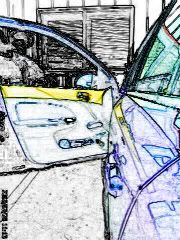 Posting Rules

You may not post new threads

You may not post replies

You may not post attachments

You may not edit your posts

---

HTML code is Off

---