Newcomer
Join Date: Oct 2009
Location: Westchester, New York
Posts: 5
Hey I'm New & I Need Some Help... Anyone!?
---
I'm a new owner of a 2009 cobalt LT, I hate the front bumper on the LT and desperatley want to change it to the SS bumper, does anyone know where I can buy the fascia online that isn't too expensive... Thanks!
gmpartsdirect.com for brand new or check ebay occasionally
hit it with a hammer, free of charge for a new look
Welcome to the site and like chester said check ebay or check out ur local junkyards.




---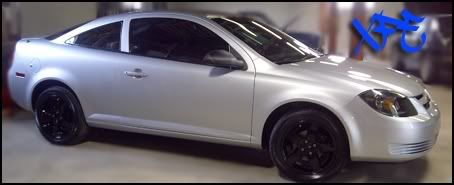 Veteran
Join Date: Jul 2009
Location: North Haven, Ct
Posts: 678
check your dealership, mines from the dealership
---
My 'Balt, Camryn, is my baby. She's a black '09 LT 2.2L with the performance appearance package. I believe that if you take care of your car your car will take care of you.
Currently: Predator Pedals, GM logos gone, blacked out bowties, green interior neons, green LEDGlow, 2x 12" Kicker L7's subwoofer, kicker speakers, Pioneer avic f700bt, Konig Unkown's (17's), Tints
welcome and those are always expensive so i say buy an entire body kit for almost the price of just the front bumper
---
heart of an SS
Newcomer
Join Date: Oct 2009
Location: Westchester, New York
Posts: 5
Haha thanks JDriver.., that's not the new look I'm going for..

Ifound a rear bumper on ebay for $200 so I'm gonna buy that and I'm just going to buy the front from the dealer.. Thanks everyone!
Go aftermarket!!!!
---

If you want an SS bumper you will have to be patient because those bumpers are hard to come buy. It took me months of looking and searching and I finally came across one on Ebay and I got it. However, like the other members are saying, Ebay and junk yards or if you want go aftermarket, there are some nice ones out there.
---
Injen CAI/SRI Intake/2.25" Custom Catback Exhaust/Eibach Sportline Springs/17" Drag Concept Rim/ARK Shorty Antenna/Black Out Tail Lights, Side Markers, 3rd Break Light
2006 Black LS
Posting Rules

You may not post new threads

You may not post replies

You may not post attachments

You may not edit your posts

---

HTML code is Off

---