Newcomer
Join Date: Dec 2009
Posts: 3
Just Saying Hey, and a Question
---
Hey everyone. You all have a very impressive forum. Glad to find it. I've done alittle reading on some of the forum topics and have determined that I am amoung a massive abundance of knowlege and wisdom and overall a great bunch of people.

Well, I don't have any mods. Just have the stock 2008 Black Cobalt LS, with rear tinted windows. Would like to get a spoiler for the rear deck but cash is tight. Continental (crap tires) have worn out at 25,000 miles. I really need to get another set of tires. Unemployed so I don't have much money. I may have to settle for Walmart Douglas tires. I have found that the stock tire size is higher priced on some brands of tires, but the 205/70/15 size is lower priced than stock. What do you all think, could I use a 205/70/15 tire in place of the stock 195/60/15 tire without any issue of clearance. The speedo may be out just slightly, but that doesn't really bother me. 50 bucks a tire is really about all I can afford right now.

Thanks, FOBUD. (Fat, Old, Bald, Ugly, Dumb)
Hey there, welcome to yourcobalt.com and thanks for joining! I know that you won't have any clearance issues...but that tire size is pushin it on a stock rim....just sayin.




---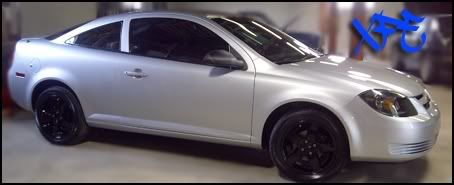 welcome aboard!

i wouldnt think you would have any problem with the 70's. cobalts have massive wheel gap as it is. and the stock tires are skinny.
Quote:
Hey everyone. You all have a very impressive forum. Glad to find it. I've done alittle reading on some of the forum topics and have determined that I am amoung a massive abundance of knowlege and wisdom and overall a great bunch of people.

Well, I don't have any mods. Just have the stock 2008 Black Cobalt LS, with rear tinted windows. Would like to get a spoiler for the rear deck but cash is tight. Continental (crap tires) have worn out at 25,000 miles. I really need to get another set of tires. Unemployed so I don't have much money. I may have to settle for Walmart Douglas tires. I have found that the stock tire size is higher priced on some brands of tires, but the 205/70/15 size is lower priced than stock. What do you all think, could I use a 205/70/15 tire in place of the stock 195/60/15 tire without any issue of clearance. The speedo may be out just slightly, but that doesn't really bother me. 50 bucks a tire is really about all I can afford right now.

Thanks, FOBUD. (Fat, Old, Bald, Ugly, Dumb)
tires are one thing I would never go cheap one, but I guess cheap new tires are better than keeping bald tires. But yeah 205/70/15 should fit but I bet it will throw the speedo off like other people said.
Posting Rules

You may not post new threads

You may not post replies

You may not post attachments

You may not edit your posts

---

HTML code is Off

---