New from the Zoo!
---
HA! Hey guys, as it says, I'm new here (kinda), I look around but don't post too much. I'm from Athens/ Battle Creek/ K-zoo. Anyone from around any of those? Anyways, Here is a little about me right now and my car (of course):
Me - I'm 24 going on 25, I'm in the Army (currently in Iraq), and I'm a mechanic in the Army. I'm also an ASE Master Certified Tech for both auto and diesels, so as you can see, cars/trucks are my passion. I already stated where I'm from so, now, lets get onto the car (my baby).
Car. My car is a 2009 Cobalt SS turbo. It is the G85 and it is victory red w/ a high-rise wing. Here is the current mods on it:
Performance:
Injen CAI
Injen Hot Side CP
Dejon FMIC
Dejon BPV Spring Upgrade
Custom 3" Catless DP
Full 3" Exhaust
Muffler Delete
Custom Tune
Exterior:
"Evo X" mod (can show pics of what I'm talking about if interested)
Gen 2 Euro/HALO/HID/LED headlights
Debadged
Suspension and Handling:
Stock (But springs are already ordered and on the way)(Will use the springs for regular street driving and use KSport GTComp Coilovers for track.
Tires are Goodyear Eagle GT's for Winter tires and Yokohama Parada Series II for summers
Interior:
ZZPerformance triple Gauge pillar
AEM Cobalt full tilt 30/30 boost gauge
AEM EUGO Wideband
Possible Fuel pressure gauge soon
B&W Hurst STS
Custom Blue gauges from Black Cat Customs
Pioneer AVH-4100DVD
Stats:
With everything that is on the car right now running 22psi here are the numbers I put down on the dyno and at the track:
Dyno - 356HP/398TQ
1/4mi best -
[email protected]
(with stock tires (before the Yoko's were put on and had MAJOR wheel spin in second and part of third).
Future plans:
Get my suspension finished
CF hood and Wing
5% tint all around
Upgrade the tune with either HP Tuners again or Trifecta
Turbo Upgrade (debating on the GT3076R or the SB25
Cold Side CP
Vent to Atmosphere BOV
External WG
Cams (already got some getting worked on
)
Header
Get fuel tables upgraded
Stage 4 Clutch
Stage 3 Flywheel
then some minor visuals
Well what do ya guys think? It's still a work in progress right now, but it's getting better. I don't have any updated photos of my car, as it only had the Injen CP and custom gauges on it the last time I took pics of it. When it gets warmer out, I will see about getting some new photos for you guys to post them up. Let me know what you think.
Welcome to yourcobalt.com

Sounds like a nice ride you got there, post some pics

BTW we know what the evo mod is....lol



moved to *New member intros*




---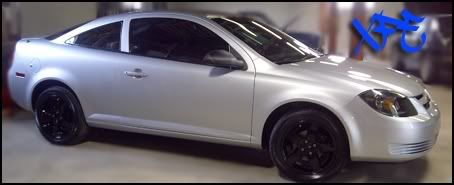 Levee

Join Date: Aug 2009
Location: Battle Creek, MI
Posts: 3,210
Thanks, yeah, it's nice for me. And it doesn't play so nice with the other sports cars on the road though, so it makes more enemies than friends! lol.

I'll post up the pics that I have of it right now (the old ones), then get some new ones hopefully in a few weeks or so. But anywho, I will get pics up tomorrow of my baby.
Quote:
Welcome to the forum. We will be lookin forward to those pics when you get back. Be safe in the big cat box.
HAHA!! wow will that's funny!!
and welcome.
Welcome! Your balt sounds like a beast!
---
welcome to yc.
---

Just call me Mr.June____________________Flat Broke Mafia Member#2
I really want to see pics, you're from michigan right?




Posting Rules

You may not post new threads

You may not post replies

You may not post attachments

You may not edit your posts

---

HTML code is Off

---