Newcomer
Join Date: Mar 2010
Posts: 6
New Guy from Pittsburgh,pa
---
I joined this site basically to read about the cobalts and also i maybe getting one at the end of the month.
here is my pos that i drive now
the car i am looking at is a Sedan LS 5-speed i been looking for one in white but i found one local but in silver so it will do if i can come up with the money..
get a ss if u can..welcome to the site..looks like PA is the home of Cobalts..lol
---
SOLD!
2.2 TURBOCHARGED. GT28 TURBO, 60# INJECTORS, WISECO PISTONS, EAGLE CONNECTING RODS, ZZP 3" DOWNPIPE, PACESETTER EXHAUST, K&N INTAKE, CUSTOM COLDSIDE PIPING, DEJON HOTSIDE PIPING, 2.4 INTAKE MANIFOLD,2.4 THROTTLE BODY, TRIFECTA TUNED.
Best Car Insurance | Auto Protection Today | FREE Trade-In Quote
Rocket Power

Join Date: Jan 2010
Location: Southwestern PA
Posts: 711
Welcome to YC! I'm just down the road in Latrobe.
---

Yea, tho I cruise through the valley of the shadow of rice, I will fear no Turbo,
for Torque art with me. Thy rods and crankshaft, they comfort me.
Newcomer
Join Date: Mar 2010
Posts: 6
to find a 4 door SS for 4 grand i don't think so.....

but if i do get it and once its paid off the fun time will come...
Newcomer
Join Date: Mar 2010
Posts: 6
ok i got a few questions

If i do get this
Dose anyone have the part numbers for the SS bumper and lip,side skirts and is the rear bumper a full bumper or just a lip?

and is there a how to for the 4 lug to 5 lug ? all i want is the 17" ss rims not aftermarket

and can i put a cavalier cam cover or what ever its called on top of the motor instead of the one it comes with?
---
Last edited by LarryMartin830; 03-10-2010 at

12:33 PM

.
From one Pittsburgher to another...Welcome to the forum!

---------- Post added at 03:43 PM ---------- Previous post was at 03:40 PM ----------

If you give me a little bit I can try to find you the part #'s for those parts. And why do you want the "cavalier" valve cover? Also, it is possible to do the lug swap, it's just not worth IMO just for some rims.




---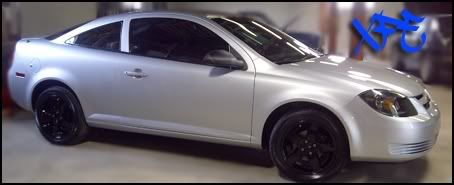 if your low on cash hunt around for a ss/sc

not really worth modding the little ls/lts you wont get enough performance unless you start dropping mega $$$
welcome. im not to far from pittsburgh
welcome to YC! and if your gonna try to make it look like the ss but dont have the money try looking for a sport model
Posting Rules

You may not post new threads

You may not post replies

You may not post attachments

You may not edit your posts

---

HTML code is Off

---