Newcomer
Join Date: Mar 2010
Posts: 9
Another New Guy
---
Whats up all. I'm Leland, come from the peoria area in Illiinois. My Cobalt is the 2006 SS Supercharged, currently stock. once may rolls around I'll be able to work on it a little. Plans include but are not limited to: Cold Air Intake, Smaller Underdrive pulley, A nice new set of 18" Enkei Klamp Rims, and Halo Projection Headlights. I'm new to all this auto work, so any other ideas are welcome.
Welcome to the forum.


Unless you have changed your bolt pattern those "klamp" wheels will not work. Your bolt pattern is 5x110. If i'm wrong those wheels please tell me...




---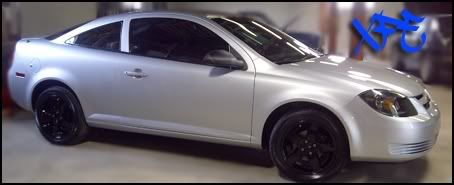 Newcomer
Join Date: Mar 2010
Posts: 9
i personally have no idea... like i said i'm new to this. the wheel shop i'm gettin them through said that they should work, and since i'm payin them to get it done, i'd expect that they know what they're talkin about... but just in case i'll continue my search for some new rims... thanks for the heads up.
Welcome to the website
---
Levee

Join Date: Aug 2009
Location: Battle Creek, MI
Posts: 3,210
Welcome. You should get a smaller sc pulley, injectors and a tune. That would make a whole different kind of animal out of your car, and a BUNCH of people are selling stuff like that right now. I'd also look into getting a heat exchanger as that will help you run much cooler.
---
'09 SS/TC - Stolen
Mods
- Injen CAI, CIA MAF Relocate CP's, Dejon FMIC,
Custom 3" DP, 3" Exhaust, GT3076R, Pioneer AVH-4100DVD, Hurst STS, ZZP triple pod, Autometer Cobalt boost/DPIC/WB gauges, Nitto NT05 245/40/18's, H&R Springs, 80:20 Meth Spray
Future - KSport Kontrol Pro Coilovers, 10% Tint, FMIC spray
538whp/501wtq @38 psi on meth and 93 oct on stock ish motor
06 EVO IX MR/SE - Sold
Mods
- *Updated 10/6/13* AEM TRUboost EBC, 4in custom TBE, SD dual 93/e85 tune, ETS 4in Race Core FMIC, Dual Aeromotive 400lph Fuel Pumps, T4 Tubular Manifold w/ dual WG's, FP Super99HTZ DBB Turbo, GSC 274 mivec cams, ARP headstuds/rod studs, FIC 2150cc Injectors, Aeromotive FPR, Aeromotive Fuel Rail, catch can, Mini Battery Kit, Slim Coolant Fan, Kiggly Racing high pressure valve Springs/Titanium Retainers, Supertech Stainless Steel Valves, Dual VTA Tial 44mm WG's, 4g64 Stroker Manley Pistons, 155mm 2.4 LR Manley Turbo Plus I Beam Rods with ARP 625 Studs, 100mm forged non-billet Manley Crankshaft, Full H/E PNP with Port Matching, Kiggly Racing Girdle, Dual Tial 50mm BOV's, Excedy Triple Disc Carbon HD Clutch, AEM EMS
'95 Ram 2500 Diesel
Mods
- 5in TBE, Boost Elbow set to 28psi, Adjusted fuel pump, Open Turbo.
Future Mods- Super Street Clutch (rated @1400ftlbs tq), 67mm turbo, 160lb valve springs, added timing, tubular exhaust manifold, larger injectors, possible 6 spd swap.
Master ASE Certified Gasoline/Diesel Technician since 2004
Speed Junkies Social Group
Yourcobalt Official Facebook Page!
Syndicate of Tuners Official Page! Up and going again as of 1/11/13
Click here to PM me if you have questions or issues!
Veteran
Join Date: Dec 2009
Location: Elberton, Georgia
Posts: 680
Newcomer
Join Date: Mar 2010
Posts: 9
alright... well, since i can't get the Klamps, I'm gonna go with the Enkei WMDs. they have the correct bolt pattern and everything. Purchased my cold air intake, still lookin for the smaller pulley. thanks for all the help.
welcome
---
SOLD!
2.2 TURBOCHARGED. GT28 TURBO, 60# INJECTORS, WISECO PISTONS, EAGLE CONNECTING RODS, ZZP 3" DOWNPIPE, PACESETTER EXHAUST, K&N INTAKE, CUSTOM COLDSIDE PIPING, DEJON HOTSIDE PIPING, 2.4 INTAKE MANIFOLD,2.4 THROTTLE BODY, TRIFECTA TUNED.
Best Car Insurance | Auto Protection Today | FREE Trade-In Quote
Posting Rules

You may not post new threads

You may not post replies

You may not post attachments

You may not edit your posts

---

HTML code is Off

---