Newcomer
Join Date: Dec 2010
Posts: 3
Anyone Driven the Cruze?
---
Hi, I'm Quantumgreen. I have about 22,000 miles on my Cobalt LS XFE 5-speed. I test drove the new Cruze, was disappointed. It immediately had a "bargy" feel to it--more like a midsize than a snappy compact. The turning radius is a couple feet larger, which might account for the different feel behind the wheel. The engine was unexpectedly noisy, because of the turbo, I guess. My car has a bare bones interior, but I think I'll stick with it for awhile. Max fuel economy was 37 miles per gallon on the expressway, and not at a constant 60 mph.
I would buy a Cruze in a heartbeat.




---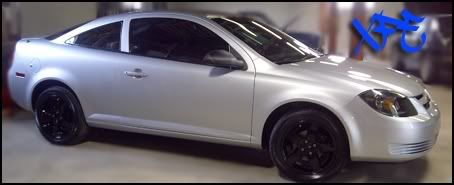 What Mike said.

LIGHTYEARS ahead in the Cobalt as far as refinement and quality are concerned.

You thought the engine was noisy? I couldn't even hear the ******! And I thought it handled relatively well (keep in mind - I have SS/TC Struts, Shocks, SSC Springs and SS/SC Control Arms and Front Sway Bar) for a family sedan and a car that size in general.

It was obscenely slow from a dead stop, but if you put it in the right gear and went from a roll it spooled fast enough. The transmission needs some refinement, but that's really my only complaint on the car.
---
1986 Chevrolet Camaro IROC-Z
- Wrecked/Sold
1998 Chevrolet Cavalier
- Wrecked/Donated
2007 Chevrolet Cobalt LT
- M62 Supercharger, Ported Throttle Body, 42 lb/hr Injectors, Intense 2.9" Pulley, Cobra Heat Exchanger, SS/TC Exhaust, TTR Engine and Trans Mounts, Trifecta Tune, ZZP Header and Downpipe, '08+ FE5 Struts/Shocks, SSC Springs, FE5 Control Arms, SS/SC Front Swaybar, Powell Hardcore Rear Swaybar, 18" MSR 045s, Dunlop ZIIs, Nightshaded Tails/Side Markers, Shorty Antenna, Black Bowties, Black Grilles, Black Headlights, Dual JL 12" w1v2 Subs, A/D/S Front/Rear Speakers, Pioneer 7" Touchscreen, G85 Recaros, Leather Rear Seats, 160 MPH Cluster.
2014 Chevrolet Cruze Diesel
- 17" MSR 013s, Black Bowties, Black Tails, UR Rear Lower Bar
1981 Chevrolet Camaro Z28
- JVC Ribbon Tweeters, SEAS Mids, Pyle Woofers, Kenwood Tape Deck, Zapco Amp/Equilizer, Ceramic-Coated Longtubes, 2.5" Pypes Stainless Exhaust, Bilstein B6 Shocks, GW U/L Control Arms, Hotchkis Springs Sway Bars, DD HDX Cluster
2017 Chevrolet Volt LT
- Black Bowties
Probably get one late summer when new MY comes out.

423
---

If You're SCARED... SAY You're SCARED...
I've driven a handful of cruzes (work at a chevy dealer). I don't like them. IMO it's just an aveo with a nice fancy interior and fancy wheels. turd bomb IMO
Cobalt Specialist
Join Date: Mar 2010
Location: Pittsburgh, Pistolvania
Posts: 1,218
They're built a bit nicer than the Cobalt, but they're not coming anywhere near the price to performance ratio that the SS/SC and SS/TC had.
---
GM Stage II | 2nd Gen Projectors | 5000K Low Beams | 3000K HID Fogs | LED Tails| SS/TC Seats
▲RIP 2007 G5: Totalled 1/26/10▲
Forum Regular
Join Date: Dec 2010
Location: Enid, Oklahoma
Posts: 53
I agree. If you're lookin' for a cheap little pocket-rocket, look someplace other than the Cruze.
I'd prefer the 2012 Focus over that garbage.
---
2010 Cobalt 2LT Victory red Coupe
Mods: Tinted 50% ceramic all around, factory spoiler, 2008 LE5 2.4 Throttle body, GMPP Intake, Walker stock exhaust system (back to silence), TruBendz/MBE 2.5" catted Downpipe, HP Tuners by Chenry Motorsports, Alpine CDE-151 with USB port, Rockford Fosgate 300-10
Forum Regular
Join Date: Jul 2010
Location: pennsylvania
Posts: 59
I'd kind of like to see what would happen if ford would sell the Focus RS in the U.S.
drive them everyday (also work for a chevy drealer)... there nice cars i woulda bought one
---
mods... tinted taillights, 1000 watt alpine mono amp, 2 10 inch alpine type "r" subs, basspro slot ported box, xm radio, alpine 6x9 rear speekers, alpine 6.5 front speekers (both type "s",09SS front bumper and lip,black factory headlights, 12k foglights, 10k headlights, slp catback,fe5 suspension with sportlines,black carpet, painted plastics (black) huge custom pink monster sticker... and ofcourse.... BLACKED OUT!
Posting Rules

You may not post new threads

You may not post replies

You may not post attachments

You may not edit your posts

---

HTML code is Off

---