Newcomer
Join Date: Jan 2011
Posts: 22
New Here.
---
new here. little bout myself
names brandon, im 19 turning 20 in february. I work at Carmax as a senior reconditioning associate (auto body technician) love working on cars in my free time. My other toy is a 89 camaro rs. plans r up in the air right now. maybe a drag car or street drag idk.
well anyways the main thing im here obviously. I just bought myself a 2010 Cobalt LT. Had her for like 3 weeks now and i love her. nothing like to crazy planned since its my daily and still well under warranty, but appearance and small mods will b done over time. kinda hard camaro is apart in the garage and living in new england cant really work outside in the freezing cold.
so far i bought the injen intake that converts from cai to sra or whatever. got it from a friend for $150 had it on his car for like 6 months took it off for some work and never put it back on. good deal cus its mint got it in original box packaging papers everything.
when it gets warmer ill prob do a cat back exhaust and leave it at the and go toawrds like dressing up the engine bay. maybe in like another year i would like to go turbo but thats another thing for another day.
lmk what you guys think.
and ill deff be asking a lot of questions since im not to familiar with these cars at all. im all third gen camaros lol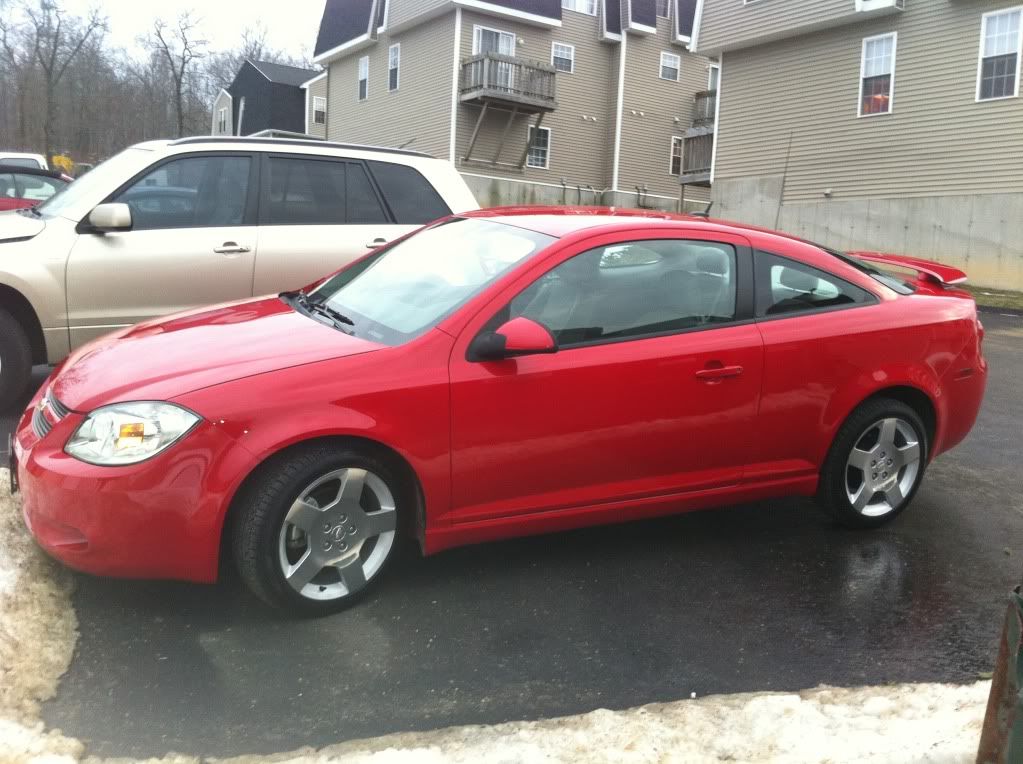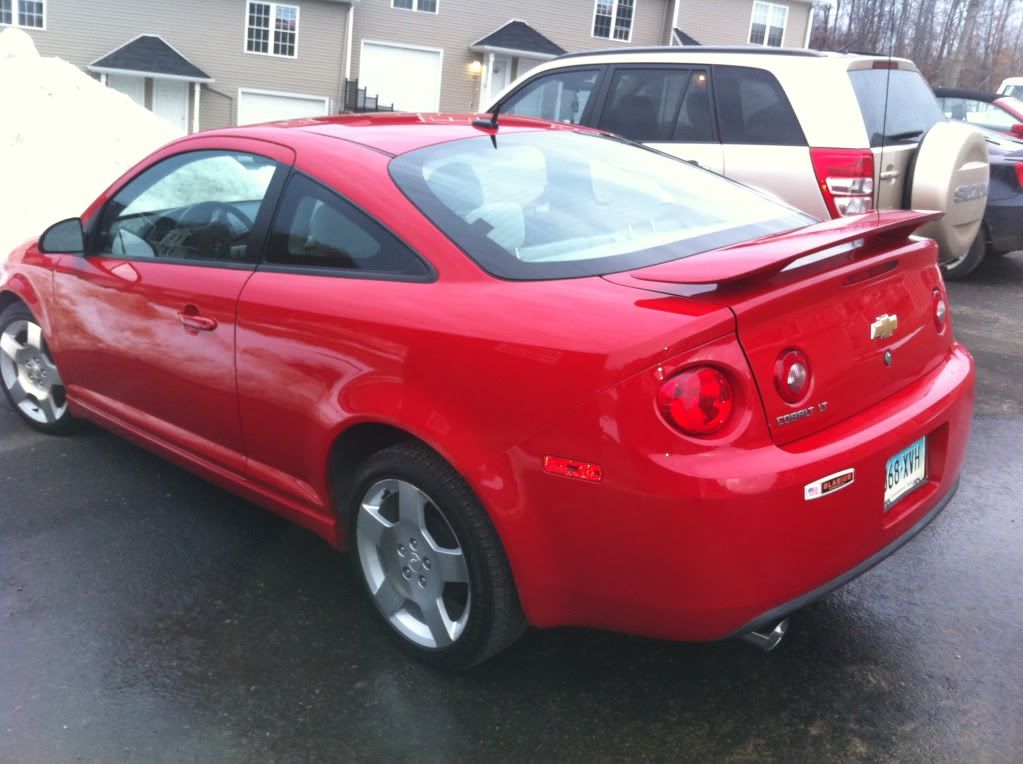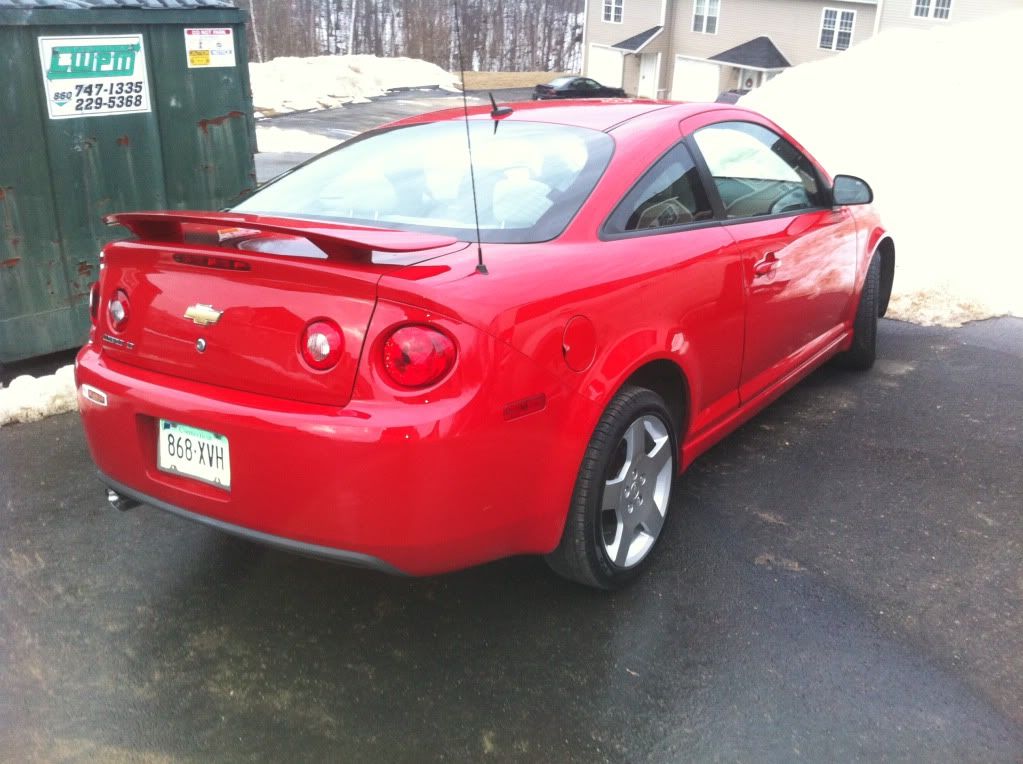 Get Out The Sawzall

Cobalt Master
Join Date: Apr 2010
Location: Sewickley, Pa
Posts: 1,856
Welcome to the site! Nice Balt, oh and 3rd Gen FTMFW! I had an '86 IROC, was my first car.
---
1986 Chevrolet Camaro IROC-Z
- Wrecked/Sold
1998 Chevrolet Cavalier
- Wrecked/Donated
2007 Chevrolet Cobalt LT
- M62 Supercharger, Ported Throttle Body, 42 lb/hr Injectors, Intense 2.9" Pulley, Cobra Heat Exchanger, SS/TC Exhaust, TTR Engine and Trans Mounts, Trifecta Tune, ZZP Header and Downpipe, '08+ FE5 Struts/Shocks, SSC Springs, FE5 Control Arms, SS/SC Front Swaybar, Powell Hardcore Rear Swaybar, 18" MSR 045s, Dunlop ZIIs, Nightshaded Tails/Side Markers, Shorty Antenna, Black Bowties, Black Grilles, Black Headlights, Dual JL 12" w1v2 Subs, A/D/S Front/Rear Speakers, Pioneer 7" Touchscreen, G85 Recaros, Leather Rear Seats, 160 MPH Cluster.
2014 Chevrolet Cruze Diesel
- 17" MSR 013s, Black Bowties, Black Tails, UR Rear Lower Bar
1981 Chevrolet Camaro Z28
- JVC Ribbon Tweeters, SEAS Mids, Pyle Woofers, Kenwood Tape Deck, Zapco Amp/Equilizer, Ceramic-Coated Longtubes, 2.5" Pypes Stainless Exhaust, Bilstein B6 Shocks, GW U/L Control Arms, Hotchkis Springs Sway Bars, DD HDX Cluster
2017 Chevrolet Volt LT
- Black Bowties
Contributor
Join Date: Jul 2010
Location: Broomfield, CO
Posts: 353
Welcome! You picked a great little car to work on ;)
---
Black 2010 SS/TC – G85 | ZFR6758 | Term2 tuned | 479whp, 470wtq | Built internals | Cryo'd 4.45 | CM S4 clutch | Hahn CP | ZZP IC | Forge BPV | Hahn 3" DP and Catback | Hahn CAI | Ported head & intake | LE5 TB | Opel injectors + custom 5th injector | ZZP S3 cams | 82# valve springs | 420lph E85 LPFP | Custom FM oil cooler | PRS YYZ v3 & Koni yellows | PRS XXX bar | PRS rotated mounts, rear bushings & TCABS | PRS PCV | PRS Racing oil pan | PRS brake ducts
Welcome to the site!
I had the exact same cobalt before I got my ss
---
#Winning
Expert
Join Date: Apr 2010
Location: Wisconsin
Posts: 840
Welcome to the fam!

Nice car! But sedans ftw! Hahaha
for your car, I'd say either do gold rims and keep the gold bowtie, or black em out! Red and gold just look sweet together IMO. And I generally hate gold.
---
Sig by Padlock
Showoff thread
Newcomer
Join Date: Jan 2011
Posts: 22
---------- Post added at 03:22 AM ---------- Previous post was at 03:21 AM ----------
---------- Post added at 03:24 AM ---------- Previous post was at 03:22 AM ----------
---------- Post added at 03:25 AM ---------- Previous post was at 03:24 AM ----------
and mind you guys i may be 19 but i have paid for all this stuff on my own. Camaro cobalt and the other 2 cars ive owned.
Forum Regular
Join Date: Jan 2011
Location: Kennesaw, GA
Posts: 175
Cobalt Specialist
Join Date: Mar 2010
Location: Wisconsin
Posts: 1,437
Contributor
Join Date: Jun 2010
Location: Charleston SC
Posts: 302
Posting Rules

You may not post new threads

You may not post replies

You may not post attachments

You may not edit your posts

---

HTML code is Off

---