New Owner Looking for Help
---
dont like to read? skip to the bottom for the TL;DR version
"Oh God, what is this the 1,000,000 thread just like this ive read this year? "
Lol I know its generic. I hope I can spice things up a bit and keep you all interested as I know these intro threads can be boring and all the same. Ive been an active member on quite a few different forums so I will try to be a good member here and keep things fun.
A little about the man behind the avatar
My name is Nick I live in north east Ohio (Akron area) and ive been creeping on this forum for nearly a month. I figured why not sign up? Plus there are questions I have that I just cant seem to put in words good enough for google to help me. I just got a new Cobalt but ill talk about that in a second.
I work at CVS full time. im 18 and graduated from high school but not attending college at the moment. Im an eagle scout
I throw that in all the time...I was a bad student and to lazy for sports so its my only note-worthy accomplishment as a kid lol
. In my free time I like to watch TV,play video games and go hunting.
The car story
I just bought this Cobalt Monday and im so happy to have got this car! I turn 19 this May so for the past 3 and 1/2 years ive been driving a P.O.S. Toyota 4 Runner I only paid $500 for. So right now as you can imagine im ecstatic about this car. Its 1000x better than my old car and the peace of mind I get knowing im not leaking gas, anti-freeze and power steering fluid anymore is priceless. Im so proud to be seen in this car and I hope to do some small tasteful mods with your guy's help soon to make it look even cooler.
you guys have seen a million stock cobalts so I guess ill only post 1 of my baby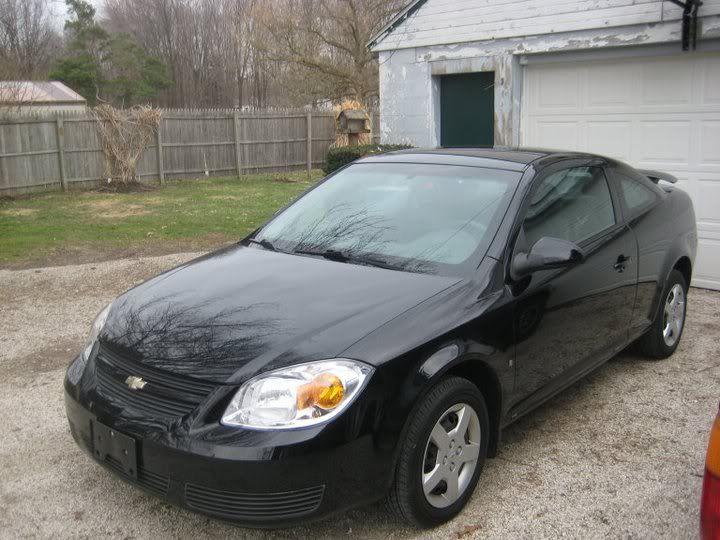 At first I wanted a Civic because a ton of my friends have them and they are sorta cool
(dont hate me lol)
but as far as used cars go I got a way newer cobalt with way less miles for the same $ as a shitty civic with near 100k miles.
anyways thats my story, i feel ive rambled enough for one post...I look forward to getting to know you all and receiving help.
TL;DR version
hey guys im new, I plan on bugging the heck out of you guys for a few months asking question after question.
---
Im the proud new owner of 2007 Cobalt LT coupe. I went from a $500 car to a $9,800 car. If thats not Rags to Riches I dont know what is?
---
Last edited by NickP; 03-23-2011 at

08:54 PM

.
Thanks I try to think outside the box lol. This being the first car ive owned that is actually worth doing anything to means I have no experiencing in modding. I can change the oil, change tires, fill fluids and fix break lines....outside of that im a total noob and so is my Dad so I hope you all can help me with some of my future mods.

right now I onyl have $35 to my name but once I save up a few more pay checks im going to start doing little inexpensive mods. I hope before X-Mas rolls around I can do the following

red bowtie
red fender stripes (hope thats not to rice, but damn does it look sharp)
shorty antenna
some red and black seat covers
a new muffler
some all season floor mats (I didnt realize until I got home that my car didnt have any floor mats lol? )

I might ask for a new set of rims for X-Mas...the stock ones look horrendous

Im on the fence about a few mods.

painting the trim of my interior red...ive seen some of your guy's pics and it looks sweet but id hate to mess mine up.

red under-glows..I know its rice but I think it would look cool, im just afraid of what some trash talkers might say about it.
---
Im the proud new owner of 2007 Cobalt LT coupe. I went from a $500 car to a $9,800 car. If thats not Rags to Riches I dont know what is?
Forum Regular
Join Date: Feb 2010
Location: wisconsin
Posts: 236
welcome. nice opening. theres a thread that has a bunch of mods you can do under 100 dollars and theres how to's and diy's to show you how install them
---

05 Base Model 5 Speed Coupe 2.2L.SUPERCHARGED M62. K&N lsj CAI. TSUDO cb CA 3 in catted downpipe. Bad-Mab Shorty header. ottp stage 1 h/e 55watt 12000K HID's.Sportline lowering springs. Pioneer Deck /w Boston Speakers/ polk dxi sub. Shorty Antenna.
I checked out that thread with mods for less than $100 and theres some awesome ideas I may have to steal
---
Im the proud new owner of 2007 Cobalt LT coupe. I went from a $500 car to a $9,800 car. If thats not Rags to Riches I dont know what is?
Get Out The Sawzall

Cobalt Master
Join Date: Apr 2010
Location: Sewickley, Pa
Posts: 1,856
Cobalt Master
Join Date: Feb 2010
Location: Middletown, PA
Posts: 1,928
Posting Rules

You may not post new threads

You may not post replies

You may not post attachments

You may not edit your posts

---

HTML code is Off

---