Kinda New from Quebec Canada.
---
been looking around for more then a year now but decided to suscribe as a full member!
From Quebec Canada, I own a 2009 chevy cobalt LT not much to list on it:
Eibach sport line
Lambo doors
Enkei 18''
Magnaflow Cat-Back
That's pretty much it!
for this summer:
Injen CAI on the way
Eibach front and rear sway bar
Coilovers, yet to decide the brand!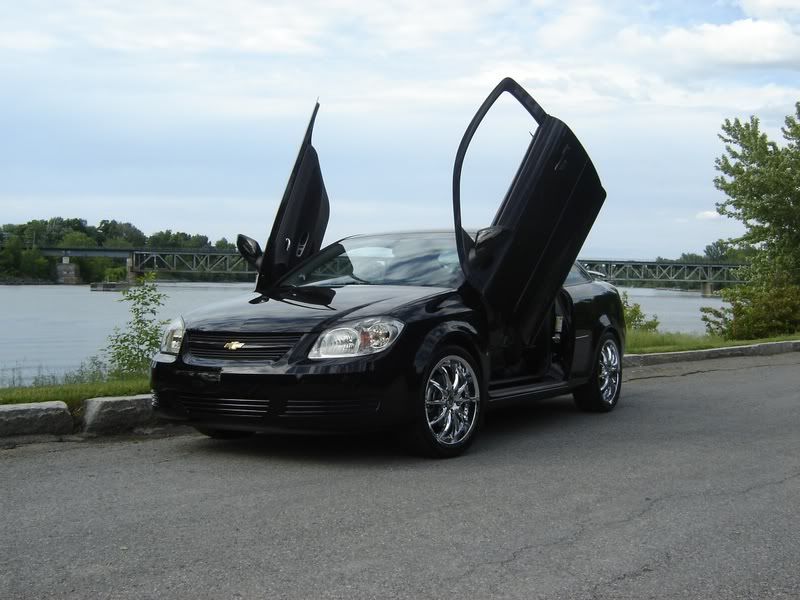 Welcome and nice car, nice to see another LamboBalt haha. I did take my drivers side off though, got tired of it since my ss is back to daily duty and does not do shows no more and i have been lazy on getting the passenger side off.
---
My Gone But Not Forgotten Cobalt(s) Show off

2015 Fiat 500 Abarth
|
2016 International Durastar
Check out my Youtube page
Bienvenu voisin!
---
Every minute spent angry is a happy minute lost for ever and ever!!!
Drives 2016 Cocoa Buick Encore 1.4L Turbo auto KL4CJDSB2GB652675
Drives 2016 Sunset Orange Trax LT1 1.4L Turbo auto 3GNCJPSB8GL142716
Never drive faster than your guardian angel can fly
Heureux de voir un Québecois de plus!! Bienvenu!
that was french :P
it means : glad to see another guy from quebec!
Get Out The Sawzall

Cobalt Master
Join Date: Apr 2010
Location: Sewickley, Pa
Posts: 1,856
WELCOME! I am from Montreal, Quebec. Glad to see another one here. Are you on any other forums like montrealracing? (troll central haha)

we should definitely make a meet this spring.
---
BboyTaktix
- 2011 Plasma Blue pearl WRX STI sedan
- SOLD -S256 TURBO 2.2 -SS/TC body, SS/Tc shocks/struts, B&G springs, 17"mags, TRS FX-R retrofits (50W/6000k)
Quote:
we should definitely make a meet this spring.
^ Me likeh
yep! if spring can hurry the f*ck up and get his ass back ahaha
Posting Rules

You may not post new threads

You may not post replies

You may not post attachments

You may not edit your posts

---

HTML code is Off

---