Hey!
---
Hey guys, whats going on?

Found your website earlier while looking for ideas to customize my cobalt and thought I'd sign up. It's stock now, but I love her. Her name is Ema and she has never treated me bad.

So what's good guys?

-Keil
Cosmetic or performance? Welcome.
---
Every minute spent angry is a happy minute lost for ever and ever!!!
Drives 2016 Cocoa Buick Encore 1.4L Turbo auto KL4CJDSB2GB652675
Drives 2016 Sunset Orange Trax LT1 1.4L Turbo auto 3GNCJPSB8GL142716
Never drive faster than your guardian angel can fly
Welcome!
---
My car showoff

Want nice deal on Aftermarket parts? Pm me for price from my sponsor!
Cobalt Specialist
Join Date: Mar 2010
Location: Wisconsin
Posts: 1,437
Welcome! Post pics
Welcome, great wealth of information in the past forums and current members.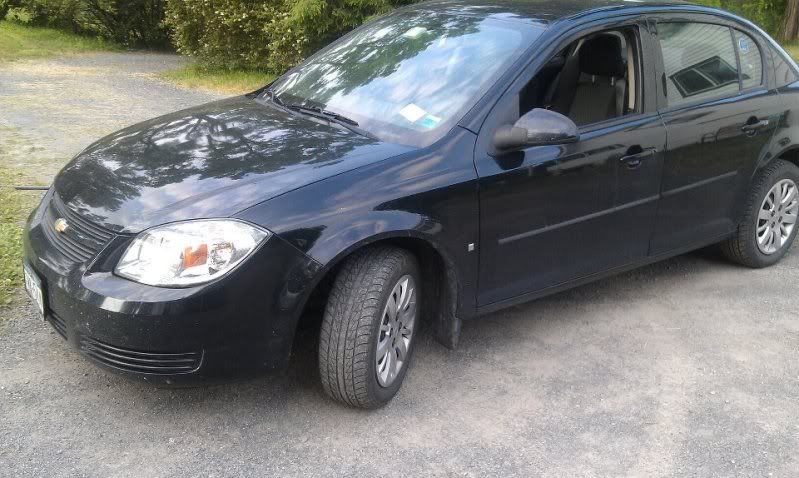 There she is. My intentions are both performance and cosmetic. I want it to look ridiculously bad-ass and have the performance to go with it. I wanna start small, cold air intake, then eventually move up to something like a turbo or super charger.
Also, I really want a body kit, rims, maybe lower it slightly, exhaust. It's a great car that has so many opportunities. I've learned so much already just from looking around.
The car is quick as it is, I love the standard, so whatever I put into it will make me smile just a little more when I hit that gas peddle.
A black car has potential for sure.
---
Every minute spent angry is a happy minute lost for ever and ever!!!
Drives 2016 Cocoa Buick Encore 1.4L Turbo auto KL4CJDSB2GB652675
Drives 2016 Sunset Orange Trax LT1 1.4L Turbo auto 3GNCJPSB8GL142716
Never drive faster than your guardian angel can fly
Cobalt Specialist
Join Date: Mar 2010
Location: Wisconsin
Posts: 1,437
Sounds like you have a lot planned, happy modding
it'll defiantly look good when it's done
Posting Rules

You may not post new threads

You may not post replies

You may not post attachments

You may not edit your posts

---

HTML code is Off

---