Newcomer
Join Date: Feb 2018
Posts: 1
FE1 to FE3 Suspension
---
I went onto A1 auto and was looking at suspension for my 2007 Chevy cobalt LS FE1 model suspension. i want to buy better suspension but have been told by different companies that the FE1 and FE3 suspension kits are incompatible. I want to put the FE3 suspension on because it looks nicer and runs a little more to my liking. I need to figure out if I can buy the FE3's or not. Im leaving to somewhere soon and ill be gone for a long time. let me know if i can put the aluminum FE3 control arms on my FE1 vehicle. and 2) if i can put FE3 struts and springs. Anyone do this before? and how did that work out for you?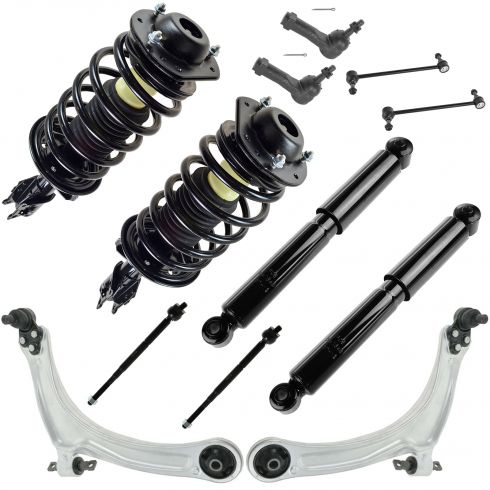 If you're looking at all that, don't bother with FE3 struts/shocks. Get the '08+ FE5 struts/shocks, and get AC Delco brand, as that is the OEM, Nurburgring-developed stuff. That is what you want. FE3 and FE5 do share the cast aluminum control arms, just make sure you do not get '08+ FE5 control arms, as they will not fit (the knuckle interface is different).
---
1986 Chevrolet Camaro IROC-Z
- Wrecked/Sold
1998 Chevrolet Cavalier
- Wrecked/Donated
2007 Chevrolet Cobalt LT
- M62 Supercharger, Ported Throttle Body, 42 lb/hr Injectors, Intense 2.9" Pulley, Cobra Heat Exchanger, SS/TC Exhaust, TTR Engine and Trans Mounts, Trifecta Tune, ZZP Header and Downpipe, '08+ FE5 Struts/Shocks, SSC Springs, FE5 Control Arms, SS/SC Front Swaybar, Powell Hardcore Rear Swaybar, 18" MSR 045s, Dunlop ZIIs, Nightshaded Tails/Side Markers, Shorty Antenna, Black Bowties, Black Grilles, Black Headlights, Dual JL 12" w1v2 Subs, A/D/S Front/Rear Speakers, Pioneer 7" Touchscreen, G85 Recaros, Leather Rear Seats, 160 MPH Cluster.
2014 Chevrolet Cruze Diesel
- 17" MSR 013s, Black Bowties, Black Tails, UR Rear Lower Bar
1981 Chevrolet Camaro Z28
- JVC Ribbon Tweeters, SEAS Mids, Pyle Woofers, Kenwood Tape Deck, Zapco Amp/Equilizer, Ceramic-Coated Longtubes, 2.5" Pypes Stainless Exhaust, Bilstein B6 Shocks, GW U/L Control Arms, Hotchkis Springs Sway Bars, DD HDX Cluster
2017 Chevrolet Volt LT
- Black Bowties
It has been done plenty of times, whatever company you talked to telling you it won't work is just going by what their system tells them your car needs. Like mp81 said, 08+ fe5 control arms won't work but any other control arm will swap in no problem and any of the shock/strut and spring combos will work

---------- Post added at 11:34 PM ---------- Previous post was at 11:33 PM ----------

Also, won't hurt to check around but usually rockauto or Amazon have the best prices for the oem ac delco fe5 suspension
Fe5 rear springs were $100 cad and changed the handling of my 2005 cobalt base model completely.
---
2009 Ford Escape Limited - 3.0L, 6 speed auto, 4x4, 25/33 city/hwy imp mpg.
2017 F150 XLT-XTR - 5.0L, 4x4, 3.55's, E-locker, xtr chrome package, fx4 off-road package.
20/25 imp mpg
Posting Rules

You may not post new threads

You may not post replies

You may not post attachments

You may not edit your posts

---

HTML code is Off

---